---
In 1977, the following taped interview of G.F. Shirley, son of George Shirley chr 1853.
My father George Shirley was born in 1853. He was the youngest son of John George Shirley who was a chemist at Queensway, London. George's mother was born 1818, named Ellen, was a daughter of Richard Shilleto, a lecturer of languages at Trinity, Cambridge University.
John George Shirley was born in 1818 and was a descendant of the 6th Earl Ferrers at Staunton Harold, at Ashby de la Zouch in Leicestershire. George Shirley apparently visited Staunton Harold Hall upon a number occasions, and was well liked by his uncle, because his uncle later paid for his education at the elite school of Christ' Hospital, known as the Blue Coat School, after their style of school wool uniform.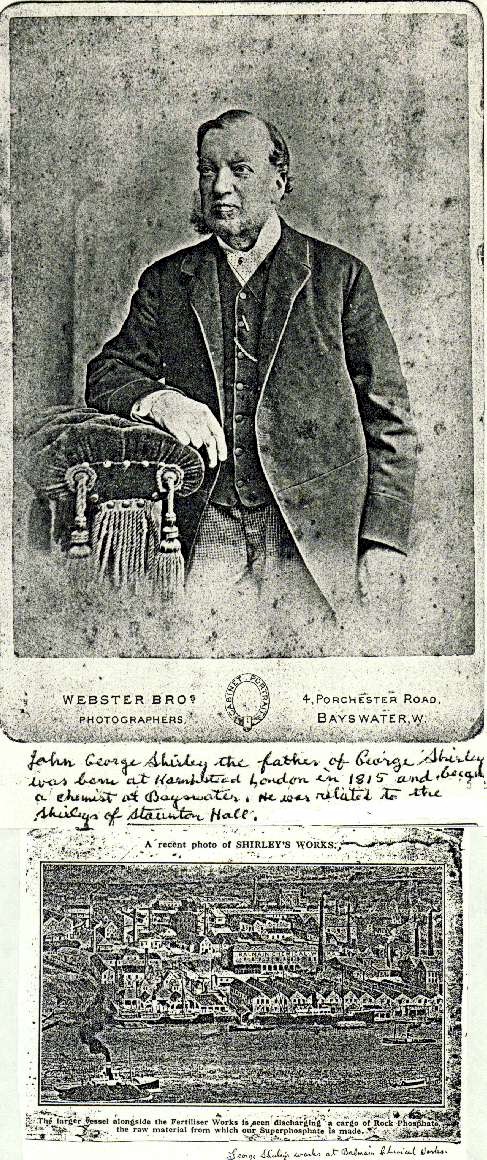 My father had four brothers and two sisters. The two eldest brothers, Stephen and James, established a business as manufacturing chemists at Elephant & Castle. Their headache cure, a small dome of menthol for rubbing on the forehead, was a great success. Unfortunately this factory was destroyed by a bomb in the Second World War.
Another brother, John, became an assistant manager in Barclays' Bank, whilst Harry followed George to Australia in 1911. George's sister Daisy went to Canada and married a man named Matthias.
When my father left Christ's Hospital School in 1868, he received a recommendation from the School council, also a school Bible that was donated to pupils that had attained a high standard as a scholar, and for their behavior. His musical capacity was also mentioned, and the fact that he was a choir-boy soloist.
After leaving school, George took a course in book-keeping and was employed by his father in the chemist shop at Queensway. It was here that he obtained his general knowledge of chemistry that was to be of great value to him in the years ahead in his career.
When 25 years of age, he decided to seek his fortune in the colonies. And after receiving a princely sum of 20 sovereigns from his father, he sailed for New Zealand on a sailing ship of the famous Black Ball line, which took seven months to make the journey.
Upon arriving in Auckland, he still had 5 pounds in his pocket, but found that following a severe drought, the colony was suffering a depression and the opportunities for employment were practically nil. Eventually he joined a road-mending gang who were repairing the new road from Grafton Bridge to Mount Roskill. It was here that an event happened that would influence his future career.
After heavy rain, the new road had become almost a bog. Whilst the gang was preparing for lunch, a very smart little pony and sulky appeared. Its driver was apparently "one of the gentry' because he wore a top hat and dark satin suit. Unfortunately the sulky became completely bogged and the horse began to play up to the consternation of the elderly driver, who began to step out into the mud in order to control his pony. My father immediately stepped forward and said, "Sir, I understand horses. Please let me handle this for you". And so he led the horse and sulky onto dry ground, where the elderly gentleman thanked him and offered him a sovereign for his good deed.
My father refused the money and in the subsequent conversation the gentleman said, "Young man, you seem to be better educated than the usual road-mender. I could have room for you in my business". The he handed his card and told my father to report to his office on the following Monday. That is how he later became the manager of the Wanganui branch of the big firm of John Chambers, who in those days were stock and station agents. Later he moved to their head office in Auckland.
My father was of a very kindly, good-natured disposition and had many friends that admired his ability. He was also a singer who was much in demand in the country, where he was always happy to sing at bazaars and church festivals etc. And as New Zealand was beginning to build its churches in the country towns, his song programmes were much appreciated.
When he was moved to the head office in Auckland, his fame as a singer apparently came with him. It was not long before he was invited to sing in the Auckland Town Hall at a concert in aid of St. Sepucres Church in Symonds Street. At first he demurred, but when promised the help of an expert accompanist he eventually agreed, not knowing that the person would be playing the piano for him was a young lady named Anna Elizabeth Sinclair.
Incidentally, the concert at the Auckland town Hall was a great success, and it was only a few weeks later that he proposed marriage to Anna and was accepted. Unfortunately the idea of marriage to "this penniless Englishman" was not acceptable to her father, Andrew Sinclair, and many days were lost and many difficulties had to be overcome.
After they married they bough a little cottage on the Mt. Roskill Road (near where George used to work on the road). The remained there for about 6 years, and during that time a daughter, Kathleen, was born and a boy named Howard, who was born with a defective hip. Anna's mother became very ill, and Anna had to nurse her as well as keep her own little home and family going.
George had recently visited New South Wales and was impressed by the enormous possibilities in Australia. His experience as a stock and station agent would also be of value to him when dealing with the farming community. it was decided that Anna should live at her mother's home whilst George went to Australia with a view to establishing his own business in New South Wales.
George Shirley came to Sydney in 1893, and having obtained a number of agencies for farm equipment, he rented an office in the lower Pitt Street, Sydney, where he soon made friends with firms in the neighbourhood. Amongst these were Mr. Knox (who founded the C.S.R.). the two Elliott brothers (who founded the great chemical firm of that name), and Mr. Mort of Goldsbrough Mort and Co. (who were then 'ships Chandlers etc' with an office on the waterfront at circular Quay).
I mention these four men because they became firm friends, and each day they had lunch at Pfarlet's Hotel in Bridge Street, and finished by playing a game of dominoes together.
One day the elder Elliott brother announced that his firm was expecting the arrival of a clever young chemist from England, and that his ship was even then tying up at the wharf in Circular Quay. Mr. Mort immediately suggested that the young man be brought to his office at Circular Quay so that they could all meet him. This was done, and he was introduced to my father in Mr. Mort's office.
During the conversation t Mr. Mort's office, the young man (George Shirley), became interested in a large stone on the floor that was being used as a door stop. He said "where did you get that piece of stone from " and Mr. Mort said "An old Skipper from a Pacific Trading ship brought it here and asked me what I thought of it. As none of us knew about it we decided that it would make a good door stop." He did not know the Skippers name and he only called about once per year.
The young chemist (George Shirley) examined the stone and took a small sample of it to analysis. He returned the next day, very excited and stated that his tests showed that it ws pure "Guana" which ad been formed ovre millions of years from the manure droppings of sea birds. It was the best ferilizers that was available. When could we see the Skipper. What did it come from , tc. Unfortunately Mort could not answer these questions and they had to wait for the next annual visit of the old Skipper. When at last he arrived he was not quite certain himelf but later remembered that it was from the Isle of Narau.
As my father (George Shirley) was hoping to establish an Artificial Fertilizer business and was already purchasing certain products from C.S.R., he decided to visit the Isle of Narau and obtain further samples and ascertain the size of the deposit. This he did and upon record that the first load from Narau taken off by George Shrley in rowing boat to Ship of a Pacific Island Trader.
Now satisfied about the amount of the phosphate Rock available, George Shirley commenced organising his business. Factory premises were rented at Pyrmont and had been let with shipping companies to the precious rockk to Sydney where it would be ground up and mixed to manufacture "Shirleys's Fertilizer", Shirley's Magic Dust, Shirley's supper-phosphate.
The task of selling arificial fertilizer to farmers who had never heard of such things was not an easy one and George Shirley traveled many thousand miles amongst the farming community. Long hours of travel (mostly by horse and sulky) to tell the story about the increase of productivity that follow the use of his "Magic Dust" and putting up with the good humoured banter from the farmers and graziers who later admitted that what George Shirley was selling "really worked".
In 1903 his company was selling several hubndred tons of feritlizer per month. By 1911 (the year he died), his company sold 70,000 tons per year and sales were increasing.
George was proud of his wife and five children and wanted to take his first holiday. He booked his passage for all to England. He developed abdominal pains and the doctors diagnosis was shattering. He only had 3 months to live. The trip was cancelled. I was 13 years old when my father died.
| | |
| --- | --- |
| George Shirley born 1853 | Descendants who were so gracious to me when we visited Australia |
---
Research report
About three years after the above article appeared in our International Shirley NEWS, the family hired some additional research.
One of the unsolved problems that is baffling to this branch of the Shirleys is the statement written on the back of an old picture of the Bluecoat School in London, in their possession.... "My father, George Shirley, was educated here through the generosity of his great uncle, Earl Ferrers of Staunton Harold, Leicestershire, from 1861-1867".
From the research report comes the following:
We looked for references to George Shirley's school record at Christ's Hospital, where he was thought to have been educated from 1861. Records pertaining to the school and in some cases not even fully cataloged and therefore time consuming to research. Nevertheless the results of our efforts were interesting. We began with the Petitions for Entry. Here we found John George Shirley petitioned for his son of the 14th of March 1861 as a Chemist with a wife and six children. The reason for the petition was John's limited means. Birth and Baptism dates were given as 5th September 1853 and the 7th October 1853 respectively. There was also in existence records of the proofs required such as certified statements by the Vicar and Chruchwardens that George was the son of John and Ellen and that the parents were indeed married. We also found the following:
14the March 1861... George Shirley, son of John George Shirley, born the 5th September , admitted from St. Stephen, Paddington, Middlesex, England.
6th June 1861...clothed, The Most Noble The Marquis of Bristol England.
21st July 1868...George Shirley is this day discharged from this Hospital for ever by his father who resides at #2 Westbourne Grove, Bayswater and will provide for him.
The name of the Marquis of Bristol ws recorded under the sponsorship section in both the Petition and reference to George's being clothed.
A later report from the research company says.... "After due consideration we believe that the Shirley family would be unlikely to have received educational backing from the Marquis of Bristol is they were so closely related to the Earl Ferrers..."
We have seen from the census returns that John George Shirley was born St. Brides Parish in Middlesex, England about 1821-2 and from his marriage certificate that he was the son of Henry Shirley, Gentleman.
Census of April 7, 1851 shows....
John G. Shirley 39 chemist/druggist London, St. Brides, wife... Ellen 35, Suffolk, Burrow,
children: Ellen, 13, scholar, Middlesex, Marylebone, Sarah 9, same, George 7, same, Stephen 5, scholar, Islington, Tollington Park, + 3 adults (nurse, cook, housemaid), living in their household.
The report goes on to give Henry Shirley born about 1796 who married Sarah Mortlock in 1818 as the parents of John George Shirley. Henry Shirleys father was given as Nicholas Shirley who married Rebecca Nettleford in 1785 and Nicholas' father as Nicholas Shirley who married Catherine Swain in 1748.
From Betty Shirley, your editor
When I received this report, I went to my records I have collected thus far for England. I checked in the St. Marylebone Parish records for John George Shirley who had three children born there. I not only found those entries, I also found Nicholas and Rebecca Nettleford Shirley in 1787. Their daughter was christened that year.
More Research

1881 London, Middlesex Census Household:
Name Relation Marital Status Gender Age Birthplace Occupation Disability
John George SHIRLEY Head W Male 59 London St Brides , London, Middlesex, England Pharmaceutical Chemist
John SHIRLEY Son U Male 32 Marylebone, Middlesex, England Bankers Clerk
Sarah Jane SHIRLEY Daur U Female 29 Marylebone, Middlesex, England
Stephan SHIRLEY Son U Male 25 Hornsey, Middlesex, England Pharmaceutical Chemist
Arthur William SHIRLEY Son U Male 19 St Stephens Paddington Merchants Clerk
Eliza WALLIS Serv U Female 35 Water Beach, Cambridge, England Servant
Kate LEGGET Serv U Female 26 Yarmouth, Norfolk, England Servant
--------------------------------------------------------------------------------
Source Information:
Dwelling No 2 Leamington Road Villas
Census Place London, Middlesex, England
Family History Library Film 1341003
Public Records Office Reference RG11
Piece / Folio 0012 / 85
Page Number 23

Cambridgeshire FHS Searchable Databases
Baptisms 1801-1837
1822 SHIRLEY John G. - ;of Fleet Street, London. ;of Henry & Sarah; Chippenham
Burial Index 1801-1837
1832 SHIRLEY James age 65 ----- ----- Chippenham

(who is this?)

Will of Thomas Shirley, Felmonger of St Martin at Oak in the city of Norwich, Norfolk. Proved in the Court of Norfolk. January 19 1797 IR 26/388 [Death Duty] Executors: James Shirley of Chippenham Park, Cambridgeshire, gardiner (brother) and John Dyball of Upton in Norfolk, farmer. Residue of estate converted to money and reserved to daughter Judith Shirley (a minor). But in case she should not reeach age 21, then L100 part to my father James Shirley and the residue divided equally between brother and sister (Mary Shirley) and wife if they all be living.

HENRY SHIRLEY Born: 3 MAY 1791 Christening: 08 MAY 1791 Death 24 JAN 1792 to THOMAS SHIRLEY AND ANN MARTINS Saint Martin At Oak, Norwich, Norfolk
JUDITH SHIRLY Christening: 07 DEC 1783 to THOMAS SHIRLEY AND ANN Saint Martin At Oak, Norwich, Norfolk
THOMAS SHIRLEY Christening: 13 MAR 1785 to THOMAS SHIRLEY AND ANN MARTINS Saint Martin At Oak, Norwich
THOMAS SHURLEY Born: 19 APRIL 1790 Christening: 20 APR 1790 to THOMAS SHIRLEY AND ANN MARTINS Saint Martin At Oak, Norwich
THOMAS SHIRLEY Born 5 MAY 1794 Christening: 11 MAY 1794 Death 6 JAN 1795 To THOMAS SHIRLEY AND MARY BALDRY Saint Martin At Oak, Norwich

THOMAS SHIRLEY Marriage to ANN MARTINS 17 FEB 1783 Saint Mary In The Marsh, Norwich, Norfolk

HENRY SHIRLEY Marriage to SARAH DUFFIELD 28 DEC 1769 Saint Mary In The Marsh, Norwich, Norfolk

JOHN SHIRLEY Marriage to ELIZABETH ALLEN 17 SEP 1711 St Michael At Thorne, Norwich, Norfolk

JAMES SHIRLEY Marriage to ANN WRIGHT 19 SEP 1729 Saint Michael At Plea, Norwich, Norfolk


Pedigree

1. James Shirley - alive 1797, named in son Thomas Shirley's death duty record

2. Thomas Shirley b abt 1756, Felmonger, City of Norwich; buried 16 Dec 1796 age 40 at St Martin at Oak; Will proven 19 Jan 1797

married Ann Martins 17 Feb 1783 at St Mary in the Marsh, Norwich, Norfolk

3. Thomas Shirley chr 13 Mar 1785 at St Martin at Oak, Norwich (either buried 1786 or 87)

3. Thomas Shirley b 19 Apr 1790 chr 20 Apr 1790 at St Martin at Oak, Norwich; burial 27 Dec 1791 at St Martin at Oak Norwich

3. Henry Shirley b 3 May 1791 chr 8 May 1791 at St Martin at Oak, Norwich; died 24 Jan 1792at St Martin at Oak Norwich

3. Judith Shirley chr 7 Dec 1793 at St Martin at Oak, Norwich, named in father's 1797 will

2. James Shirley b abt 1767; gardiner at Chippenham Park, Cambs.; named in brother Thomas Shirley's 1797 death duty record; died 1832 age 65 at Chippenham Park

2. Mary Shirley b unknown; named in brother Thomas Shirley's 1797 death duty record

Is the above James Shirley from Fakenham parish, Norfolk?

England, Births and Christenings, 1538-1975,"
name: James Shirley
gender: Male
baptism/christening date: 23 Dec 1767
baptism/christening place: Fakenham, Norfolk, England
father's name: James Shirley
mother's name: Mary

Parents marriage
England, Marriages, 1538–1973
groom's name: James Shirley
bride's name: Mary Clarke
marriage date: 08 Feb 1767
marriage place: Fakenham, Norfolk, England

Both James senior and Mary had been married before and were widowed. James was from the parish of Hempton.

Fakenham Parish

22 Jan 1756 Thomas Shirley to James Shirley and Mary
08 Feb 1767 James Shirley married Mary Clarke, groom of Hempton, both widowed
23 Dec 1767 James Shirley to James Shirley and Mary
11 Feb 1770 Mary Shirley to James Shirley and Mary
30 Jul 1774 Henry Shirley to James Shirley and Mary
23 Jan 1779 Ann Shirley married Thomas Goodwin; groom of W. Rainham, both widowed
23 Aug 1780 Henry Shirley buried

---
Mormon IGI
Chippenham Parish, Cambridgeshire
24 Mar 1818 Henry James Shirley married Sarah Mortlock

6 Jan 1822 John George Shirley chr to Henry Shirley and Sarah
The hired genealogist connected this family to Nicholas Shirley, but I'm not sure this is true (need proof). the above Chippenham information suggests another route of research. But here is the info for Nicholas Shirley
St Marylebone, London
See christening dates in the genealogy tree above

and these born to Nicholas Shirley and wife Rebecca____

1. MARY CATHERINE SHEARLY - International Genealogical Index
Gender: Female Christening: 19 JUL 1787 Saint Mary-St Marylebone Road, Saint Marylebone, London, England
2. HENRY SHEARLEY - International Genealogical Index
Gender: Male Christening: 27 JUL 1796 Saint Mary-St Marylebone Road, Saint Marylebone, London, England
3. ELIZABETH SHEARLY - International Genealogical Index
Gender: Female Christening: 14 JUN 1790 Saint Mary-St Marylebone Road, Saint Marylebone, London, England
4. JOHN NETTLEFOLD SHEARLY - International Genealogical Index
Gender: Male Christening: 21 JUL 1799 Saint Mary-St Marylebone Road, Saint Marylebone, London, England
5. CATHE. SHEARLEY - International Genealogical Index
Gender: Female Christening: 21 FEB 1786 Saint Mary-St Marylebone Road, Saint Marylebone, London, England
6. THOMAS SHEARLEY - International Genealogical Index
Gender: Male Christening: 07 SEP 1794 Saint Mary-St Marylebone Road, Saint Marylebone, London, England
7. SUSANNAH SHEARLEY - International Genealogical Index
Gender: Female Christening: 06 JUL 1788 Saint Mary-St Marylebone Road, Saint Marylebone, London, England
8. REBECCA SHEARLEY - International Genealogical Index
Gender: Female Christening: 17 FEB 1802 Saint Mary-St Marylebone Road, Saint Marylebone, London, England
9. NICHOLAS SHEARLEY - International Genealogical Index
Gender: Male Christening: 31 AUG 1791 Saint Mary-St Marylebone Road, Saint Marylebone, London, England
Leatherhead, Surrey
13 March 1785 Nicholas Shearly married Rebecca Nettlefold
Old Charlton, Kent - Saint Luke
28 SEP 1748 Nicholas Shirley married Catherine SWAINE

22 NOV 1747 Alice Sherley married Daniel DUNN
Note if the above report by the earlier researcher is true, it appears the report is pointing to the Shirley family of Bexley, Kent (???) Both Bexley and Charlton are suburbs of london across the Thames (near Greenwich)
Bexley Kent. All born to Nicholas Shirley and Catherine____
1. NICHOLAS SHEARLY - International Genealogical Index
Gender: Male Christening: 22 FEB 1756 Bexley, Kent, England
2. THOMAS SHEARLEY - International Genealogical Index
Gender: Male Christening: About 21 NOV 1750 Bexley, Kent, England
3. CATHERINE SHEARLEY - International Genealogical Index
Gender: Female Christening: 22 JAN 1755 Bexley, Kent, England
4. ELIZABETH SHEARLEY - International Genealogical Index
Gender: Female Christening: 13 DEC 1752 Bexley, Kent, England
5. SUSANNA SHEARLY - International Genealogical Index
Gender: Female Christening: 27 DEC 1748 Bexley, Kent, England
page 2
---
Home Page
| Contact
copyright Shirley Association
All Rights Reserved