John Shirley Aug 11, 1849 Dorchester, England. He was the son of John Shirley, sergeant in the Grenadier Guards, and his wife Una, nee Reynolds.
He was educated at Werburgh's School, Derby, and at the Saltley Training College, Birmingham, until 1869. In 1870-77 he taught at Bishop Ryder's Boy's School, Birmingham, meanwhile graduating B.Sc. from the University of London.
One of a band of British teachers recruited by the Queensland Department of Public Instruction as capable of training local teachers, Shirley and his wife Emily, nee Day, whom he had married at Birmingham England July 11, 1874, arrived in Brisbane Australia on May 20, 1878. On June 1, he became head teacher of the Roma State School, then district inspector west of Maryborough on Jan 1, 1879 and senior inspector in 1909. In 1914 Shirley was appointed first principal of the Teachers' Training College, Brisbane. For many years he edited the Education Office Gazette and for eighteen years, lectured in botany, physiology and geology at the Pharmacy College.
His success as an inspector was helped by his personal charm, cheerfulness and tact. From 1879 he annually undertook "between 4000-5000 miles of riding', allowing 'full opportunity for the study of natural sciences'. His work in the northern district comprised 'two-thirds of Queensland, from Gladstone to the Gulf'; he then covered the south-western district from the Darling Downs to Cunnamulla and later the Moreton district with a bread, in 1900-04, at head office. A recurrent theme of Shirley's annual reports urged the development in children of 'wondering at nature' and their powers of observation. He considered 'habits of neatness, politeness and cleanliness' more important 'than the imparting of facts'. In 1897 he spent a week compiling a drill book.
Shirley was secretary in 1904 of an educational conference at which a new primary-school syllabus was planned; it included the new subject, nature knowledge. After it came into force in 1905 he found in some country schools 'it was possible for pupils, teacher and inspector to make a short excursion during dinner hour to a scrub or running creek or road cutting'.
From 1886 Shirley served for thirty-three years on the council of the Royal Society of Queensland; he was twice president and active in its field naturalists' section. In 1898 the premier asked the society to compile a Queensland catalogue of scientific literature for the Royal Society of London's international catalogue of scientific literature committee. For twelve months Shirley spent most of his leisure time compiling the record. The chairman of the catalogue committee described it as 'a most admirable piece of work' and asked for 100 copies. Shirley was general secretary of the 1895 meeting of the Australasian Association for the Advancement of Science and local secretary for many years.
He helped to found the Field Naturalists' Club in 1906 and was its president in 1908. Taking part in its longer excursions, he was especially fond of the rainforests on Tamborine Mountain and in Lamington National Park. Shirley published lists of plants and land shells from the park. His special interests were lichens and Mollusca. In 1886-88 he assiduously collected lichen flora, had new species described by specialists an supplemented them by exchange. His most important publication was The lichen flora of Queensland (1890), most of it having been first published in the Proceedings of the Royal Society of Queensland.
Awarded a D.Sc. by the University of Sydney in 1912, Shirley was appointed honorary conchologist to the Queensland Museum that year. He spent Saturday afternoons and holidays creating order in the collection, but resigned in 1914, frustrated by the absence of authoritative literature. After he was appointed salaried conchologist in 1920, he revised and rearranged the collection until his retrenchment in 1921.His published lists of Mollusca described few species. His own collection was donated to the museum in 1973.
Still agile at 70, Shirley was an imposing figure, six feet tall, well-built and handsome, with a 'Dresden China' complexion, thick curly hair and a moustache. He was an able speaker and versatile writer, a well-liked and highly respected man. Acacia shirleyi and Eucalyptus shirleyi were named after him. He died in Brisbane on April 5, 1922, and was buried in Toowong cemetery with Angilcan rites. His wife, three daughters and one son survived him; another son was killed at Gallipoli.
---
4(vi). John Shirley b August 11, 1849 Fordington West Dorchester, died April 5, 1922 Brisbane Australia, [SEE NEWS ARTICLE BELOW] He was the son of Sgt. John Shirley and wife Una Reynolds, Shirleys of Dalbury Derbyshire.
married Emily Day July 11, 1870 Birmingham UK

children:

5(i). Daisy Ferrer Shirley, b June 7, 1875 Birmingham, chr. 4 Sept 1875 at St. Lukes, Derby, Derbyshire; died May 7, 1937 Brisbane Australia,

married Victor Louis Townsend. They had 10 children.

5(ii). Florence Shirley, b born 1877 Aston Birmingham,

married Thomas Brown Hunter July 29, 1903,

married 2nd Mr. Seammall, lived in Adelaide Australia, no issue.

5(iii). Harold Shirley, b May 2, 1881 Queensland Australia,

married Jane Emily Davis

5(iv). Edith May Shirley, b May 16, 1887 Queensland Australia, died Mar 27, 1942,

married Eric Raff July 31, 1926, no issue

5(v). Raymond Shirley, b Oct 17, 1892 Brisbane, died Gallipoli Australia April 25, 1915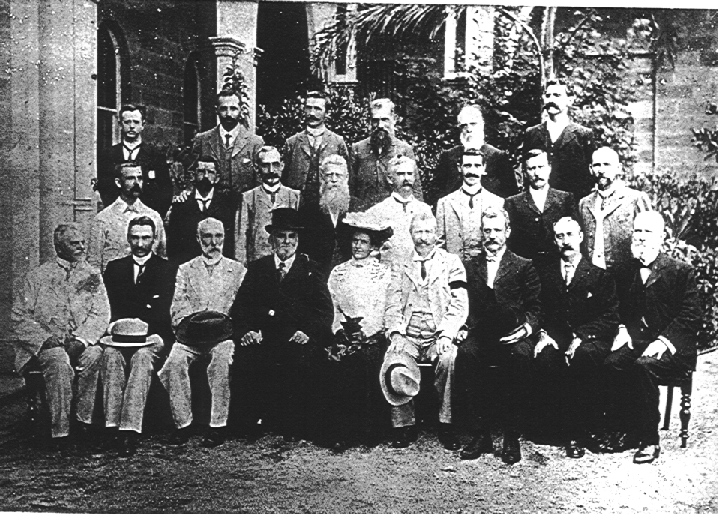 Dr. John Shirley
(3rd from the right on the front row)
AND GROUP OF TEACHERS.
Picture taken in Brisbane about 1900?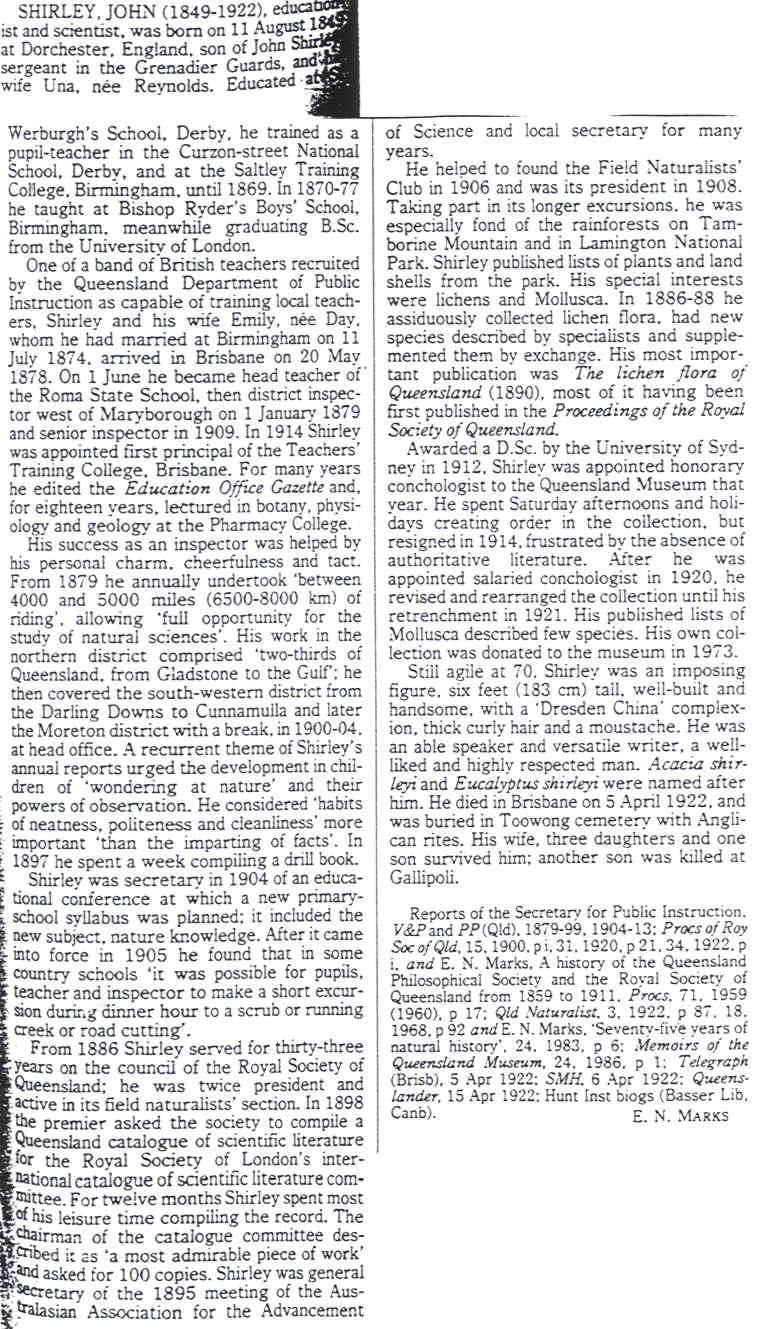 ---
Home Page
| Contact
copyright Shirley Association
All Rights Reserved