Michael Shirley born August 1850 in Ottawa Canada. He was the son of Paul and Catherine McNamara Shirley of Tipperary [sic, Kilkenny] Ireland. He moved his family to Nebraska USA in 1890. Michael was Vice President of Phelan Shirley Company, a partnership formed in 1890 with his brother-in-law Edward Phelan. He was also Director of Nicholas Oil Corporation and a Railroad contractor. He resided 40 years in Omaha Nebraska.
"The Phelan & Shirley Company began in 1890 when Michael Shirley formed a partnership with his brother-in-law, Edward Phelan after moving to Omaha, Nebraska that same year. As a railroad and highway contracting business, the Phelan & Shirley Company played a vital role in the early development of the Midwest region. The company's first office was located at 4031 Izard Street, within a residence where both Michael and Edward lived . As the workload grew, the company was able to expand and move its main office into the New York Life Building in the heart of downtown Omaha in 1905. That same year, Michael's son Robert became a bookkeeper for the company. For the next three years, the company built 150 miles of roadbed for the Milwaukee railroad extending from Aberdeen, South Dakota to Seattle, Washington. Another great task was the construction of 300 miles on the main line of the Grand Trunk Pacific from Edmonton, Alberta , west to Prince Rupert in Canada .11 Equipment and materials were hauled for miles on mountain roads . Most of the labor was done by hand and provided 8,000 men with jobs. In 1932, tragedy struck the company with the announcement of Edward Phelan's death. His wife, Mary A. Phelan , became president for a short period of time until her death a year later. As a result , the company was turned over to Michael Shirley , cofounder and vice president. Due to the recent events, the company's growth became stagnant and slowly began to decline . Although the majority of the company's work had turned from railroads to highways within the past fifteen years, the Phelan & Shirley Co . remained active in the Midwest. When Michael Shirley died in 1937, his son, Paul Vincent Shirley, became the new president. The company remained a tenant at 306 Ottawa Block for 32 years until 1948. When Paul V . Shirley died in 1952, his son Paul V. Shirley Jr. was too young to take over the family business. As a result, the company sold ,its equipment and officially closed in 1954, leaving a legacy of railroad tracks, roads and canals throughout the Midwest." - Application for placing company building on Historic Register

Engineering News-Record. 1837, Vol 113. Michael Shirley, 87 head of the Shirley Construction Co of Omaha died there Nov 8. Mr Shirley had been in the construciton business in Omaha for more than 50 years, and had done much railroad construction for the Burlington RR and the Union Pacific as well as the Milwaukee RR and the Grand Trunk Pacific...
married Alice Phelan July 21, 1875 Richmond Canada. Daughter of John and Margaret Phelan of Ottawa Canada. John was born in Queens Co Ireland.
Children

1(i). Mary Shirley born 23 June 1876 to Michael Shirley and Alice Phelen, baptised 10 July 1876 at St Patrick's RC Church, Carlton County; She married J.H. Crohn

1(ii). John Phelan Shirley born July 12, 1878, Served as President of Citizens Bank of Albion Nebraska for 15 years. John also was a railroad contractor and was the former owner of the North and South Railroad in Wyoming. He died 15 Nov 1955 in Los Angeles CA

"In addition to the Phelan & Shirley Co., the Shirley family maintained two similar companies in Omaha. In 1920, Michael's son, John Phelan Shirley, created the Gunther and Shirley Company along with his brother-in-law Herman Gunther. With an office in the Woodman of the World Building in Omaha , the company focused on railroad work and expanded the business into dams and hydro-electric power plants. After being given a huge contract in Panama building the Madden Dam, with a construction period spanning the years 1931-1935, the company moved to Los Angeles. In conjunction with other contractors, this company was also involved in large, heavy construction projects in the western United States including Boulder Dam, Alcan Highway, Shasta Dam , Alcova Dam and the All-American Canal." - Application for placing company building on Historic Register

married Henrietta Gunther.

Children

2(i). John Phelan Shirley born Aug 12, 1905, granduate of Yale University; President, Gunther & Shirley Company, general contractors of Sherman Oaks CA; Lived Encino CA.

marreid Jacqueline Corboy

Children:

3(i). Janne Shirley

3(ii). Hetty Shirley m. Barry Kallman

3(iii). John Phelan Shirley III born 24 Mar 1943; He died 17 Jan 1985 at Los Angeles CA;

married Dottie ___

3(iv). Lind Shirley m. Randy Weaver

3(v). Chris Shirley m. Debbie ___

3(vi). Laurie Shirley m. Brad Armstrong

2(ii). Dr. Robert Gunther Shirley born Dec 19, 1909, attended John Hopkins University

married 1st. Charlotte _____

married 2nd Virginia _____

Children:

2(i). Sue Shirley m. Don Frederickson

2(ii). Robert Shirley m. Bobbie ___

2(iii). Becky Shirley m. Mike ___

2(iv). Jennifer Shirley m. Bruce Hazen

2(iii). Gunther Philip Shirley born Feb 1, 1913; died 1970

married Helen Adair

Children:

2(i). Edward P (or G) Shirley m. Heidi Helene

2(ii). Michael J. Shirley d. 1967

2(iii). Dr. Franklin P. Shirley m. 1st Lynne ____, m. 2nd Kate ___, m. 3rd Suzanne

My grandfather, John Phelan born 1878 Ottawa Ontario Canada, died 1955 Los Angeles, moved to LA from Nebraska after he finished building the Madden Dam in Panama in 1934, and continued in a very successful career in heavy construction, specializing in dams and hydro-electric power systems at: Prado Dam, Shasta Dam, Hoover and CANOL (Alcan highway) among others. - sent by Franklin Shirley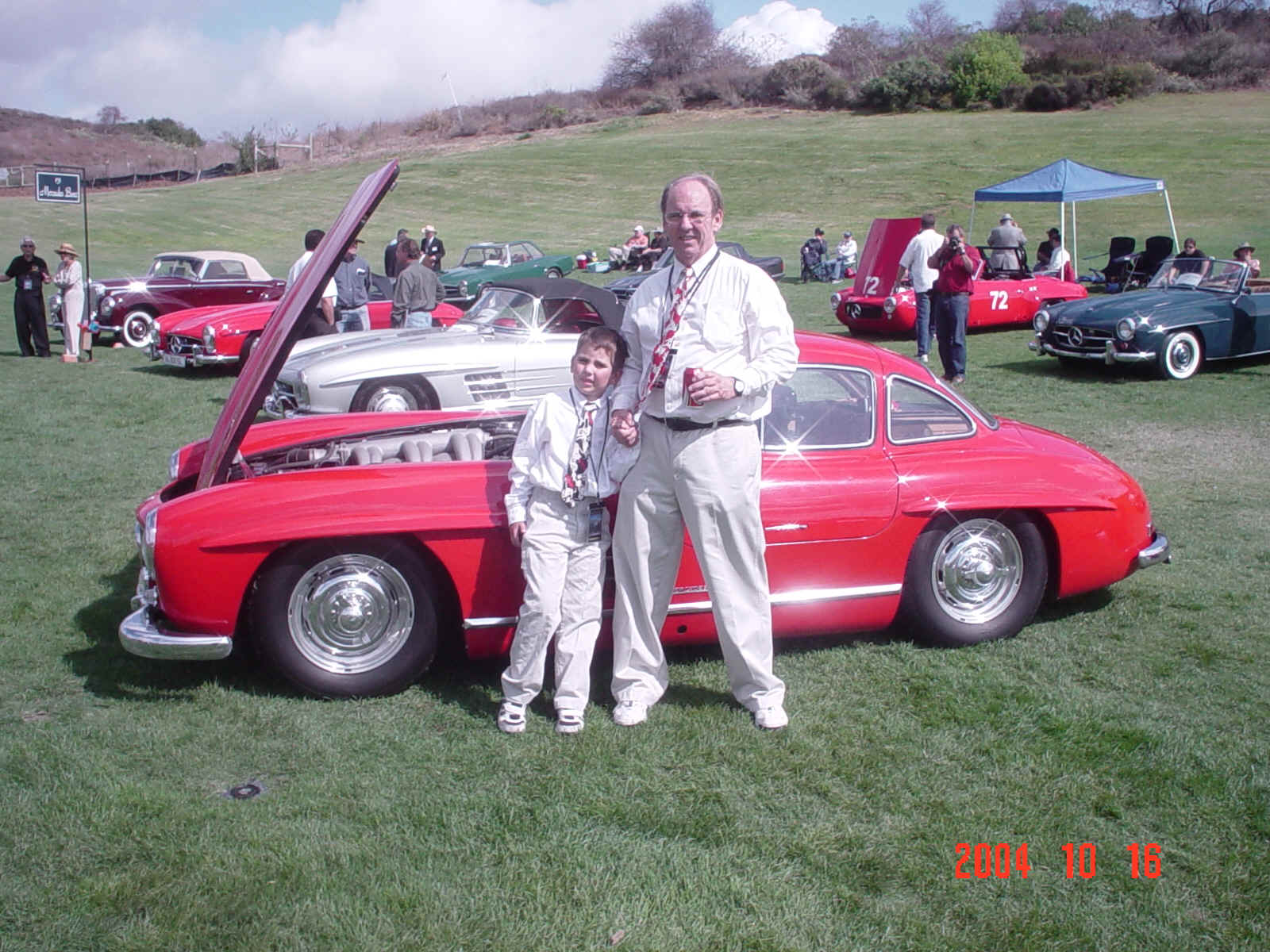 Franklin P Shirley and his son Michael B Shirley
and their 1955 Mercedes Benz Gullwing
2(iv). Joseph Austin Shirley born May 7, 1915; died 1998

married 1st Patty Maguire,

married 2nd Perkie Patton

Children:

2(i). Mary Shirley

2(ii). Joe Shirley Jr. d. 1991

2(iii). Johnny Mac Shirley

2(iv). Tim Shirley d. 1985

2(v). Louise Mary Shirley born Nov 23, 1922 m. 1st. John Francis, 2nd Bill Cornell 3rd Mort Greene

1(iii). Robert Daniel Shirley born 24 Sept 1881in Canada; Lived in Omaha Douglas Co NE in 1920 and 1930 census.

married May Dugan

children:

2(i). Jane Shirley born about 1911 Nebraska;

2(ii). Shelia Shirley born about 1913 Nebraska

2(iii). Robert Daniel Shirley born 4 Nov 1916 Nebraska; He died 12 Apr 1968 in Los Angeles CA

1(iv). Sophie Shirley born Jul 1884 in Canada; age 16 in 1900 census

1(v). Michael Henry Shirley b 1888; Not listed in family's 1900 census

1(vi). George Shirley born Apr 1889 in Nebraska

1(vii). Alice Shirley b 1890; Not listed in family's 1900 census

1(viii). Philip Shirley b 1892; Not listed in family's 1900 census

1(ix). Paul Vincent Shirley b October 31, 1895 in Omaha NE; Living with parents in 1920 Omaha Douglas Co NE census; He is married and lived in Omaha, Douglas Co NE in 1930; He died 1952; Buried Forest Lawn Mem. Park in Omaha

"The second company, called the Shirley Construction Company, had its main office in the Ottawa Block from 1934 to 1948. Working primarily as grading contractors, the company was involved in heavy construction and highway projects. For one of their projects they were awarded a small portion of the grading on U.S. Highway 34 southeast of Council Bluffs at a cost of $46,846 .'xMichael's other sons Paul Vincent and Robert Daniel were primarily responsible for this sister company. After Paul's death in 1952, the remaining Shirley family moved to Los Angeles, to reunite with the rest of the family. After moving, the family restored the Shirley Construction Co. and began to establish work again. Today, this company continues to thrive as residential builders in the greater Los Angeles area with Franklin P. Shirley as the owner." - Application for placing company building on Historic Register

married Mary E. Fuller after 1920

children:

2(i). Sally Shirley born about 1926 NE

2(ii). Paul Vincent Shirley, Jr born about 1929 NE; He died 2002 and buried in Forest Lawn Mem. Park in Omaha NE

2(iii). daughter Shirley born 1930 NE
---
Lots of Shirleys in this snippet - On August 26, 1959, Sealand Investment Corporation (hereinafter referred to as "Sealand") filed a "Complaint for Diversion of Corporate Assets, Misappropriation of Corporate Opportunities, to Impose a Constructive Trust, for an Accounting, and for Breach of Fiduciary Relationship," and named as defendants "Emprise Incorporated, a California corporation, Joseph A. Spray and Charles P. Gould, individually, Spray, Gould and Bowers, a partnership composed of Joseph A. Spray, Charles P. Gould and C. W. Bowers, J. P. Shirley, Jr., Gunther J. Shirley, Robert G. Shirley, Joseph A. Shirley, Louise Mary Shirley Cornell, Helen Adair Shirley, Edward Shirley, Michael Shirley, Franklin Shirley, Jacquiline C. Shirley, Jann E. Shirley, Hetty Shirley, John Shirley, Linda Shirley, Christopher Shirley, Florence Shirley, Loeta Spray, Joseph L. Spray, Terry Spray, Mary D. Gould, Lawrence K. Gould, Doe One through Doe Fifty."