Bernard Shirley, esq. born 9 December 1747 in Chambery France and christened at the catholic cathedral of Chambery to Henry Sherdley and Maria Teresa Devliger. His father was a partner in the Compagnie Anglaise in the Savoy region and later the British envoy to Turin. The Sherdley family originated in Ormskirk Lancashire England. The Devliger family were dutch merchants who at times lived in London. Bernard was the brother of Henry Shirley of Hyde Hall, Jamaica. He died 16 November 1810 in London.
Gentleman's Magazine [Deaths]"November 16, suddenly of apoplexy, at his brother's Upper Wimple Street, aged 57, Bernard Shirley esq."

PCC Will of Bernard Shirley esq of Fingest Buckinghamshire - Now of the parish of St George in the county of Surrey in Jamaica esq, dated 26 June 1806. Brother Henry to pay debts from his estate Mount St Bernard. Henry to take care of his "reputed son" Edward by a free mulatto woman. Brother Henry executor. Upon oath by Howard Shirley. Codicil dated 26 June 1806. Brother Henry to be guardian of his son Henry. All real estate bequeathed to son Henry. L200 to his "reputed natural son" Edward, for his education and to be raised. and to take the name Shirley. L200 in trust to brother Henry for Mary Barnard "my reputed natural daughter born in January 1794 on Petersfield Estate in the said Island of Jamaica and now resides with me." She to be apprenticed out at the direction of brother Henry, to be educated and raised. Mary Barnard to receive passage money to Jamaica if inclined and right to live on the plantation, take the surname Shirley. To Anne Hawkins now living in Warren St Fitzroy Sq in Middlesex (London) and annuity of L30 yearly. To brother Henry, the same amount until Edward Barnard natural son of Ann Hawkins reaches the age of 21. To Mary Stourhurst now living with me an annuity of L80 yearly. To brother Henry L30 yearly for Howard Barnard, natural son of Mary Stourhurst born about June 21 1805, now called Howard Shirley until the age of 21. Freehold estate at Northend in Buckinghamshire to use of the said Mary Stourhurst and then to her (and His) natural son Howard. To daughter Ann Leicester, wife of Captain Frederic Leicester.... Proven 12 January 1812 PROB 11/1529/177. Executor granted to Anna Jospha Leicester, widow, the guardianship of Henry Shirley

married Theresa ________ She was alive and living at 78 Baker Street London at the time her son Henry matriculated to Eton in 1812. In a letter written by George Cook to Bernard's brother Henry dated October 1798, the marriage of Bernard and Theresa had apparently broken down. "Mr Bernard and his wife have parted by consent for some months past..."

children:

1(i). Anna Joseph Shirley she married Frederick Leicester on 25 February 1805 at St Marylebone London

1(ii). Henry Barnett Shirley, esq. born 26 June 1795 and christened 30 June 1795 at Sunninghill Berkshire England. He was educated at Eton college. He inherited Hyde Hall and all other estates from his uncle Henry Shirley. Lived at Cheltenham Gloucestershire also Ham Court Worcestershire; He died at Falmouth Jamaica on 29 August 1848. Buried at St Micael's Clarkes Town Trelawny Jamaica

Cambridge University - Henry Shirley. Adm. pens. at Emmanuel, Nov 22, 1814; Fell. Com. Jan 8, 1815. Of Berskshire.... (son of Mrs. Shirley of 78 Baker Street, London. B. June 26, 1795. School, Eton. Matric. Lent, Of Peppingford House Sussex. (Eton School lists; Sir W. Sterry).

On 5 November 1836, Pippingford estate in Sussex England was sold to Mr Henry Shirley, who made large additions to the house, and by the carelessness of whose servants in preparing it for his reception after his marriage in 1836 it was destroyed by fire. Happening on the fifth of November the conflagration was mistaken for a large bonfire, so that but little aid was rendered by the residents of the neighbourhood in the attempt to extinguish it.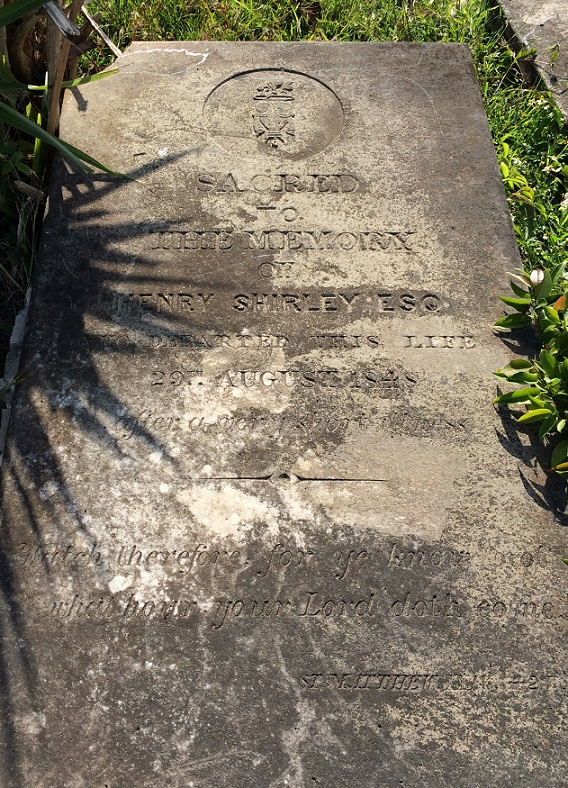 Sacred to the Memory of Henry Shirley, Esq.
who departed this life
29th August 1848
After a very short illness
married 1st. Francis Dorothea Houlton on 14 August 1824 at Farleigh-Hungerford, Somerset, England, daughter of Col. Houlton of Farleigh Castle, Somerset England

married 2nd Mary Little around 1835 (nothing more known, and the dates are somewhat confusing)

married 3rd Isabella Martha Darrell in 1836 at Brighton England; daughter of Sir Henry Darrell of Cheltenham Gloucestershire England

children:

2(i). Henry Houlton Shirley, esq. born 31 November 1825 in Combe House, Somerset; christened 11 January 1826 at Farleigh Hungerford parish, Somerset England. Custos of Trelawny. He inherited Hyde Hall from his father; He is curiously known as Henry Moulton Shirley at times, but his middle name clearly should be Houlton, the surname of his mother. He died 2 December 1856 apparently of Yellow Fever. According to historian David Ogilivie, Henry was poisoned by his cook.

Cambridge University - Henry Houlton Shirley. Adm. pens. (age 19) at Trinity, Nov 14, 1843, son of Henry. B. Combe House, Somerset. School, Rugby, Matric.Ê Michs. 1844. (Rugby School Reg).] Custos Rotulorum and Member of the Assembly for the Parish of Trelawny in Jamaica.

History of Trelawny by David Ogilvie - Mr. Henry Shirley was a brother of the Honourable Leicester Colville Shirley who succeeded him in 1857.The Honourable Henry Moulton Shirley died at Spanish Town on the 2nd December, 1856, and this is what a Tablet to his memory on the walls of the Falmouth Church reads: In memory of Henry Moulton Shirley, Custos and member of Assembly for Trelawny. Born in England 11th November, 1835. Died at Spanish Town 2nd December, 1856. To the memory of one whose short public career marked his rising ability, independence of action and integrity of purpose too briefly expressed in his devotion to the best interest of the Island with whom affability of intercourse and sincerity of attachment won further grace from the varies resources of an accomplished mind and whose early death denied to every hope the best promises of youth. The friendship of his associates has raised this votive Tablet. In November, 1856, on the Motion of Mr. A. Lindo, the following resolution was passed by the Justices and Vestry: Resolved that before entering on the business to transact which it has been specially convened, this Board records how deeply it deplores the loss it has sustained since the last meeting in the untimely death of the Honourable Henry Moulton Shirley who, as Custos of the Parish, lately presided over its deliberations with an impartiality, courtesy and ability which secures the respect and esteem of every member of it, that this Board also records its grateful testimony to the value of the services so unostentatiously rendered to the public by Mr. Shirley, otherwise in the earnest desire by which he was over-actuated to promote the welfare of this country.

MI Falmouth Church - Henry Moulton Shirley, Custos and Member of Assembly for Trelawny, born in England 11th November, 1825. Died at Spanish Town 2nd December, 1856. To the memory of one whose short public career marked his rising ability, independence of action and integrity of purpose too briefly expressed in his devotion to the best interests of the Island with whom affability of intercourse and sincerity of attachment won further grace from the various sources.

?Illigitimate child with Unknown:

3(i). Henry Barnett Shirley born about 1853, age 28, bachelor, carpenter, at the time of his marriage in 1881. Son of Henry Houlton Shirley of Hyde Hall Trelawny

married Jane Reynolds on 3 August 1881 at St Michael's Swanswick, Trelawny. She was age 23, spinster, daughter of James Reynolds of Hyde Hall. Marriage witnessed by Bernard Scharschmidt and Henrietta Marlow

children:

4(i). Dynal Shirley (male) born 21 September 1880 at Hyde Hall, Trelawny, son of Henry Barnett Shirley and Jame Reynolds of Hyde Hall. nothing more known

Illegitimate child with Mary Ann MacKenzie

3(ii). Alice Blanche Houlton Shirley born about 1856 at Ettingdone, illegitimate, complexion brown. baptized 15 October 1871 at Trelawny parish (date of birth is stated in baptism; abode Ettingdone; father: H. Shirley proprietor dec'd, mother: Mary Ann McKenzie)

Editor: Brother L C Shirley should not have inherited all plantations if Henry Houlton Shirley had legitimate heirs who lived to adulthood.

2(ii). Henry Barnett Shirley born 8 December 1835; Baptized 9 March 1837 at Trelawny Parish; He died 20 June 1855, age about 20 (child by Mary Little)

2(iii). Leicester Colville Shirley, esq. born 26 February 1838 in Tonbridge Wells Kent England (child by Isabella nee Darrell), Came to Jamaica at age 20 and assumed the proprietorship of all of the legacy of his brother Henry and that of the late Henry Shirley of Hyde Hall; At one time he held Hyde Hall, Glamorgan, Ettington and Steelfield estates, all of which he lost by the time of his death. He was custas of Trelawny and a member of Lincoln's Inn in London; He died 21 October 1914 at age 78 in Trelawaney, Jamaica He was buried in St Michael's Church in Clarkes Town Jamaica.

2(iv). Capt Gerald Menteath Shirley born 27 October 1828 (1839) at Upton upon Severn Worcestershire England (child by Isabella). Attended Cheltenham College as a day boy. He died 1893 at Richmond Surrey, England.

Cambridge University B.A. degree in 1862. He was Ensign, 25th Foot in 1862, Lieut. 1865, Instructor of Musketry 1869-1870, Capt. 1872, Major King's Own Borderers, 1881, retired 1885, died in 1893.

2(v). Isabella Margarita Eliza Shirley christened 30 April 1841 at Upton upon Severn Worcestershire, England (child by Isabella). She married Major General Constantine Phipps Carey.

2(vii). Lionel Henry Shirley born 11 March 1843 in London (child by Isabella). His residence was Kingston Lodge, Pange Surrey England in the 1881 UK census. He was a civil engineer in the mining industry working in Felix Arizona when he died 7 July 1901.

married Lucy A. Wagstaff, youngest and only surviving daughter of William Wagstaff. She was born Stonehouse Devon (according to census). They were divorced according to The Times dated 3 November 1887 due to her adultery with W. F. Snow.

Illegitimate children of Bernard Shirley with Ann Hawkins

1(iii). Edward Barnard _________(probably used name SHIRLEY)

Illegitimate children of Bernard Shirley with Mary Stourhurst

1(iv). Howard Barnard Shirley born 21 June 1805 England; He inherited the family's Northend estate in Buckinghamshire as a legatee in father Bernard Shirley's will

Illegitimate children of Bernard Shirley with Mary Scharschmidt

1(v). Charles Scharschmidt

1(vi). Bernard Scharschmidt born 1805; died October 1841. Burial: October 31, 1841, St. Michael's church yard, [Swanswick] Trelawny

1(vii). Maria Scharschmidt

1(viii). Samuel Thompson Scharschmidt born Bet. 1806 - 1818; died November 13, 1877 in Windsor, Trelawny
S.T. Scharschmidt, Sr
This is the Last will and Testament of Samuel Thompson Scharschmidt of Windsor Castle in the parish of Trelawny. I give devise and bequeath unto my Executors and Trustee herein after named all the real and personal Estate which shall at my demise be vested in me as mortgage or Trustee upon such Trusts or subject to such equities as shall at my decease be subsisting concerning the same respectively I devise and bequeath all the real and personal Estate to which I shall be entitled at the time to my son Samuel Thompson Scharschmidt, at present of the parish of Manchester Civil Engineer his heirs and assigns for ever. Upon Trust as to my personal estate to select therefrom to be kept on Windsor Castle worked therewith one carriage and harness one pair of horses and all the horned stock one mule cart and harness one pair of mules and all the household furniture and as to the real residue and remainder of personal estate to call dispose of and realize any interest in the same as soon as after my decease as conveniently may be and after payment of which I hereby charge and make liable all my estate as real and personal to divide the surplus (if any) between my dear wife Elizabeth Scharschmidt, Georgianna Clara Tingle and the said Samuel Thompson Scharschmidt in the following proportions: To my wife Elizabeth Scharschmidt one sixth thereof; To the said Georgianna Clara Tingle one sixth thereof; To my son Samuel Thompson Scharschmidt all the rest residue and remainder thereof and as to my real estate and the chattels divided to be selected Rept. and worked thereon. Upon Trust to manage, cultivate and carry on the same during the natural life of my said wife or until her marriage and to apply the proceeds and annual income arriving therefrom after deducting all expenses of cultivation and management in manner following that is to say two thirds thereof to my beloved wife Elizabeth Scharschmidt for and during the term of her natural life and so long as she remains unmarried and the remaining third to my said son Samuel Thompson Scharschmidt and from and immediately after the decease or marriage of my said wife when Upon Trust for the said Samuel Thompson Scharschmidt his heirs and assigns forever, and in the event of the said Samuel Thompson Scharschmidt predeceasing my said wife then Upon Trust for all and every the child and children of the said Samuel Thompson Scharschmidt who shall be alive at date of death of my said wife share and share alike as Tenants in common. I direct that my said wife and Georgianna Clara Tingle have the right to reside in the dwelling house in Windsor Castle free of charge during the term of their natural lives but in the event of the marriage of the said Elizabeth Scharschmidt and Georgianna Clara Tingle or either of them their right of residence respectively in the said dwelling house to cease. I also direct that the said Georgianna Clara Tingle during the term of her natural life and so long as she remains unmarried have the right to run along with the herd of cattle on Windsor Castle aforesaid four breeding cows provided that the progeny of all such cows be removed as soon as they respectively become 18 months old. [signed] Samuel Thompson Scharschmidt. Witnesses: Samuel C. Miller, Henry Smith Dated: March 3, 1876

Children:

2(i). Mary Elizabeth Scharschmidt 1834 Trelawney Parish, Jamaica

2(ii). Samuel Thompson Scharschmidt, Jr. 1841 Trelawney Parish d. 1916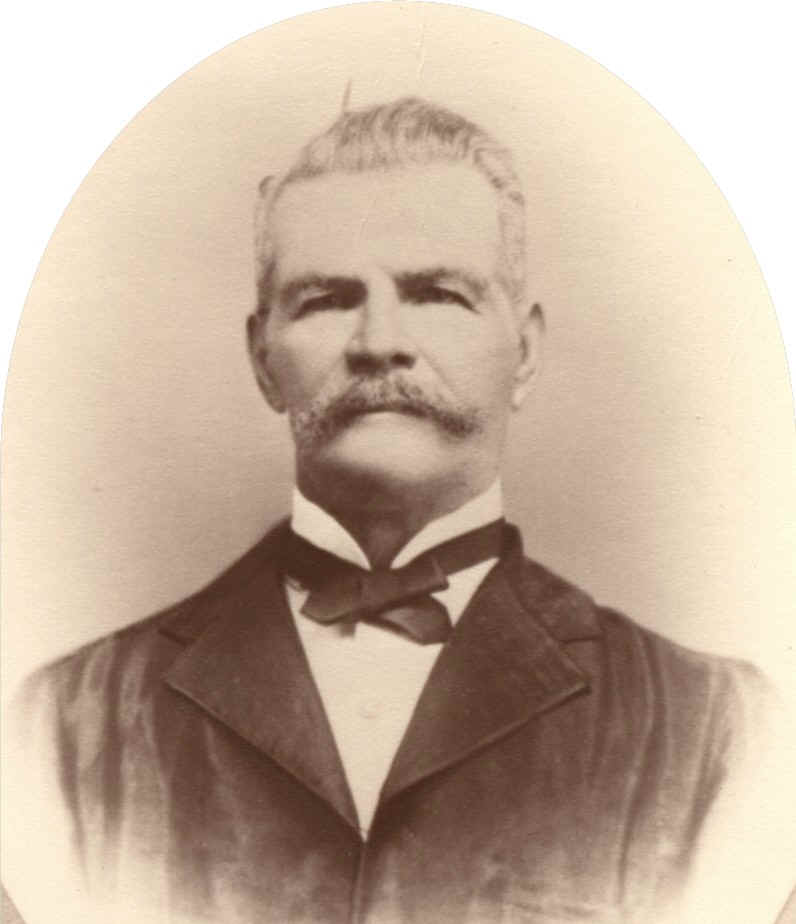 S.T. Scharschmidt, Jr