1(vi). John Shirley born 21 Sept 1790, chr 3 Oct 1790 at St John the Evangelist, Hanley. In 1821, he was a partner selling earthenware with his brother Benjamin Shirley in London
London Gazette 29 Sept 1821. Commission of bankrupt bearing the date 28 Aug 1816 awarded and issued forth against John Shirley and Benjamin Shirley, of Worship Street London MDX dealers in earthenware and co-partners, meet at the Swan Inn in Hanley, Staffs...creditors who have not already proved their debts are to come prepared to prove the same....[same page and edition as another mention of the bankruptcy of William and John Shirley of Shelton Staffs.]

married Eliz Anness March 6, 1815 St. Luke Old Street Finsbury London

Children:

2(i). John Shirley b. July 5, 1818 in London; Operated a crockery and grocery business in San Francisco California on Pacific Street as Jackson & Shirley in 1850 (directory); According to records, a 2 storey building he owned on Sacramento Street suffered $200 in damages in the 1868 San Francisco earthquake. He died in February 1911 in San Francisco California

1849 January 10 - US Passport Application - John Shirley, a naturalized citizen, age 30, 5'6", fair complexion, dark eyes, brown hair, high forehead, medium turned up nose, medium mouth, sharp chin, long face. Naturalized in State of Pennsylvania on 16 October 1844 and having resided in Baltimore for the last 3-4 years <s> John Shirley. William Shirley deposes that he has been acquainted with John Shirley during his lifetime, being his brother and knows that he is a naturalized citizen...and has been residing in Baltimore for some years <s> William Shirley

San Francisco Call, Volume 109, Number 75, 13 February 1911 - PIONEER DIES AT THE AGE OF 93 John Shirley Was Active in Upbuilding of State in the Days of '49 - John Shirley, pioneer and former supervisor of this city, died at his home, 1204 Jackson street, Saturday afternoon at the age of 93 years. Shirley was born in London July 5, 1818, and came to this country when a youth, landing in New York. There he made his home for several years, after which he traveled through the eastern states. In 1849 he sailed for this state by way of the isthmus of Panama. Arriving here Shirley set out to the gold fields and accumulated considerable wealth mining along the Sacramento river. After several years of mining he returned to San Francisco and entered the crockery business with Robert Jackson. They built a canvas house in Kearny street near Jackson. it being one of the first buildings of its kind of the city. Later Shirley built the famous Vigilance building at Front and Sacramento streets. The funeral will be held tomorrow from St. Rrigid's church. Van Ness avenue and Broadway. The pioneers, of which order he was a member, will attend the funeral. Shirley is survived by a number of nephews and nieces.

San Francisco Call, Volume 109, Number 78, 16 February 1911 - JOHN SHIRLEY ESTATE VALUED AT $375,000 - Property Not to Be Distributed for Five Years - The will of John Shirley, a former supervisor, was filed for probate yesterday. The estate disposed of is valued at $375,000. and consists chiefly of 40 lots of realty in San Francisco and 48 acres of tidelands in San Mateo county Many of the lots and certain sums of money Shirley wills specifically to relatives and friends and charitable institutions. The residue is divided in equal parts between the following: John W. Shirley, nephew; Mary C. McKew, niece; John A. Weston, friend; John Thomas Shirley, nephew; Mrs. Eliza Connell, sister; Honora Connell. niece; Mary Ann Connell, niece; Jessie E. Connell, niece; Jessie Turner, grandniece; Mary C. McKew, grandnlece. The property is not to be distributed to these persons until five years have elapsed.

The Pottery Glass and Brass Salesman Feb 23 1911- The local trade is depressed over the death of John Shirley, who established the first crockery house on the Pacific coast in 1849, and taught the crockery trade to a number of those most prominent in it in San Francisco today. Mr Shirley, with his brother, William Shirley brought the first Queensware to America importing it to Baltimore Md in 1818. John Shirley retired from active business thirty years ago adn interested himself in having several buildings erected, one of which was among the first to be built here after the 1906 fire. Mr Shirley is survived by only a few distant relatives.

married Catherine ______ b about 1824 in England; She is age 46 in 1870 San Francisco census. No apparent children

2(ii). Thomas Shirley born Dec 26, 1823 London; living in HH of brother William Shirley in 1860 Baltimore MD census; died May 5, 1897 Baltimore, Maryland

2(iii). Jesse H. Shirley b. about 1821 London d. 20 March 1862 at the age of 41 in Sacramento, California; He operated a store selling queensware and crockery under the name Shirley & Co on Third Street between J and K, Sacramento California.

married Eliza H. ______. She was born about 1834 in England

children:

3(i). Mary C. Shirley born about 1853 in California; She is single age 24 and living with her brother John W. Shirley in the household of uncle John Shirley in 1880 San Francisco census.

3(ii). John W. Shirley born 29 May 1857 in California; He is single age 53 and living with his uncle John Shirley in 1910 San Francisco census; Named in his uncle John Shirley's 1911 estate records.

2(iv). William Shirley born Jan 20, 1816; Operated Shirley & Son china and glassware merchants in Baltimore MD; died Dec 19, 1900

"William Shirley was born in London England in 1816. He lived with his uncle until he was 14 years of age. His uncle was governor of Newgate Prison according to info sent to me by Robert Shirley many years ago. William was sent to Brussels to learn the queensware business, following the example of nearly all his family. When he was 18 he came to Baltimore MD. Shortly after his arrival, he secured a position with a wholesale crockery business firm. Nine years later, he purchased a crockery business and sold it in 1855. William was descended from the Staffordshire family of Shirleys. He married Ellen N. Frayer in 1840. They were the parents of Henry C., William W., Hannah and a daughter who died young. William had a brother John who was an early pioneer of California in 1849. He died there at the age of 96 years. He had two grandsons, Captain Joseph W. Shirley who was with Troop A, Maryland National Guard, and Harry Shirley. Captain Joseph W. Shirley's grandson, Robert M. Shirley, a former member of the Shirley Association, lives on a farm in Maryland called "Chartley". His great grandfather, Henry C. Shirley, acquired the place in 1919 and named it after Chartley Park, their ancestral acres in Staffordshire England. The Shirleys raise pure-bred Clydesdale horses for farm work. The horses have been consistent winners at fairs. Robert's father practiced law, farmed and bred Aberdeen Angus cattle and also Clydesdale horses. He managed the Eastern National Livestock show for 10 years and was on the Board of Directors for the Maryland Sate Fair."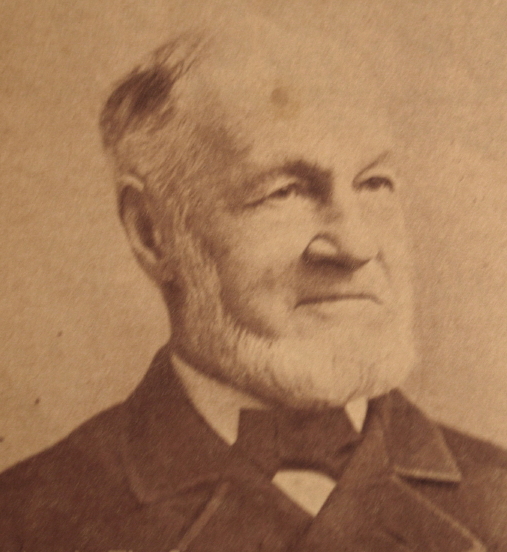 William Shirley b 1816 Staffordshire, d 1900 Baltimore MD
Photo thanks to Glenn Davidson Shirley
1903 Will of William Shirley merchant of Baltimore filed in Queen Anne's County, MD - To my two sons Henry C. Shirley and William W. Shirley, for the use and benefit of my daughter Hannah F. Shirley, ground rent in the city of Baltimore totalling $2350.23 per annum: Six rents on the West side of Constitution Street from a deed dated Jan 1876, Six rents also on the West side of Constitution Street from a deed recorded Mar 1876, $40 in rent from a lot on the West side of Constitution Street from a deed Mar 1875, 3 rents from lots on Constitution Street leased to Francis White dated Mar 1875, an annual rent out of a lot on the West side of Republican Street now called Carrollton Ave from a deed dated Apr 1878, 2 rents from lots on the West side of Bond Street from a deed May 1879, an annual rent from a lot #1338 N. Stricker Street from a deed Apr 1876, an annual rent from a lot known as No 9 North Stricker Street from a deed May 1878, annual rent from a lot No 134 Cross Street known as Sailors Bethel Union from a deed Feb 1880, 2 ground rents on the West side of Greenmount Ave Nos 1012 and 1014 from a deed Jul 1877, annual rent from a lot on Portland and Emory Streets from a deed Sep 1880, annual rent from a lot No 1505 West Mosher Street from a deed Oct 1876, 3 rents of lots known as Nos 1705, 1707, and 1709 Hanover Street from a deed Feb 1883. [After the daughter is 21, then the rents are distributed evenly between the sons]. To each of my 3 nieces now residing in London England, being the children of my deceased brother Henry Shirley, namely Mary Ann Shirley, Elizabeth Ellen Ingram, 100 pounds sterling each and 100 pounds for the benefit of the two children left by their deceased sister Jane Cattel. I give to the Aged Men's Home located on Lexington Street $600, to the Little Sisters of the Poor $400; to my son Henry C. Shirley $10,000 in trust for the benefit of his son Walter Shirley during his lifetime. Then to his decendants, and if none, then distributed to my remaining grandchildren. To my grandson Joseph W. Shirley $10,000. To my grandson Henry C. Shirley Jr $10,000. I give the Haveland Tea set now in the house on Fifth Avenue to Addie Shirley, wife of my son Henry C. Shirley. I give the furntiure in my house on Shirley Lane to my daughter Hannah, I give the furniture and effects in the house on Fifth Avenue to my son William W. Shirley. The residue of my estate to my two son Henry C. Shirley and William W. Shirley. Sons Henry c. Shirley and William W. Shirley executors. Dated 31 May 1899 <William Shirley> Wit: William Penrose, Alfred Bagby, Jr, James W Denny. CODICIL: I give to my daughter Hannah F. Shirley during her natural life the house and lot and appurenant thereto on which she now resides on the southerly side of Shirley Lane, Baltimore [mentions 8 new houses built on Shirley Avenue, if not sold]. to my sister Mrs Eliza Connell who has three daughters residing in San Francisco and whose names I do not know $500 each. [Haveland Tea Set bequest revoked] I give the said tea set of china to my three children to divide equally. Dated 24 Nov 1900 <William Shirley> Wit: James W. Denny, Harry L. Denny

married Ellen Davis [Frayer?]- She was born Sept 3, 1817 died Aug 26, 1898, age 81.

Children:

3(i). Eliza Ann Shirley born June 12, 1841 Baltimore, Maryland (unmarried)

3(ii). Henry Clay Shirley born Dec 28, 1843; Ellis Island immigration record for 1904; wholesale merchant in Baltimore MD; died Mar 1, 1931

married Adaline Huff. She was born Nov 7, 1847 died Oct 16, 1930 Philadelphia, PA

Children:

4(i). Walter Huff Shirley b Nov 22, 1868 Baltimore, Maryland; clerk in glassware

4(ii). (Major) Joseph Whitney Shirley b Mar 12, 1871; Occupation: engineer; Residence: Reistertown Road, Baltimore MD

Joseph Whitney Shirley, chief engiueer, City of Baltimore Topographical Survey Commission, was born March 12, 1S71, at Baltimore, Maryland, son of Henry Clay and Adaline Shirley. After attending the Baltimore private schools, he graduated from Pennsylvania Military College in 1S91, with the degree of Civil Engineer, and was instructor in Mathematics and Military Science at Pennsylvania Military College from 1891-1892, and instructor of Mathematics and Commandant of Cadet Corps at St. Matthews School, San Mateo. California, 1892-93. Mr. Shirley was assistant engineer. City of Baltimore Topographical Survey Commission, 1894-1900, from which time to the present date he has been chief engineer, also chairman City Plan Committee of Baltimore, 1918 to date.

He was Second Lieutenant, Troop A, Cavalry, M. N. G.. 1897-98; Captain of same troop, 1898-1904; Major and Chief Quartermaster, First Brigade, M. N. G., 1904-13. Holds membership in the Engineers Club of Baltimore. American Association of Engineers, and Churchman's Club of Maryland.

married Katherine Davidson; she died March 9 1945.

SHIRLEY-Suddenly on March 9.1945 KATHERINE DAVIDSON,wife of Joseph W. Shirley. Funeral services at her home,Reisterstown Road and Cold Spring Lane on Monday morning at 10:30 o'clock. Interment in Greenmount Cemetery.

Children:

5(i). (Captain) Joseph Whitney Shirley II born Mar 7, 1905. A student at the Pennsylvania Military Academy. He died Sep. 5, 1956

married Elizabeth McMath

Children:

6(i). Katherine Louise Shirley

6(ii). Robert M. Shirley

6(iii). Henry Davidson Shirley

Ancestor of DNA Participant - Kit #15017

4(iii). Henry Clay Shirley Apr 5, 1874; lawyer of Baltimore MD but did not practice for many years due to ill health; died Feb 23, 1920 (unmarried)

3(iii). Hannah Florence Shirley Nov 30, 1847 Baltimore, Maryland (unmarried)

3(iv). William Walter Shirley Feb 17, 1861 Baltimore, Maryland died Nov 29, 1917 Baltimore, Maryland

married Maud Estell Didenhover Jan 30, 1909. She was born Feb 7, 1875 Baltimore, Maryland

4(i). William Shirley Born: June 30, 1910, Baltimore, Maryland; Died: October 10, 1990, San Ignacio, Belize, Central America; Married 1930), New York, N.Y.:

married Yvette C. McKinley Born: London, England, July 31, 1909

Children:

5(i). US Ambassador John William Shirley Born: Hailsham, Sussex, England, August 18, 1931

June 12, 1984 - The President today announced his intention to nominate John William Shirley, of Illinois, a career member of the Senior Foreign Service, Class of Career Minister, as Ambassador to the United Republic of Tanzania. He would succeed David Charles Miller, Jr., who is now Ambassador to Zimbabwe.

Mr. Shirley served in the United States Air Force in 1952 - 1956. In 1957 he began his service with the United States Information Agency as intelligence research officer. In 1958 - 1959 he was assistant cultural officer in Zagreb and assistant cultural attache in Belgrade in 1959 - 1960. He was public affairs officer in Trieste (1960 - 1963), press attache in Rome (1963 - 1965), and press officer in New Delhi (1965 - 1968). In 1968 - 1969 he was policy officer in the Near Eastern and South Asian affairs in the Agency. He attended Polish language training at the Foreign Service Institute in 1969 - 1970. In 1970 - 1972 he was press and cultural affairs officer in Warsaw. In the Agency he was Deputy Director and then Director for East European and Soviet Affairs and Director for European Affairs (1972 - 1977). He was Counselor of Embassy for Public Affairs in Rome in 1977 - 1980. In the Agency he was Associate Director for Programs (1980 - 1981), Acting Director of the Agency (1981), Counselor of Agency (1981 - 1983), and Deputy Director ad interim (1983). Since 1983 he has been diplomat in residence at Wesleyan University in Middletown, CT.

Mr. Shirley received his B.S.F.S. in 1957 from Georgetown University. His foreign languages are Hungarian, Italian, French, German, Polish, and Serbo-Croatian. He was born in August 18, 1931, in England, of American parents.

married 1) Leonie Erskine Cooper (March 17, 1951, in Washington, D.C.); Born: January 5, 1930, Launceston, Tasmania, Australia; Died: Aberdour, County Fife, Scotland, United Kingdom, April 9, 2001

married 2) Katherine Ann Horberg (November 10, 1968, in Chicago, Illinois)

2(v). Henry Shirley b. ____ London; He died before 1900, the date mentioned in his brotherWilliam Shirley's will.

married _______

Children:

3(i). Mary Ann Shirley - named in her uncle William Shirley's 1900 Maryland will

3(ii). Jane Shirley - named in her uncle William Shirley's 1900 Maryland will; married James Augustus Cattel on 14 Aug 1887 Shoreditch, Middlesex England.

3(iii). Elizabeth Ellen Shirley - named in her uncle William Shirley's 1900 Maryland will; married William Ingram 11 Apr 1886 Shoreditch, Middlesex England.

2(vi). Eliza Shirley b. _____ London d. _____ California; She married Connell; Named in the 1911 California estate record of brother John Shirley