Francis Shirley [Wingiver?] died Nov 12 1794 was buried Nov 15 1794 aged 61 years (b 1733)
Francis Shirley of Stanhoe (d 1829) owned land at Great Snoring, Norfolk.
A John Shirley was buried at Great Snoring Norfolk 7 Oct 1778 (b 1736)
1768 list of freeholders entitled to vote, Great Snoring; John Shirley resident of Great Snoring

Church Mem. Inscription: In memory of John Shirley who departed this life Oct 3rd 1778 aged 42 d 3 Oct 1778

Sherley, John, of Great Snoring 1778 ANW, will register, 1778-1779, (1778) fo. 134, no. 94
---
William Shirley, glover b abt 1764; living Hindolvestone Norfolk England in 1786 (note: no Shirleys found in the Hindolveston parish registry between 1748 and 1784)
1828 Dec 9 Will. Shirley, William of Hindolveston - Norwich Consistory Court. See image page 1, page 2 Will of William Shirley of Hindolveston Norfolk, glover [effects sworn under L200]. Appoint my son Francis Shirley and my son in law Isaac Stoulger exucutors. I give all my real estate situate in Hindolveston with all my stock in trade furniture and book debts unto my son Francis Shirley. the sum of 5L to my granddaughter Christiana Shirley Shoulger. All my ready monies at use on mortgage bills bonds or annuities and all my cloathes unto my daughters Martha Stoulger and Maria Claydon Ann Bailey and Mary Smith to equally divide between them. 18 October 1827. <s> William Shirley. Wit: Christopher Balls, John Fox, John Southgate.

Married Mary True on 5 Mar 1786 at Hindolvestone, Norfolk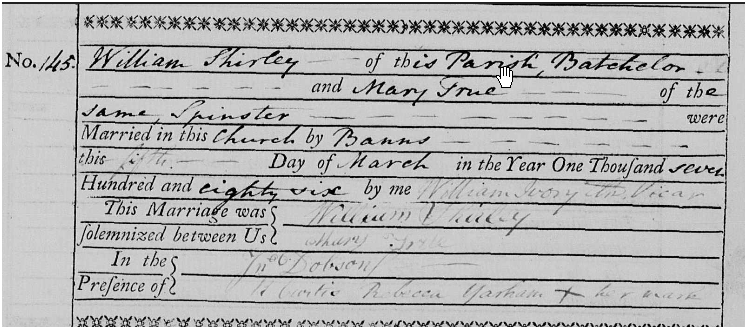 Marriage record between William Shirley and Mary True at Hindolvestone, Norfolk 5 Mar 1786
William and Mary Shirley children:

1(i). Martha Shirley b 4 Feb 1787 at Worthing bap 7 Mar 1787 of Hindolveston at Guestwick Ind. Meeting House Norfolk, m 10/04/1807 to Isaac Stoulger in Hindolvestone Norfolk and moved to Swaffham, where I find Martha as a shopkeeper and widow. (info on Isaac's family available)

1(ii). Maria Shirley b 14 Jul 1789 bap 22 Jul 1789 at Guestwick of Hindolveston Norfolk Guestwick Ind. Meeting House - married Robert Claydon on 16 December 1816 at Hindolveston

1(iii). Ann Shirley b 29 Jan 1795 bap 5 Feb 1795 at Guestwick of Hindolveston Norfolk Guestwick Ind. Meeting House - married William Bailey on 7 April 1814 at Hindolveston

1(iv). Mary Shirley b 1796; named in the will of her father, married John Smith on 8 May 1816 at Hindolveston

1(v). Christian Shirley b 2 Oct 1797 bap 26 Oct 1797 of Hindolveston Norfolk; at Guestwick Ind. Meeting House

1(vi). Elizabeth Shirley b 3 Nov 1799 bap 27 Nov 1799 of Hindolveston Norf. at Guestwick Ind. Meeting House

1(vii). Francis Shirley, glover b 6 Feb 1802 bap 16 Mar 1802 of Hindolveston Norf. at Guestwick Ind. Meeting House. He is possibly the Francis Shirley mentioned as nephew and then as 'Francis son of William Shirley' by a Francis Shirley who left a will at Stanhoe Norfolk in 1829. Freeholder in Hindolveston in 1833, 1835, 1837

Married Sarah Balls on 3 Sept 1821 at Hindolveston

children of Francis and Sarah:

2(i). Francis Shirley chr 10 March 1822 at Hindolveston

2(ii). William Shirley chr 11 Aug 1823 at Hindolveston; He died 2/11/1904. He may have been named in the will of a Francis Shirley of Stanhoe Norfolk as 'William son of Francis Shirley' (Note: a William Shirley, son of Francis and Sarah was buried at Hindolvestone on 11 Aug 1823)

Married Anne Wakefield of Snettisham on 31 Aug 1851at Kings Lynn Norfolk; father James Wakefield occ. Wheelwright

children of William and Anne:

3(i). Ann Shirley b 1852,

3(ii). William Walter Shirley b 1853 d 1932,

3(iii). Alfred Shirley b 1855,

3(iv). John William Shirley b 1856,

3(v). Edwin Francis Shirley b 27 July 1858,

3(vi). Francis James Shirley b 1862 d 1863.

2(iii). James Shirley chr 13 Nov 1826 at Hindolveston

2(iv). Mary Ann Shirley chr 24 Mar 1829 at Hindolveston

2(v). Edmund Shirley b 1830 at Hindolveston

2(vi). John Shirley b 11 April 1834 at Hindolveston d 18 June 1834.

2(vii). Elizabeth Shirley b 2 Feb 1835 at Hindolveston

2(viii). John Shirley b 1842 at Hindolveston; He died 22 June 1891

Married Susannah Chilvers in 1870 at Kings Lynn; She was b 14 April 1844 Highgate d 27 March 1913

children:

3(i). Rebecca Shirley b 23 Dec 1867 (out of wedlock)

3(ii). Agnes Shirley b 1869 married 9 Feb 1889 to Earnest Blomfield.

3(iii). Anna Martha Shirley b 20 June 1873 m 26 Dec1899 James Duce Norriss

3(iv). Sarah Shirley b 5 July 1874 m 18 Apr 185? Thomas Rose

3(v). Frances Shirley b 28 Aug1875 m 1 Apr1899 John Henry Hines.

3(vi). Isobell Florence Shirley b 7 May1877

3(vii). Katherine Elizabeth Shirley b 7 May1877

3(viii). Melitia Shirley b 1878.

3(ix). Ada Elizabeth Shirley b 1879

3(x). Kate Rebecca Shirley b 1881

3(xi). John Herbert Shirley b 8 Mar 1882 d 25 Mar 1915 on the Western Front France

3(xii). Rosetta Shirley 4 Jan 1885 m 10 Apr 1909 Charles Edward Millar

3(xiii). Elizabeth Ellen Shirley b 17 Aug 1888 m 22 Feb 1908 to Arthur Chilvers.

3(xiv). John Shirley b1891

2(ix). Francis Shirley b 1822 d 1822.

2(x). Mary Shirley b 1828.

2(xi). Martha Shirley b 3 May 1831 Hindolveston Norfolk (my line) m 31? Aug 1856 James Gould (of Bintry Norflok oc carpenter parents Charlotte Nobes and James Gould)

2(xii) John Shirley b 1834 d 1834

2(xiii) Edmond Shirley b 14 May 1835 d 21 Jan 1836.

2(xiv) Elizabeth Shirley.

2(xv) Sophie Elizabeth Shirley b 26 Jun 1836

2(xvi) Edmond Shirley b 9 Nov 1839 d 15 Oct 1839.

2(xvii) Rebecca Shirley b 1843

2(xviii) Edmond Balls Shirley b 24 Aug 1840

Married Georgina Earl in 1856; She was born 1845 in Billingford Norfolk, parents George and Sophia Earl

Children of Edmond and Georgina:

3(i). William Francis Shirley b 1868 Worthing Norfolk.

3(ii). Sophia Elizabeth Shirley b 1869 m 26 Dec 1900 to William James Moyse (of Carlton Coalville)

3(iii). Sarah Shirley b 1872 m 26 Dec 1899 to Fred Mingay (of Carlton Coalville)

3(iv). Edward Francis Shirley b 1874 d 8 Apr 1951

married Grace Donald on 27 Sep1899

3(v). Frances Shirley b 1877

3(vi). Martha Shirley b 1880 (Beccles)

3(vii). Charles Fredrick Shirley b 19 Jan 1893

---
Francis Shirley, draper of Stanhoe Norfolk, born 1762 (age 67 at death); He died 1829, buried at Stanhoe 26 Nov 1829. Likely the Francis Shirley, draper, freeholder at Stanhoe Norfolk in 1806
Francis Shirley of Stanhoe was buried Nov 26 1829, age 67 years by Wm Upjohn.

1829 Dec 13 Will. Shirley, Francis, of Stanhoe CatalogueRef Norwich Consistory Court, will register, Green, 520 FindingAids Norfolk Record Society vol. 47.Repository Norfolk Record Office see image Will of Francis Shirley of Stanhoe Norfolk [effects sworn under L3000] my soul....and my nephews and sisters to the care. I give to my nephew Francis Shirley all my messuage and tenement with cherry ground and appurtenances situate in Stanhoe with the proviso that my sister Anne Belton have the living in the messuage with the garden belonging now in the occupation of myself during her natural life and pay out 8L to each son and daughter of the aforesaid Anne Belton, namely Willim Mary Christain and Elizabeth. My messuage situate in the Great Snoring I give to my sister Christain Merlin. Personal property to be divided between my nephew Francis Shirley and my two sisters Ann and Christain. I also give to William Shirley son of Francis Shirley my watch. I give to Francis Shirley son of William Shirley my clock. Give to Mr W J Brereton 10L. Give to Rev W Upjoin 5L. Appoint nephew Francis Shirley my executor and sister Christain Merlin executrix. 14 January 1829. <s> Francis Shirley Wit. William Belton, Mark Roy, William Bennett.
Anne Shirley married Thomas Belton; named in the will of her brother Francis Shirley; Belton children chr at Stanhoe beginning 1790s.
Christain Shirley married _____ Merlin; named in the will of her brother Francis Shirley
---
EMAILS
Posted July 17th, 2006
My name is Alejandro José Díaz Vásquez, I born in Santiago Chile. My grandmother was Elsie Price b1899 in Enfield, MiddleSex, England her parents was George Henry Price b1872-1875 Kentish Town, London, England (1901 Census, but other census place he on other birthplace) and Edith Gould b1872 North Elmham, Norfolk, England and her parents was James Gould b1833 Bintry, Norfolk, England and Martha Shirley b1831 Hindolvestone, Norfolk, England...
I'm very interested in make contact to Delina Price, because of their records she become my cousin.
Best regards.
Alejandro
adiaz@tie.cl or adiazv@gmail.com
I RECEIVED THIS EMAIL TODAY AND UNFORTUNATELY, I DO NOT HAVE AN EMAIL ADDRESS FOR DELINA PRICE WHO SENT THE EMAIL BELOW. IF YOU KNOW OF DELINA OR IF SHE READS THIS POSTING, PLEASE GET IN TOUCH WITH ALEJANDRO. I LOST ALL EMAIL ADDRESS, ETC. WHEN OUR COMPUTER CRASHED AFTER THE 2002 DATE BELOW.
Thank you, Betty Shirley
---
Posted Nov. 3, 2000
Info from: DELINA PRICE
My grandfather Victor George PRICE was born in 1906 to the parents of Edith GOULD and George Henry PRICE. They married in 1894 at the age of 21. George Henry was born in 1872 and his parents remain elusive. Edith GOULD was born in 1872 in North Elmham, Norfolk, England, to the parents of James (known as Harry) GOULD and Martha SHIRLEY. Harry was born in 1833 in Bintry/ Bintree, Norfolk, England. He was the son of James GOULD (b1797, parents Nicholas and Sarah GOULD) and Charlotte NOBES b 1799, they had five children.
Martha SHIRLEY was born 3rd May 1831 in Hindolvestone, Norfolk, England, to Francis SHIRLEY b 1802 and Sarah BALLS b 1805, they married in 1821. According to an IGI record by 1840 Francis SHIRLEY had remarried, to Eliza HART and emigrated in 1848 to New Zealand, HOWEVER... I have a copy of the 1851 census for Hindolvestone, Norfolk, England and Francis SHIRLEY was registered here with his wife Sarah and 4 of their 10 children, including a new name Rebecca SHIRLEY b 1844.
This is as far as I have got. Other bits of information that have passed through the family are:
Edith was sent to London to learn dressmaking. Her father, James(Harry) GOULD, was a carpenter. Her mother, Martha SHIRLEY, was a servant. Martha's father, Francis SHIRLEY, was a Glover. Their is a story of Martha's father, Francis SHIRLEY, remarrying, hence the other marriage. But then the dates do not add up.
So in my quest for knowledge I am now researching PRICE London and Enfield areas, GOULD, NOBES, BALLS and SHIRLEY Norfolk areas. I will continue to add to this information and will add the siblings of each family at a later date.
I hope that my information will help you or hopefully, someone, somewhere, will make a connection.
Kind Regards
DELINA PRICE.
---
Nov 8th, 2000, Roger Shirley sent the following email....
Dear Betty,
I have just read Delina's email to you concerning the Norfolk Shirley's. The Francis SHIRLEY that Delina mentions married Eliza HART in Bedford, Bedford England on the 13th Oct 1840.
On the 5th March 1848 they are among the passengers on the "Victory" that arrived in Port Chalmers, Dunedin, New Zealand and are accompanied by there daughter Margaret Frances SHIRLEY and also another family by the name of GIBBS who were cousins of Francis SHIRLEY.
In August 1849 Francis & Eliza have a son, William Otago SHIRLEY. The birth certificate (I have a copy) states Francis occupation as "Shoemaker"
The next mention I have of this family is in 1878 where the son William Otago SHIRLEY is married to Jane H THOMAS in New South Wales, Australia. It appears the whole family moved from New Zealand to Australia. Francis SHIRLEY died in NSW in 1884 being 72years old and his daughter Margaret died in 1909 having not married. (her brother William O also died the same year)
William O and Jane went on to have 4 boys - Francis L T, William R, Percy W and Alfred H G. So far have only found one marriage that being of William R. Francis L T died when 20 years old and I have not found anything on Alfred or Percy who could have moved to other Australian states.
Hope this information will be of some help to Delina.
Regards
Roger Shirley