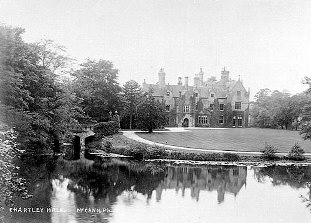 Chartley Hall was destroyed by fire in 1781; the present hall (pictured) was rebuilt in an Elizabethan style in 1847
"Chartley, a hamlet and manor one mile N of Stowe, is the property of Earl Ferrers, and was formerly the principal seat of his family.
On the summit of an artificial hill, stands the remains of Chartley Castle, built in 1220 by Ranulph Blundeville, Earl of Chester, who died without issue, when this castle, together with the extensive estates annexed to it, devolved to one of his sisters, who carried them in marriage to William de Ferrers, Earl of Derby. The remains of the ancient castle consist chiefly of the fragments of two massive round towers. The noble owners afterwards built, a little below the old castle, a more convenient mansion, in the half-timbered style, curiously carved and embattled at the top, but the greater portion of it was destroyed by fire in 1781. Soon afterwards another, but a smaller house, was erected near the same site, but it was also destroyed by fire in 1847, since when it has been rebuilt.
Mary Queen of Scots suffered part of her long imprisonment at Chartley, where there are still preserved a chair cover, and a set of bed curtains, said to have been embroidered by her hands.
The present mansion, called Chartley Castle, is a handsome structure, and is splendidly furnished, but Earl Ferrers' principal seat is at Staunton Harrold, in Leicestershire, although he owns about 16,000 acres in this neighbourhood.
Chartley Park is nearly eight miles in circumference, and comprises about 1000 acres of pasturage, stocked with deer and indigenous wild cattle of Britain.
One of the two sisters of the late Baron Ferrers, of the Devereux family, married Sir Henry Shirley, Bart, whose son, Sir Robert, was created Earl Ferrers and Viscount Tamworth in 1711, and these dignities have since continued in his family, and are now held by the right Hon Washington Sewallis Shirley, who was born in 1822 and succeeded as the ninth Earl in 1842. His eldest son, Viscount Tamworth, was born in 1847. "

[From History, Gazetteer and Directory of Staffordshire, William White, Sheffield, 1851]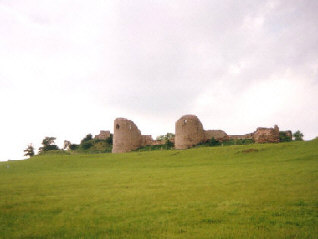 The ruins of the original Chartley Castle near Stow, Staffordshire