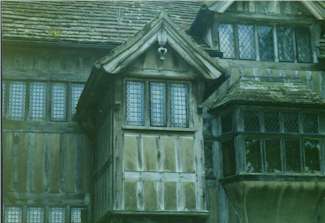 Window at rear of Ote Hall were the Countess of Huntingdon preached
History of Ote Hall
Sussex, England
The family taking the territorial designation of the Manor in 1341 i.e. "de Otehall" were living on the site of the present house in the reign of Edwad III in 1341. By 1379 a Richard Kentish appears to have been the proprietor and remained until sometime during the reign of Henry VI. It passed from his hands to John Michelbourne, from him it was purchased by Edward Godman on whose death it went to his only son John and at his decease to William Shirley, who had married his daughter and heiress Elizabeth. Their son, William Shirley, was born in 1694 and succeeded to his Mother's estate in Sussex and resided at Otehall. He was born at Preston, Sussex, educated at Cambridge and was called to the Bar. In 1741 he was appointed Captain and Governor-in-Chief of Masschuesetts.
The Great Ote Hall was built or at least enlarged by the Godman family in 1600
Governor William Shirley of Ote Hall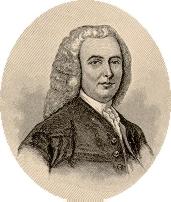 SHIRLEY, WILLIAM (1694-1771), colonial governor of Massachusetts, was born at Preston in Sussex, England, on-the 2nd of December 1694. He studied law, entered the Middle Temple, emigrated to Massachusetts in 1731, was appointed " the King's only advocate-general in America " (i.e. of all New England except Connecticut) in 1734, and in 1741, while representing Massachusetts in a boundary dispute with Rhode Island, was appointed governor. His efforts to secure a permanent fixed salary for himself (of £1000) were unsuccessful; and his attempt to prevent the further issue of paper money also involved him in a controversy with the General Court; but their relations were not unfriendly after 1743. The most important event of his administration was the conquest of Louisburg in 1745. The expedition was undertaken on his suggestion and its success was largely due to his energy and enthusiasm; in September 1749 £183,650 (English) in coin was brought to Boston to cover the outlay of Massachusetts, and largely through Shirley's influence this was used for the redemption of outstanding paper money, thus re-establishing the finances of the province, a subject to which Shirley had given much attention. Both in the colonies and in England, whither he returned in 1749 on leave of absence, Shirley kept up an active agitation for the expulsion of the French from the whole of Canada. He went back to Massachusetts as governor in 1753; led an unsuccessful expedition against Fort Niagara in 1755, and alter the death of General Edward Braddock (1755) until June 1756 was commander-in-chief of all the British forces in America. In September 1756 he was recalled to England and was succeeded as governor by Spencer Phips. He was governor of the Bahamas until 1770, then again returned to Massachusetts and died at Roxbury on the 24th of March 1771. He published a Journal of the Siege of Louisbourg (1745), and The Conduct of General William Shirley Briefly Stated (1758).
---
East Sussex Record Office: Deeds relating to Ote Hall Farm in Wivelsfield, Hurstpierpoint, Cuckfield, Barcombe, Lindfield, Ditchling, Keymer and Plumpton
8 April 1718- Mortgage (lease for 1000 years) William Shirley of the Inner Temple, London, gent to Jane Scofield of London, Widow- Manor of Otehall and lands (200 a) in Wivelsfield, Plumpton, Hurstpierpoint, Ditchling, Keymer and Barcombe
23 April 1718- Deed to declare the Uses of a Fine (a) William Shirley of the Inner Temple, London, gent (b) James Pember and Thomas Prime of London, gent. Manor of Otehall and lands above The parties agree to levy a fine to bar entail
1 April 1724- Assignment of Mortgage (a) William Shirley of the Inner Temple, London, gent (b) Jane Scofield of London, widow (c) John Bromfield of Lewes esq. Manor of Otehall in Wivelsfield. (b) with the consent of (a) assigns to (c)
22 July 1726- Mortgage (lease for 99 years) (a) William Shirley of the Inner Temple, London, esq to (b) Henry Lawton of Lincoln's Inn Middx esq. Manor of Otehall in Wivelsfield. Recites Settlement 5 November 1718 upon the marriage of (a) and Frances Barker of St Anne, Westminster

3 February 1728- Lease of tithes (a) Thomas More of Wivelsfield, esq (b) William Shirley of Wivelsfield, esq. Manor of Otehall and lands in Wivelsfield. (a) leases to (b) all manner of tithes accruing from the property

26 January 1737- Letters of Attorney (a) William Shirley late of the Inner Temple, London, now of Boston, Massachusetts Bay, New England, (b) Frances Shirley of London, wife of (a). (a) appoints (b) his attorney for any future assignment of the Mortgage of 8 April 1718

8 May 1739- Assignment of Mortgage (a) Henry Lawton of Northampton, Northants esq and Nicholas Gilbert of Eastbourne, gent, exors of the Will of John Bromfield of Lewes esq. dec'd (b) William Shirley of New England, America esq to (c) Abraham Tucker of Betchworth Castle, Surrey. Otehall Manor and lands in Wivelsfield
1749- Exemplification of a Common Recovery, Hilary Term 1749
Henry Hatsell esq demandant, Francis Warden tenant, William Shirley sen. and jun. vouchees. Otehall Manor and lands in Wivelsfield (200 a)
1, 2 May 1749 -Lease and Release and Covenant to Levy a Fine
(a) His Excellency William Shirley esq, Governor of Massachusetts Bay, New England (b) William Shirley the younger esq, son and heir apparent of (a) by Frances his wife (c) Francis Warden of the Inner Temple, London esq (d) Henry Hatsell of the Middle Temple, London. Manor of Oathall otherwise Oathale, with the Capital Messuage, buildings, gardens, orchards, lands called Oathall Farm and the Woodwards (200 a) in Wivelsfield. (a) and (b) convey to (c) and (d) to the use of (c) and his heirs for ever. (c) thereupon undertakes to discharge the mortgage debt to Abraham Tucker
---
Copy Will dated 1 October 1784, proved 5 February 1785. Francis Warden of Butler's Green, Cuckfield esq. Bequeathes Manor of Otehall to Thomas Shirley esq., Governor of the Leeward Islands, son of William Shirley deceased
19 January 1803- Attested Copy Will dated 27 April 1797 (proved 4 March 1800) Lieut Gen Sir Thomas Shirley of Bath, Somerset. Bequeathes real and personal estate to son William Warden Shirley
1802- Abstract of Sir William Warden Shirley's title to Manor of Otehale, messuages, barns and lands in Wivelsfield
4, 5, January 1803- Lease and Release. Sir William Warden Shirley of Duke Street, Grosvenor Square Middx to William Tanner of Morehouse, Wivelsfield, gent and Anthony Tanner of Ditchling, gent. Manor of Otehall and lands in Wivelsfield
(c 1803)- Copy Covenant to produce Deeds dated 24 January 1803 (a) William Tanner and Anthony Tanner of Wivelsfield, gents (b) Sir William Warden Shirley, bt, of Dukes St, Grosvenor Sq, Middx. Manor of Otehall and other lands in Wivelsfield. (a) covenant to show (b) their deeds, if demanded, which relate both to Otehall Manor and lands (recently purchased by (a) from (b)) and to lands (not specified) in Wivelsfield recently sold by (b) to one William Knight of Wivelsfield, shopkeeper
1803- Attested copy release dated 3 Jan 1805 (a) Frances Hutchinson of Bryanston St, Portman Square, Middx sp. (b) Sir William Warden Shirley bt of Duke St, Grosvenor Square, Middx (c) The Rev. Thomas Walsingham Western of Rivenhall Place Essex Clerk (d) Charles Callis Western of Felix Hall, Essex esq. Reciting the will of (b)'s father Sir Thomas Shirley bt dec'd, (a) now acknowledges that (b) and (c) and (d) the exors. of the will have fulfilled their obligation to her under the will by the investment of £1000 to her benefit
1816- Abstract of title of Sir Thomas Shirley bt To: 1 A messuage and garden on the East side of the church yard of Wivelsfield in the occ. of William Knight. 2 A messuage or cottage divided into two dwellings with the small yard or garden thereto belonging late Chatfield's and situate on the East side of the said churchyard adjoining to the premises above. Recites in relation to property 1 deeds from 1 Oct 1630 - Hilary Term 1749 tracing the title from Edward Godman gent. and his descendants to William Shirley (the property in question being part of the Oathall estate) Will of Francis Warden 1 Oct 1784 who had purchased the Oathall estate from William Shirley when the latter left it to go to Boston as Governor of Massachusetts, but in return for their friendship & the many favours he had received from him he bequeathed it back to William Shirley's son Thomas Shirley (charged with certain annuities - details given); also the "two small tenements adjoining Wivelsfield Churchyard" which he had lately purchased out of the Oathall Estate he bequeathed to Thomas Shirley; and assignment 8 Feb 1798 of the residue of a mortgage term by Martha Pinfold to Thomas Walsingham Western by the direction of Thomas Shirley for the trusts therein declared