PRESTON MANOR
SUSSEX, ENGLAND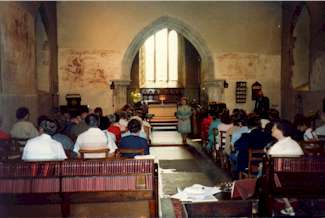 Sir Anonthy Sherley was the brother of Sir Thomas Sherley, the elder of Wiston Manor in Sussex. After the death of their father, William Sherley, their mother, Mary, married Richard Elrington who held the manor of Preston. At his death, she deeded the Preston estate to Anthony Sherley, the ancestor of William Shirley who was born in December of 1694 in this very house at Preston. Later of Oat Hall, where he resided just before going to Massachusetts USA to become Governor.
Preston is now a suburb of modern Brighton, then called, Brighthelmstone. It was a mere fishing villge and Preston Manor house was in the country, nestled amidst its trees in a cleft of the "Whale-backed" South Downs.
In the adjoining church you may see some Shirley tombs and an Elrington check tomb.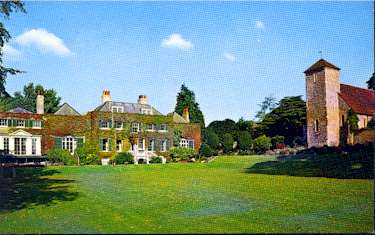 Preston Manor and church near Brighton, Sussex England
Sir Anthony's grandson, Richard Sherley, who was the last and third baronet, died unmarried in 1705. He left two sisters who were his co-heirs; one of them, Mary, married Thomas Western and the Western family then held Preston from 1712 until 1794 when they sold it to William Stanford, whose father, Richard Stanford, had been a tenant of the manor since 1758. The area sold was 980 acres, and the purchase price was $17,600 pounds.