10(i). John Shirley esq. of Ragdale Hall, Leicestershire born 1535 son of Francis Shirley of Ettington and Staunton Harold; He died 1570. Buried in Breedon on the Hill. He lived at Rakedale, now known as Ragdale estate, Leicestershire
married Jane Lovett 1558. This marriage brought several manors to the Shirleys: Astwell in the county of Northampton, South Newington (Newton), in the county of Oxford, Dorington in the county of Gloucester, and St. Botolph's Bridge in the county of Huntington.

children:

11(i). George Shirley, esq. of Astwell, Northamptonshire born 1559. Eldest son of John Shirley of Ettington. He died 1622 Astwell, Northampton Co. Buried at Breedon on the Hill.

married 1) Frances Berkeley 1587, daughter of Henry Lord Berkeley by Catherine, daughter of Henry Earl of Surrey.

married 2) Dorothy Wroughton (no children by this wife).

11(ii). Ralph Shirley b 1562 Rome, Italy. d.s.p. He was intended for the church (Priest) but died before taking orders. He was of Stretton, Staffordshire in 36 Elizabeth when brother George granted him an annuity. (He was a pilgrim at the English College at Rome in 9 Nov 1582).

11(iii). John Shirley d.s.p. Entered Trinity College, Oxford 1582. In 1590 he was of the Inner Temple and in 1602 was living Grays Inn, London. He died in the wars in Flanders of a shot in the knee received in the service of the King of Spain.

11(iv). Thomas Shirley d.s.p. Entered Oxford in 1587. In 1602 he was of Grays Inn. He released his interest in Brailesford, Warwick Co (sic) to his brother George upon the settling of Shirley upon him for a term of years]
---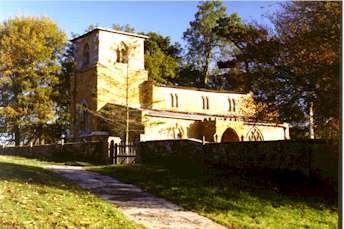 Ragdale parish church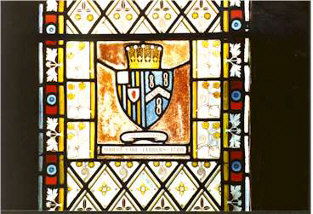 Church window bearing Shirley coat of arms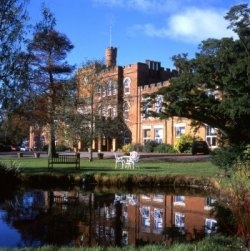 Ragdale Hall- now a luxury spa
Email from T.N in June 2013
Hi Ken, I work at Ragdale Hall as a night porter but also give evening talks to guests on the History of Ragdale as a family house. The section on Ragdale seems to note only one hall when there is (or was) two. The Old Hall built 1558-1600 next to Ragdale Church on the edge of the village, as a hunting lodge/hawking lodge and the New Hall built as you say on one section of your site by the 7th Earl Ferrers around 1787-1799.
Strangely we have only one engraving of the New Hall dated 1799 but have not been able to find a photo in its Georgian style( up to 1908) As part of my talk I mention the illegitimate daughter of the 7th Earl - Elizabeth Rose Shirley who married by special licence in 1804 at the London home of the Earl, one Colonel Hilton Joliffe MP. She died only four years later and I can not find the cause. In 1802 Hylton Jolliffe had formed the civil engineering company Jolliffe and Banks which under his brothers later control built lots of bridges in
London for John Rennie including the London Bridge that was rebuilt in Lake Havisu City USA. When Ragdale New Hall was let to tenants after the 7th Earls death Hylton Jolliffe came to live there in 1831 to hunt with the Quorn Hunt in his
retirement. In a recent local council Conservation area appraisal for Ratcliffe on the Wreake(about 3 mile South of Ragdale) it stated that the 7th Earl built Ratciffe Hall in 1812, but it does not say why and who for? When Caroline Shirleys daughter sold Ragdale - Ratcliffe was sold seperately in 1908. Before then John Dove Harris MP lived there married to Emma Shirley.
New - More on Elizabeth Rose Shirley Joliffe: Email from P.C. March 2016 - there is a memorial plaque to her in St. Katharine's Church, Merstham, Surrey, worded as follows: Elizabeth Rose the wife of Hylton Jolliffe Esq. Lord of this Manor & Representative in Parliament for the Borough of Petersfield. She died in the 25th year of her age on the 25th January 1809 at the house of her father, the Earl Ferrers. The Jolliffes, incidentally, were Lords of the Manors of Chipstead, Merstham and Kingswood, in Surrey.
Ragdale Hall, Leicestershire

Part of the Shirley possessions obtained through marriage. John Shirley 1535 d. 1570 lived at Rakedale, now known as Ragdale estate, Leicestershire. He married Jane Lovett. Their son, George Shirley moved the family seat to Astwell.
"Ragdale Hall was originally a medieval hunting lodge and falconry. The house's Victorian owners added the castle-style turrets, which were fashionable at the time. Later, the hall spent a few years as a nightclub and restaurant before becoming a health hydro in 1973, after it was bought by the owners of a slimming magazine. This is the place to head for peace, quiet and total relaxation in a beautiful setting - the perfect antidote to stressful urban living."
---
Ragdale Ancient Abstracts
1400 De Banco Roll - Hugh Shyrley, chivaler v Walter the parson's man of Rakedale in a plea of breaking his free warren at Rekedale and taking thence hares, rabbits, pheasants and partridges.
1440 Inquisition Post Mortem Beatrice who was the wife of Hugh Shirley, taken at Leicester on Thursday before the Nativity of St John the Baptist 18 Henry VI. Before Thomas Palmer the escheator and on the oath of John Chaumbleyn of Hathern, Henry atte Halle of Overton, John Nauntell of Hathern, Robert Bernevile of Threngeston, John Kendale of Twycrosse, John Herdewyn of Newebold, William Smyth of Barrow, William Somervyle of Cossington, John Souche of Belton, William Bygge of Rothley, Thomas Bygge of Rothley, John Draper of Thurmaston adn John Smyth and Thomas Ireland both of Cotes, jurors who say that Beatrice held no lands of the King in chief in Co Leices. on the day she died, but they say that a certain Ralph Basset of Drayton knt was seised of the manors of Rakedale, Willughes, Radeclyve etc in his demense as of fee, and granted them to Sir Walter Skyrlow bishop of Durham and others as trustees who granted them to Beatrice from Easter 7 Hen IV (1406) for a term of 8 years at a yearly rent of L20 the reversion of them to Ralph Shirley, knt and his male heirs for ever. After the expiriation of the aforesaid eight years the said Ralph Shirley entered on the afresaid manors and still remains in peaceful possession of them. The manors were not held of the King but of whom they are held the jurors are unaware. Beatrice died on Wednesday before St George the martyr 18 Hen VI. Ralph Shirley is her next heir and aged 40 years and more.
1467 Inquisition Post Mortem of Ralph Shirley esquire. Taken at Loughborough Co Leic. on 12 June 1467. Before Baldwin Porter the escheator and on the oath of William Parker of Loughborowe John Ballarde of the same Robert Payte of the same John Stone of Pakynton, Thomas Spede of Worthington, Henry Hay of Overton, John Harry of Worthington, Hugh Johnson of Segrave, Thomas Boydell of Bredo, Robert Parker of Bredon, Thomas Bertvyle of Tonge and Thomas Dawe of Tonge juroros who say that Ralph Shirley esq was seised in his demense as of fee of the manors of Rakedale and Willowes etc held of Eleanor, who was the wife of Humphrey Stafford, knt. The manors of Rakedale and Willowes are worth L10. Ralph Shirley died on St Stephen's Day last past. John is his son and heir and aged 50 years and more.
1572 Lay Subsidy Ragdall
Jane Shyrley, widow - in lands L12; tax 32s.