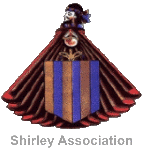 The Shirley Association has been a member of the Guild of One-Name Studies since 1988

Thomas Shirley of Belmount, Coon, co Kilkenny and Knockabranna, co Carlow

DNA haplotype E1b1b1
The inspiration for this lineage was the research by Ann Nosov. and seems to have been researched very thoroughly.
Another Shirley family "of Croan" Kilkenny are found in documents dating back to the 1760s. This family was also involved with land at Belmount and are clearly related. Numerous documents for this family can be seen in the members section of the Shirley Association. A family tree for this Kilkenny family is available here (updated April 2019)
Paul Shirley of Ballykeal County Wexford, farmer. Held lands of Toumbrick and Coolegarrow as primary tenant of Shapland Carew. The tenancy was terminated by Carew due to a 'great arrear of rent'. Sons John Shirley (likely later of Croan Kilkenny) and Thomas Shirley (likely later of Belmount Kilkenny) were named in the original 1742 tenancy agreement.
1742 Dublin Deed Registry Vol 104 page 514 - 3 June 1742 Shapland Carew to Paul Shirley - Shapland Carew of Woodstowne in Co Waterford esq demised unto Paul Shirley of Ballykeal in Co Wexford farmer town and lands of Toumbrick and Coolegarrow then late in the possession of Mr Walter Devereux situated in the Barony of Scarwalsh and Co Wexford [excepting woods, minerals, etc] to hold unto the said Paul Shirley from the Twenty Fifth day of March then last past during the natural lives of the said Paul Shirley and Jno Shirley and Thomas Shirley sons of the said Paul Shirley and the survivor and survivor of them from of immediately after the decease of the survivor fo them to Hold sd premises for 21 years at yearly rent of L90. Said indenture of Lease is witnessed by Robert Wiley servant to the sd Shapland Carew and Arthur Shepheard of the City of Dublin Publ Not. Memorial witnessed by sd Shepheard and Jno Gaddiz of same city cordwainer. Paul Shirley <seal> Registered 4 June 1742.

Likely father of Thomas Shirley of Belmount, County Kilkenny

1(i). Thomas Shirley of Belmount, co Kilkenny born before, say 1728, held 151 acres of lands at Belmount, Coon East Kilkenny in 1766; He died pre 1793; He is identified as the father of John Shirley of Knockabrannar on an exterior leaf of his son's 1836 LW&T.

1766 Thomas Shirley, Bellmount, farmer, 151a. - Kilkenny Archealogical Society deed box 1 D29

married ______

Children:

2(ii). Paul Shirley of Bellmount, co Kilkenny His children, later of Garnaman and Burnchurch, Co Kilkenny are identified as the grandchildren of Thomas Shirley of Bellmount. This family is predominantly Catholic

Dec 1 1794 Between Paul Shirley of Ballintee Co Kilk. Farmer in whom all of the right and title of John Shirley his father late of Koan in Co Kilk. Farmer dec'd the lesser in the original lease came to and vested off of the one part, and John Shirley of Bellmount Killkenny farmer, Brother and administrator with the Will of Paul Shirley late of Bellmount aforesaid farmer and trustee in deed of renewal for Thomas Shirley and John Shirley two elder sons of said Paul Shirley dec'd and devises in his said Will named minors under age of 21 in whom all the title and interest of their grandfather Thomas Shirley late of Belmount said original lease of the other part. Said John Shirley the lessor in said original lease and said Pail Shirley father of said Thomas and John Shirley and that John Shirley in trust for his nephews said Thomas and John according to the tenor of said lease.

2(i). John Shirley of Knockabranna co Carlow Born before 1759, held lands of Belmount, Coon, Co. Kilkenny, Ireland; occupation Farmer in Knocknabranna, Old Leighlin Parish, Co Carlow. John died After Oct 1836 and left a will. A contemporaneous note on his LW&T says he is the eldest son of Thomas Shirley, regarding a 1766 land lease (which is documented to have been at Belmount). Children baptized at Old Leighlin Parish, Church of Ireland. He was clearly a Protestant.

married Deborah_______ , b. Pre 1769, d. 25 Mar 1845, Knocknabranna, Old Leighlin, Co. She is buried: Old Leighlin Ch Co. Carlow, Ireland. Carlow. Deborah was left joint ownership of the farm in Knockabrannah