Likely father of John Shirley of Croan, County Kilkenny
Paul Shirley of Ballykeal County Wexford, farmer. Held lands of Toumbrick and Coolegarrow as primary tenant of Shapland Carew. The tenancy was terminated by Carew due to a 'great arrear of rent'. Sons John Shirley (likely later of Croan Kilkenny) and Thomas Shirley (likely later of Belmount Kilkenny) were named in the original 1742 tenancy agreement.
1742 Dublin Deed Registry Vol 104 page 514 - 3 June 1742 Shapland Carew to Paul Shirley - Shapland Carew of Woodstowne in Co Waterford esq demised unto Paul Shirley of Ballykeal in Co Wexford farmer town and lands of Toumbrick and Coolegarrow then late in the possession of Mr Walter Devereux situated in the Barony of Scarwalsh and Co Wexford [excepting woods, minerals, etc] to hold unto the said Paul Shirley from the Twenty Fifth day of March then last past during the natural lives of the said Paul Shirley and Jno Shirley and Thomas Shirley sons of the said Paul Shirley and the survivor and survivor of them from of immediately after the decease of the survivor fo them to Hold sd premises for 21 years at yearly rent of L90. Said indenture of Lease is witnessed by Robert Wiley servant to the sd Shapland Carew and Arthur Shepheard of the City of Dublin Publ Not. Memorial witnessed by sd Shepheard and Jno Gaddiz of same city cordwainer. Paul Shirley <seal> Registered 4 June 1742.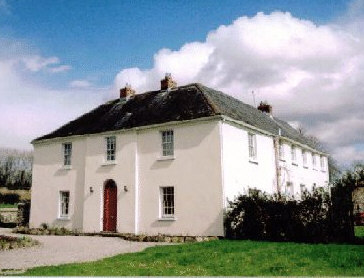 John Shirley of Croan, Kilkenny, gent.
1. John Shirley, of Croan, Kilkenny, gent. - born about 1721. Appears in Kilkenny documents as early as 1761 "of Croan, Kilkenny, farmer". Held 398 acres of town and lands of Belmount. Died before 1794 [per a document indicating he is deceased] Will dated 1 Dec 1791. Proven 19 June 1793 [per Betham's Abstracts], naming sons John and Paul Shirley. This John Shirley leased his lands at Belmount to Thomas Shirley [per a 1794 document involving members of this family and the Shirleys "of Belmount"]
married Sarah "Shirly" in 1741 [index of marriage bonds in the Diocese of Ossery, Ferns, and Leighlin]. Appears to have "separated" by 1779 [deed of separation: "Wife accepted payment of 20 pounds sterling annually for the rest of her life. Relinquish all claims she might have]
children:

2.i John Shirley "the younger "of Croan, esquire. - born, say 1745. Involved in land transaction called Monagore and the Chapelle Quarter (24 acres) in the Barony of Kells, Kilkenny in 1790. Held 100 acres at Ballynacooly called Corrabeney in the barony of Knoctopher, Kilkenny [1802], held 33 acres of Closeregg in the barony of Gowran, Kilkenny [1804], 9 acres and a dwelling house at Balyduffe called Mount Argula Conly in the barony of Gowan [1806], 57 acres called Clonbugg in the barony of Knoctopher [1810]. His will was dated Dec 17 1810 and probated Feb 25, 1811. Directed to be buried in the family burial place in the churchyard of Aghaviller. Named his niece Mary Shirley, daughter of his brother Paul. Also named daughter Mary, and cousin Thomas Shirley who he granted his lands at Garrynaman. He named next an unidentified John Shirley to whom he granted lands at Newland. The residual of his estate was granted to brother Paul Shirley. He granted his son Paul an annuity out of lands at Croan "after he reaches 21"

married Naomi Reade, spinster and elder daughter of Henry Reade, esq. of the town of Wexford about Dec 7 1799 [by marriage agreement which conveyed lands of Sheepstown, Garrynaman and Croan]. She instituted a petition for divorce in 1807 in the Consistorial Court of Ossery Diocese. "had agreed to live separate lives and any disputes to be referred to barristers." Involved 107 acres at Ballynacooley, lands of Clopregg known as Bishopes Hills in the barony of Gowan, Kilkenny, 310 acres within the town lands of Kilmanogue, Kilkenny, 140 acres within the town lands of Sheepstown called Ballinvadory Garealeagh.

children:

3.i Paul Shirley - likely identified in 1828 as "of Sheepstown, Kilkenny". named in father's 1810 will under age of 21. Therefore born, say 1800 [1 year after marriage to Naomi Reade]. Place in the care of his uncle Paul Shirley upon his father's death.

3.ii Mary Shirley - named in her father's 1810 will

2.ii Paul Shirley of Ballintee [1794], of Meyne [1810], of Croan [1811] gent. - born, say 1750. Died prior to 1821 [document stating somewhat contradictory that he is deceased]. Possibly the same Paul Shirley who married Frances Eaton in 1790 [per Index of Marriage Bonds]

children:

3.i Mary Shirley - unmarried as of 1810. Named in 1810 will of uncle John Shirley of Croan

The drive leading to historic Croan House, Kilkenny Ireland
---
A Stray family whose connection cannot be determined as yet
1. John Shirley of Templeorum, Kilkenny. Held 182 acres of land at Templeorum, Kilkenny. Deceased by 1781 [per document involving the grant of his lands]
married Joanna otherwise Byrne, otherwise Gallawan, mother of:
2.i John Shirley of Templeorum, Kilkenny - granted 182 acres of land of Templeorum in 1781 by mother Joanna Shirley to be "held for the natural life of Sarah, wife of John Shirley of Croan". Regranted the same lands to other parties in the same year.
---
Taken from a letter written in 1988 by a member of the Shirley Association.
"I felt I should have no trouble fitting the pieces into place. The more I read the more confusing it became. KNOCKABRANNA I found was only 2miles from Coolcullen and John Shirley came to Burnchurch from there. I did not find the name PAUL in his family. After reading your Shirley NEWS, I took off on John Shirley of Croan who in 1761 lesed 398 acres in Bellmouth. I followed my imagination last Sunday and to my surprise, I discovered the headstone in a remote graveyard ACHAVILLAR in KNOCKTOPHER BARONY. A Shirley was known to have had land near KNOCKTOPHER and BELLMOUNT. The headstone is in very bad shape and the writing is almost worn off. No year could be found there, just the words: ERRECTED BY PAUL SHIRLEY OF CROAN IN THE MEMORY OF HIS FATHER JOHN SHIRLEY, ESQ.There are more Shirley names but the Christian names are missing from the rain, etc.
I did meet a man who told me that Thomas Shirley was in Garnamon in 1830-1850 and he took for g ranted that James Shirley the coroner was his son. The lands of Garnamon were 345 acres and April 25, 1860 James Shirley became legal owner. Some of this acreage was leased to tenants leaving 213 acres with Garnamon House.
YOUR EDITOR, BETTY SHIRLEY, HAVE VISITED GARNAMON HOUSE.
---
The following letters were submitted by member, Bill Shirley on January 17, 2008.
Email: ...As for the typed letter, I got it from Donna Wagner I think it was a preacher that wrote it, but I can't remember his name. I may have it in my e-mails, or some of the papers that she has sent me. As for the hand written letter was written by Allison ( Fulton ) Thurrott In August 1941 material coming from her mother ( Matilda Fraser Fulton )and from her aunt ( Annie Fraser Shirley.) I got it from Carmen Glenn he is a descendent of Jessie Shirley and Alfred Glenn. Hope this helps;
- Bill