Bart Arvin Shirley
born Texas 1940

Name: Bart Shirley
Birth name: Barton Arvin Shirley
Birth Place: Texas, United States
Birth Year: 1940
College: University of Texas
Height: 5'10"
Weight: 183 lbs.
First game date: 14 Sep 1964
Final game date: 29 Sep 1968
Bats: Right
Throws: Right
Draft: Not Applicable
Mets, Dodgers
Born January 4, 1940 in Corpus Christi, TX
---
Ernest Raeford Shirley
born North Carolina 1901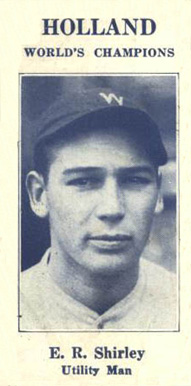 Name: Mule Shirley
Birth name: Ernest Raeford Shirley
Nickname: Mule
Birth Place: North Carolina, United States
Birth Year: 1901
Death Place: North Carolina, United States
Death Date: 3 Aug 1955
College: University of North Carolina
Height: 5'11"
Weight: 180 lbs.
First game date: 06 May 1924
Final game date: 12 Jul 1925
Bats: Left
Throws: Left
Draft: Not Applicable
Washington Senators (traded to Mobile in 1926)
Born May 24, 1901 in Snow Hill, NC
Died August 4, 1955 in Goldsboro, NC
---
Alvis Newman Shirley
born Texas 1918
Name: Tex Shirley
Birth name: Alvis Newman Shirley
Nickname: Tex
Birth Place: Texas, United States
Birth Year: 1918
Death Place: Texas, United States
Death Date: 7 Nov 1993
Height: 6'1"
Weight: 175 lbs.
First game date: 06 Sep 1941
Final game date: 21 Sep 1946
Bats: Both
Throws: Right
Draft: Not Applicable
Philadelphia As, St. Louis Browns
Born April 25, 1918 in Birthright, TX
Died November 7, 1993 in DeSoto, TX
Robert Charles Shirley
born Oklahoma 1954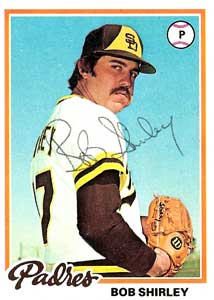 Name: Bob Shirley
Birth name: Robert Charles Shirley
Nickname: The Staff Saver
Birth Place: Oklahoma, United States
Birth Year: 1954
College: University of Oklahoma
Height: 5'11"
Weight: 185 lbs.
First game date: 10 Apr 1977
Final game date: 21 Jun 1987
Bats: Right
Throws: Left
Draft: 1976 : 1st Round (8th)
Padres, Cardinals, Reds, Yankees, Royals

Born June 25, 1954 in Cushing, OK
---
Steven Brian Shirley
born California 1956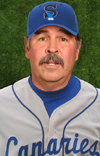 Name: Steve Shirley
Birth name: Steven Brian Shirley
Birth Place: California, United States
Birth Year: 1956
Height: 6'0"
Weight: 185 lbs.
First game date: 21 Jun 1982
Final game date: 30 Jul 1982
Bats: Left
Throws: Left
Draft: 1974 : 2nd Round (45th)


Steve Shirley - Field Manager, Sioux Falls
Canaries manager Steve Shirley spent 15 years as a player, including pitching 11 games for the Los Angeles Dodgers in 1982 and has worked as both a pitching coach and manager in independent baseball for three seasons.
Shirley managed the Sioux City Explorers to a 33-32 record in 2005 before leaving the club and returning to his New Mexico home to address some personal matters. Shirley spent the 2006 season as the pitching coach for the Winnipeg Goldeyes of the Northern League. His staff was second in the Northern League with a 3.78 earned run average. He also served as a pitching coach for the Duluth-Superior Dukes in 1999.
Drafted in the second round by the Dodgers in 1974, Shirley's 15 years of professional baseball playing experience also include time in the Pittsburgh Pirates, Detroit Tigers, Kansas City Royals, and Montreal Expos organizations. Shirley spent one month in the Major Leagues, debuting for the Dodgers on June 21, 1982. In 11 relief appearances for the Dodgers, he was 1-1 with a 4.76 earned run average.

Born October 12, 1956 in San Francisco, CA