This Lineage is Currently Being Reviewed and Revised - Beginning April 2019
Update April 2019. The unusual Y-chromosome DNA test result obtained many years ago from a descendant of Berryman Shirley Jr (see below) has now been confirmed as an exact match with a male Shirley descendant of Rev Beverly Shirley. Both Berryman Shirley Jr and Rev Beverly Shirley are sons of Berryman Shirley Sr. This (almost certainly) means that Berryman Shirley Sr shared the same "Shirley" DNA as the descendants of his 2 sons. And thus, all of his male descendants shown in Branch 38 below will have the same "Shirley" DNA.
Comparing DNA results for this family with DNA results of other descendants of Moses Shirley Branch #61 (long believed to be the father of Berryman Shirley Sr) rules out Berryman Shirley Sr as a biological son of Moses Shirley of Habersham Co GA. Through process of elimination, we can conclude the DNA deviation occured at the birth of Barryman Shirley Sr, not with more recent generations.
Berryman Shirley Sr. was born March 18, 1795 in Laurens Co South Carolina; He and Moses Shirley witnessed a sale of land by John Shirley to Samuel A Shirley in Habersham Co GA in 1826; He died March 3, 1875 Alto, Georgia. Buried Shirley Cem. Scroges Farm, Habersham Co. GA.
1875 May Inf. Court Min. Book 6, 1859-1885 p. 275 Young J. Shirley granted letters of admin. on estate of Berryman Shirley, dec. May 3, 1875. His oath that Berryman died without any will, etc.

1875 March 15 Habersham Co GA Inventory Book A, page 77, 105. Inventory and Appraisal of Estate of Berryman Shirley, dec'd, by Young J Shirley, administrator.

married Susannah Stearns July 13, 1818 Rabun Co., GA. She was born April 8, 1792 daughter of Ebenezer and Mary Ann Stearns of Laurens Co SC, she died July 13, 1877 Alto, GA. [Note the year of marriage and birth of first child???Error?]

children:

1(i). Young Jackson Shirley born August 26, 1817 SC, died Sept 13, 1898 Alto, Habersham Co. GA,

March 8, 1883 Habersham Co WB 2, page 38, page 39. Will of Young J. Shirley - Young J. Shirley bequests to wife, Margaret E. Shirley, 60 acres in l.l. 156, 125 acres in l.l. 165, 165 acres in l.l. 155 all of the 10th District, furniture, stock, etc. to eight heirs: Martha E. Shirley, John F. Shirley, William B. Shirley, Bashaba M. Shirley, Vestah S. Shirley, Margaret J. Shirley, Young J. Shirley and Francis H. Shirley, to receive estate equally at wife's death (or remarriage ?). Refiled May 9, 1923 due to fire in early 1923 by C. R. Brown, Ord. Exc. John F. Shirley and Martha E. Shirley Wit. W.C. King, N.P., J.P. and J.M. Martin, A.P. Grant, T.E. Deavans, T.B. Grant

married 1) Sarah Ann Jordan Oct 20, 1842 Rabun Co. GA. She died about 1860

married 2) Caroline Loggins July 6, 1862,

married 3) Mary Elizabeth Morris March 19, 1863 Habersham Co. GA,

married 4) Margaret Elizabeth Crow April 30, 1876.

children by Mary Elizabeth Morris:

2(i). Martha Elizabeth Shirley born June 25, 1864; She married James Cranston Thompson

2(ii). male infant Shirley born Nov 11, 1865

2(iii). Young James (Jim) Shirley born March 14, 1867

2(iv). John Franklin Shirley born March 17, 1868

married 1) Rosa Gailey

married 2) Margaretta Etheline Gailey

2(v). William Beverley Shirley born February 13, 1870

married Pleasant Holley King

2(vi). Mary Bashaba Shirley born December 27, 1871; She married William Thomas Ivie

2(vii). Sara Vesta Shirley born Sept 8, 1874

2(viii). male infant Shirley born Aug 7, 1875

children by Margaret E. Crow:

2(ix). Margaret Jane Shirley born February 9, 1877; She married Alford Gailey

2(x) Young James Shirley born Nov 28, 1878

2(xi) Francis Hettie Ann Shirley born June 3, 1881 Alto, Habersham Co. GA; She married Harwell Gailey

1(ii). Rev. Beverley V. Shirley born February 14, 1820, died June 14, 1877. He was buried at Shirley Cemetery in Fayette Co AL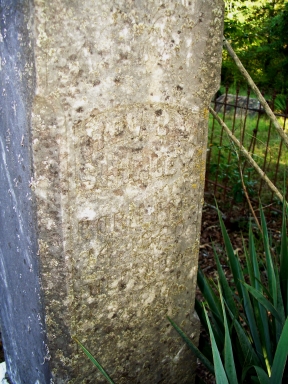 Shirley Cemetery, Fayette Co AL (a few miles north of Fayette)
Rev B. V. Shirley Born Feb 14, 1820
Died June 14, 1877
(source: Findagrave)
married 1) Malinda Jones on June 2, 1839 Rabun Co. GA; She died June 28, 1854.

married 2) Vesta Nix on Jan 1, 1855

married 3) Nancy Jones Walker Roberts. (3rd marriage info provided by Charles Patton).

children by Malinda:

2(i). Martha Ann Shirley born March 17, 1840 SC, died 1949; She married James Green Lawrence Mar 14, 1857 Fayette Co. AL.

2(ii). William Beverley Shirley born April 9, 1841; He died Jan 18, 1900

married 1) Sara L. Hendrix; She was born Sept 25, 1842 d. Sept 16, 1879 Fayette Co. AL

married 2): Louisa Luizer; She was born 1840 died Jan 23, 1887 Fayette Co. AL.

children (in 1880 Fayette Co. AL census)

3(i). Sallie M. Shirley born Dec 28, 1868 AL

3(ii). Lidie B. Shirley born Feb 1, 1872 AL

3(iii). Beverly Shirley born Mar 25, 1874 AL (male)

3(iv). Mattie J. Shirley born 1877 AL

2(iii). Lucinda Francis Shirley born Feb 16, 1843, died Mar 21, 1909, m. George Deavours

2(iv). Leonard Calvin Shirley born November 26, 1844 GA, died April 10, 1896 Fayette Co. AL,

married Martella Ford Jan 19, 1871 in Alabama.

children

3(i). Dellar Shirley born 1877 AL

2(v). Cosby Lee Shirley born 20 January 1847; lived in Clay Co. Texas in 1900 census; He died 11 November 1924 in Oklahoma

Ancestor of DNA Kit #896589

married Mary L. Wilbanks on 12 November 1868 in Fayette Co. AL. She was born 18 December 1852 GA; She died in 1904 in Hastings OK

children

3(i). Newte Shirley

3(ii). Mattie Bahsie Shirley born June 1869

3(iii). William Leander Shirley born 16 August 1872 in Fayette Co AL; He died 21 September 1949 in California

married Mattie Jane McDonald on 12 November 1893 in Wise Co Texas; She was born 31 May 1877 and died 12 September 1951 in California

3(iv). Sarah Findora Shirley born Sept 20, 1873 AL

3(v). Beverly V. Shirley born Mar 25, 1874

3(vi). Lizzie F. Shirley born 1883

3(vii). Matilda W. Shirley born Dec 28, 1884 (census says Minnie M.)

3(viii). Belle Mollie Shirley born Aug 22, 1888 Decatur, Wise Co. Texas (census says Mary B. 1886)

3(ix). Newton C. Shirley born Aug 1889 TX

3(x). Joshua Edward Shirley born Aug 12, 1895 TX

2(vi). Rev. Josiah Starnes Shirley born February 1, 1849, died Jan 3, 1936,

married 1) Martha Hollingworth b. Dec 25, 1849 d. Mar 14, 1917 Fayette Co. AL

married 2) Sarah Olive Campbell about 1917.

children born Fayette Co. AL

3(i). Vesta Malinda Shirley born 1872

3(ii). Martha I. Shirley born Oct 20, 1874

3(iii). Annie Delitha Shirley born Nov 2, 1875

3(iv). Berryman Beverly Shirley born Aug 28, 1878

3(v). Jonah Josiah Shirley born Aug 20, 1886

3(vi). Ethel Shirley born July 21, 1889

3(vii). Roseannah Elizabeth Shirley born Sept 13, 1893

2(vii). Elizabeth M. Shirley born June 15, 1851 m. Bud Barnett

2(viii). B. J. Shirley (male), born June 15, 1854 died Oct. 21, 1854

children by Vesta Nix:

2(ix). child Shirley born dead Oct 28. 1855

2(x). Sarah Malissa Shirley born December 5, 1856, died Mar 12, 1939, m. John Ford

2(xi). Young Jackson Shirley born March 14, 1858, died Aug 26, 1913 Fayette Co. AL,

married Mattie Grovelia Oswalt on April 20. 1885. She was born Oct 6, 1868 Tusc. Co. AL d. Aug 20, 1900 Fayette Co. AL

children:

3(i). Hester Shirley born 1886 d. 1954 m. John Thomas Garrison.

My mother did tell me a story that before leaving home at any time, Hester always threw the broom that stayed next to the fireplace out the back door to keep sparks from igniting the broom and setting the house on fire. I guess she's had a significant emotional event concerning fire sometime in her life. "Mr" John and "Miss" Hester ran a General Store on the north side of the town of Fayette, in Fayette County, selling food, clothing, shoes, gasoline, etc., until they retired and turned its operation over to my dad. After Hester's death, John married Maggie Shirley, the widow of Fenton Shirley.

3(ii). Fenton Shirley

3(iii). Fannie Shirley

3(iv). Alice Shirley

3(v). Virgie Shirley

3(vi). Felix Shirley

3(vii). Maggi Shirley

3(viii). Matti Shirley; She died as infant Aug 8, 1900

1(iii). Mary Ann (Polly) Shirley born Oct 23, 1822, died Feb 25, 1909; She married Christopher Smith who was born ca. 1804 in North Carolina. No Children.

1(iv). Berryman Shirley Jr. born December 19, 1825 GA, died Nov 22, 1864 Goldsboro, NC, War Between the States;

married Bashaba Jones July 13, 1848 Rabun County Georgia. She was born April 5, 1824 SC and died Dec 14, 1884.

1(v). Mary Lydia Shirley born 1824 m. Asberry B. Wadkins Dec 30, 1851

1(vi). Elizabeth Roseanna Shirley born Nov 18, 1827 m. Joseph E. Beaty Mar 29, 1852

1(vii). Aaron Shirley born 1828 SC

married Hester Ann ____.

children

2(i). William Berryman Shirley born June 1850 Habersham Co. GA

2(ii). Clark N. Shirley born 1856

2(iii). Sarah M. Shirley born 1858

2(iv). Thomas S. Shirley born 1859

1(viii). Susannah Shirley born ca. 1832 GA, died Jan 1860, m. Benjamin Calhoun Ellard Feb 20, 1853