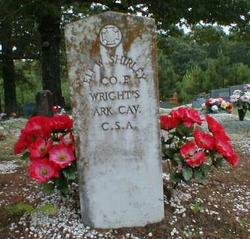 Eli Wiley Shirley was born on Oct 11 1820 in TN. The family is living in Polk, Dallas Co Arkansas in 1850 census (2 Emerson families live next door in that census) and Jefferson, Calhoun Co Arkansas in 1870;. He died on Jan 24 or 28 1911 in Hot Springs County, AR. He was buried in Oak Bower Cemetery,

MILITARY: CSA Company E.; Wright's Ark Cavalry
NOTE: Eli Wiley Shirley had a sister Luncida Jane Shirley who married William Rowland Nov 20, 1851 in Calhoun Co Arkansas. Their son Stephen Rowland was living with Eli Shirley in 1870 in Calhoun county AR. Stephen is listed as nephew.
married Mary Ann Emerson in Tennessee (the Emersons lived in Henderson and Hardin Co TN prior to migrating to Arkansas)

children:

1(i). James Reid Shirley born Nov 6, 1841 Hardin Co. TN, died on Nov 13 1899 in Hot Springs County, AR; They were residents of Calhoun Co. AR in the 1880 census

married Nancy Elizabeth Atkins

children

2(ii). William Wiley Shirley born 1868 AR, married Bell Sanders

2(ii). Harvey or Harry Shirley

2(iii). Mary Frances Shirley born 1873 AR, married Billy Shuffield

2(iv). James Riley Shirley born 1876 AR, married 1st Mesa Wad, married 2nd Nancy Brady

2(v). Emily M. Shirley born 1879 AR, married Ben Whitfield

2(vi). Melissa A. Shirley; She married Gent Wade

2(vii). John Henry Shirley

2(viii). Phiness Shirley born March 23, 1881 and died May 2, 1957

married Mary Melissa Burton Shirley – born March 14, 1881 – died September 3, 1950. Born to this union 8 children – 5 boys – 3 girls

2(ix). Nancy Louella Shirley born 1890

1(ii). Sincy Adeline Shirley, was born in 1843 in TN. She was married to Archable MAY on Sep 9 1860, Clark Co. AR.

1(iii). Ellanna Emaline Shirley, born 1845 TN; Not living in family household in 1870 census

1(iv). Nancy Jane Shirley, was born in Jan 1847 in TN. She was married to Marvel G. DUNCAN on Jun 19 1870 in Clark County, AR.

1(v). Martha Elizabeth Shirley, 1849 TN; living with family in 1870 Calhoun Co Ark census, age 21.

1(vi). Sabra Ann Shirley, was born in Jul 1852. She was married to James Anderson THOMASON on Oct 21 1875 in Hot Springs County, AR.

1(vii). Mary W. Shirley, was born in Dec 1853. She married William Joseph Duncan.

1(viii). Emily Caroline Shirley, was born on Oct 4 1855 in AR. She died on Dec 28 1921 in Hot Springs County, AR. She was buried in Oak Bower Cemetery.

1(ix). Eliza Catherine Shirley, born about 1857 AR; Not livng in family household in 1870 census

1(x). William Wiley Shirley, born about 1860; Not living in family household in 1870 census

1(xi). Telitha Angeline Shirley, was born on Mar 12 1867. She died on Feb 4 1945 in Hot Springs County, AR. She was married to William Thomas BRAY on Nov 8 1885 in Clark County, AR.




---
Ezekiel S Shirley born about 1795 in South Carolina; Fought in the War of 1812 in Capt Long's Company. He lived in Maury Co TN in 1820, Perry Co TN in 1830 and by 1835 in Hardin Co TN, 1840 Hardin Co TN, [not found 1850], Calhoun Co AR in 1860 census living with son J. E. Shirley
April 10, 1854 Military Warrant MW-0769-352; 160 acres Calhoun Co Arkansas; Ezekiel Shirley private in Captain Long's Company United States Infantry, War of 1812. West half of the NW qtr of Sec 4 and East half of the NE qtr of Sec 5, Twp 13S, Range 12 W

[Note: this appears to be Capt Long's 39th US Infantry that fought with Jackson at Horseshoe Bend. Most of the enlistees came from East Tennessee, including McMinnville Warren Co, Sevierville, and Knoxville]

Discharge papers available at the National Archives:

Shearly, Ezekiel 1814 39th Inf. Capt. John B. Long's Co.
Shearly, James 1814 39th Inf. Capt. John B. Long's Co.

married ______ She was dead before 1860 census

children:

1(i). William J. Shirley died prior to 1851 Calhoun Co AR land warrant. Likely unmarried since his father was named heir at law.

Sept 1 1851 Military Warrant MW-1088-197; 160 acres Calhoun Co Arkansas; Ezekiel S. Shirley father and heir at law of William J. Shirley deceased late a private in Captain Woods Company Twelfth Regiment United States Infantry; SE qtr of the SW qtr of Sec 24. the NW qtr of the NE qtr and the North 1/2 of the NW qtr of Sec 25. Twp 14S Range 13W

[Note: this warrant was part of 1847 legislation, which raised troops for Mexican American War. Late in 1846, the United States recruited ten regiments of regulars to launch a mission against Vera Cruz and inland to Mexico City. Captain Allen Wood of Carroll County raised a company of Arkansans for the Twelfth Infantry and joined the forces of General Winfield Scott in the summer of 1847. Wood's Arkansans fought in the battles of Contreras and Churubusco on August 19 and 20, 1847, on the outskirts of Mexico City. In a matter of weeks, Mexico City fell to Scott's forces. ]

1(ii). J. E. Shirley born about 1831 in Tennessee, age 29 in 1860 Calhoun Co AR census

married Caroline ______ She was born in Ohio.

---
James R. Shirley born December 1793 Greenville, Greene, TN; He was in the 39th US Infantry in the War of 1812; He died 28 July 1876. Buried Lebanon Cemetery, Hardin, Tennessee
Married Jincey House born about 1795, Greenville, Tennessee death: 1855 Tennessee

Married Elizabeth Moore born about 1797 marriage: 2 September 1857 death:

Children:

1(i). Thomas Shirley born Mar 27, 1816 Hickman TN. He lived in DeSoto County Illinois. He died Oct 1895.

married Nancy A._____.

children

2(i). Rebecca Jane Shirley born Dec. 31, 1842 TN

2(ii). Gincy Ann Shirley born Jan 3, 1845 TN

2(iii). William Henry Shirley born April 12, 1847 TN

2(iv). Martha Elizabeth Shirley born Oct 1850

2(v). Mary Melissa Shirley born Oct 1854

2(vi). Louisa M. Shirley born Dec 1858. Died Mar 9, 1934

2(vii). Robert Alexander Shirley born Mar 1861 TN. Died Nov 13, 1950.

Ancestor of DNA participant #258684

2(i). Henry Shirley born about 1819 Hickman TN. Can be found in the 1880 census of Clark Co. AR.

married Jemima_____. She was born ca. 1838 TN.

children in census of 1880

2(i). Sarah F. Shirley born about 1869 AR

2(ii). William H. Shirley born about 1871 AR

2(iii). Thomas J. Shirley born about 1872 AR

2(iv). Alexander Shirley born about 1875 AR

2(iii). Charlotte Shirley born about 1823 MS

2(iv). Francis Shirley born about 1825

2(v). William F. Shirley born about 1827 MS Very likely same person of Branch 99

2(vi). Franklin Edward Shirley born about 1828 in Mississippi. Died 26 January 1864 Buried Alton, Madison, Illinois in the Confederate soldier cemetery.

marriied Malinda Malvina Jones on 28 January 1847, Henderson, Tennessee. She was born 9 October 1827. She died 24 February 1909

Children:

3(i). Elihu Elkanah Shirley born 21 December 1847 death: 8 May 1923

3(ii). Jincy Ellen Shirley born 29 March 1849 death: before 1869

3(iii). Elizabeth Rebecca Shirley born 16 December 1851

3(iv). Samantha D. Shirley born 2 September 1852 death: 1934

3(v). Martha M. Shirley born 20 March 1854 death: 20 February 1942

3(vi). John Henry Shirley born 26 November 1855 death: 25 December 1898

3(vii). William J. Shirley born 18 December 1857

3(viii). James Thomas Shirley born 15 December 1859 death: 31 December 1922

3(ix). Margaret Ann Shirley born 29 March 1862 death: 30 July 1939

3(x). Edward C. Shirley born 14 November 1863 death: 3 August 1942

2(vii). Martha Shirley born about 1832 TN

2(viii). James R. Shirley born about 1833 TN (in 1850, living with Peyton Smith in Hardin Co. TN)

2(ix). Sarah Shirley born about 1833 TN

2(x). John Shirley born about 1842