James Bradford Shirley b. Aug 21, 1830 McMinn Co. TN (source for place: death cert of daughter Eliza H.); He and his family are living in the 3rd District (?Unitia PO) in Blount Co TN in 1860; He died Jan 5, 1904; (A Sarah E Hines age 14 is living with the family in 1860)
Listed in the 1850 census of Monroe Co. TN is: Sarah Sherley 40 (1810) KY, James 19 (1831) TN, Thomas 12 (1838) TN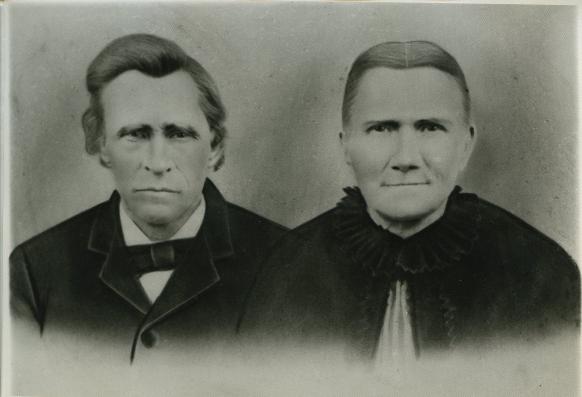 James Bradford Shirley and Orpha Vincent
married Orpha Vincent on Feb 8, 1854 in Monroe Co. TN. She was born Nov 25, 1832 Green Co. TN to Hiram Vincent and Mary Houston; She died June 3, 1915 at Loudon Co TN, age 83.
children:

1(i). Mary H. Shirley born Jan 4, 1855 Monroe, TN; age 5 in 1860 census; She d. May 15, 1915 Loudon Co. TN m. John L. Cline

1(ii). Sarah Margaret Shirley born Oct 8, 1856 Monroe Co. TN; age 3 in 1860 census; She m. 1st William F. Thacker Feb 20, 1879. He was born July 9, 1854 TN d. Nov 5, 1888 Greene Co. MO, m. 2nd Abner Presley Mar 19, 1891

1(iii). John McKinley Shirley born Aug 14, 1858 Monroe Co. TN; age 1 in the 1860 census; He died Oct 19, 1897 TN

married Texanna Scott July 31, 1891 Loudon Co. TN

children:

2(i). Homer Harrison Shirley born Sept 28, 1892

2(ii). Nellie O. Shirley born Oct. 23, 1893

2(iii). Bessie Maud Shirley born Jan 27, 1895

2(iv). J. Rowena Shirley born May 25, 1897

1(iv). Lorenzo Dow Shirley born Mar 20, 1861 Monroe Co. TN d. April 24, 1861 Monroe Co. TN

1(v). James Gilbert Shirley born May 30, 1863 TN d. ca 1936

married Mollie Hedrick Nov 10, 1887 Monroe Co. TN

children:

2(i). Lona A. Shirley born May 1893 TN

2(ii). Brastine C. Shirley born June 1894 Loudon Co. TN

2(iii). Flor W. Shirley born June 1897 TN

1(vi). Hiram J. Shirley born Jan 20, 1867 TN d. June 30, 1867 TN

1(vii). Eliza H. Shirley born Mar 4, 1869 TN d. April 2, 1918 Blount Co. TN (parents named in death certificate)

1(viii). Samuel Lee Shirley born Nov 5, 1871 TN d. ca. 1960

married Mary Jane Downey April 24, 1898 TN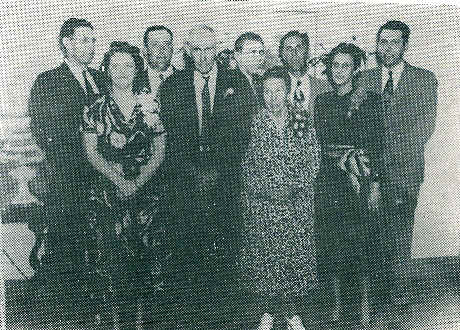 Samuel Lee and his wife, Mary Jane Downey Shirley, 50th Anniversary
Left to right: Victor H., Ruth Walker, Samuel Ellis, Samuel Lee, James Clearance,
Mary, John Owen, Orpha Russell and Dale Russell Shirley.
1(ix). Minnie Shirley born Feb 21, 1876 TN m. William E. Isbill
---
Shirley Message Board Posting
Isaac Shirley (First to America)
Posted by: April (IP Logged)
Date: May 08, 2008 02:39PM
My aunt told me that we have an Isaac Shirley that was the first of our line to come to America. I don't have a date. All I know is that he's related to the following line (at some point).
James B. Shirley (married to Orpha Vincent) 1830
John M. Shirley (married to Texanna Scott) 1858
Homer Harrison Shirley (married to Trudy Jones) 1892
Glenn Eugene Shirley (married to Juanita Jeanette Campbell) 1921
Doyle Eugene Shirley 1947
April Lynn Shirley Hutson (Me). 1970
Can anyone help?
Posted by: April (IP Logged)
Date: May 08, 2008 09:49PM
More information received today:
Issac Shirley was the second son of an English Nobleman. He wasn't in line for the title or lands, so he left England for America.Sometime in the 1800's. He came to North Carolina or South Carolina and setteled on some land. It must have been North Carolina because he married an Indian named Molly or Minnie Beaver.They had several children.At least one of those sons must have settled in Blount County, Tennessee.
I'm not sure if that helps anyone in finding him. ???
Any help is greatly appreciated.
April Shirley Hutson