1(ix). Delilah Shirley born ca. 1768. She was the unwed mother of one child, Lewis Shirley. She ultimately married Benjamin Fleshman and had several children
children: (surname Shirley)

2(i). Lewis Shirley illegitimate son of Delilah Shirley. born 1785. He moved to Melissa Collin Co Texas in 1852 where he died in 1867. Buried at Melissa Cemetery, Collin Co TX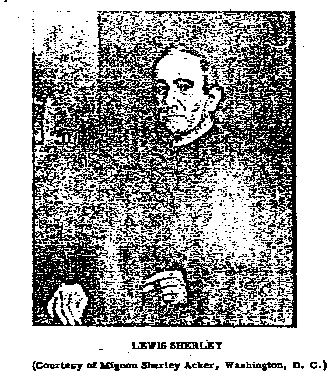 A History of Collin County, Texas -The Shirley and Sherley Families
Lewis and Pauline Shirley came to Texas from Kentucky in 1851 and settled three miles east of present Melissa. To this union were born seven children, Rebecca, Tom, Abram Lewis (Jack), Thornton E.,
Alec, Mrs. T. M. Scott, and Mrs. Anna Graves. Rebecca Shirley married Albert Sherley [note the two ways of spelling the name] in 1857 and during the following year they settled one mile west of Melissa. Later they moved to a farm three miles east of Anna. During the Civil War he was a member of Ross' regiment of the Confederate Army. They had eight children, Andrew L., Ben L., F. H., Mrs. Laura Bond, Mrs. Tella Watts, Mrs. Anna Lou Cox, Mrs. G. P. Collins, and Miss Maggie Sherley. Rebecca died in I905 and Albert died prior to that date. Andrew L. Sherley was born west of Melissa in 1858. He was the first depot agent at Melissa and later he was a prominent farmer and businessman at Anna for forty years. His land holdings included over 4,000 acres in Collin County and several sections in Parmer County. During the1920s he was a member of the board of regents of Texas Christian University, to which institution he made a gift of $100,000. Ben L. Sherley was born three miles east of Anna in 1860 and was educated at Anna and at Savoy College in Fannin County. In October, 1899, he married Arronnah Blackburn. They were the parents of six children, three of whom survived him. He was a member of the Fortieth Legislature. Twice he was a candidate for congress, opposing C. B. Randell in 1928 and Sam Rayburn in 1930. He died at Anna in 1931. Abram Lewis Shirley, son of Lewis and Pauline Shirley, was born in Kentucky on November 23, 1842, and came to Texas with his parents in I851. He was a Confederate soldier and was wounded and captured at Pea Ridge. In 1865 he married Louise Pattie. To this union five children were born, T. S., D. A., Z. M., W.M. (Mort), and Lewis. Only T. S. and D. A. survived their parents. Mrs. Shirley died in July, 1923, and her husband on April 17, 1925. W. M. (Mort) Shirley was at different times county surveyor, county clerk, and county treasurer of Collin County. D. A. Shirley was business manager at Texas Christian Unversity for four years and was registrar and associate dean at West Texas State Teachers College at Canyon for many years until his death in 1949. Thornton E. Shirley, son of Lewis and Pauline, was a large land owner near Melissa. He was prominent in the affairs of Texas Christian University when that school was located at Waco. He served as chairman of the board for many years and devoted much time and energy and donated large sums of money to promote the welfare of that institution.

married 1st. Elizabeth Harris Broaddus; She died between 1827 and 1830.

married 2nd Pauline Kellar, married about 1830.

children: by Elizabeth

3(i). Jane Barsheba Shirley born June 30, 1809 (another source says June 3, 1810). Died Jan 5, 1882

married John Shirley June 7, 1825 in Jefferson Co. KY (son of William Shirley and wife, Eliz Clore).

3(ii). Capt. Zachariah Madison Shirley born May 7, 1811 Louisa Co. VA, (twin). He died Feb 18, 1879 Louisville KY, buried Cave Hill Cemetery. (see extensive biography in the Miscellaneous link at the top of page)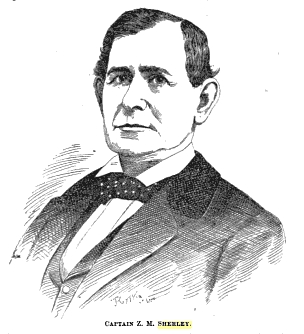 Zachariah moved to KY at an early age and became a successful businessman and civic leader; President of the Louisville and Jeffersonville (IN) Ferry Company; Vice President of the Henderson Packet Company; principal in the mail boat line running between Louisville and Cincinnati; trustee of Kentucky University (now Transylvania University) at Lexington and of the Medical Department Of the University of Louisville; trustee also of the Kentucky Institute for the Blind and of the Young Women's Christian Association; Director and Manager of The Cave Hill Cemetery Company; one of the founders and Directors of the Citizen's National Bank, forerunner of the Citizen's Fidelity Bank and Trust Company of today; aligned with the North during the Civil War and used his boats without thought of recompense to forward supplies to the troops in the field; in the fighting at Pittsburg Landing he was responsible for transporting General Buell's entire army south by water getting it there in the nick of time; active church member in his last few years.

Captain Sherley was married three times. The first wife was, as we have mentioned, Mrs. Taylor, a member of the celebrated Tarascon family. The second one was Miss Clara Jewell, of Louisiana; the third, who survives him, was Miss Susan W. Cromwell, of Fayette County. A single son by each of these wives survives him. He left a large estate which was divided among these four heirs. The afflictive illness which carried him off was cancer of the stomach. This deprived him of appetite, and during the last twelve months of his life he rarely felt any disposition to take any kind of food. His mind was remarkably clear, and he attended to a variety of business with an unclouded intellect. This was very conspicuous in all his affairs long after his debility drove him to bed. Indeed, this was his condition up to near about the time the cancerous tumor of the stomach ate through his duodenum. At 2:15 o'clock on the morning of February 18, 1879, his long, beautiful life closed upon earth, amid a host of sorrowing friends and relatives. He had become a member of the Presbyterian Church some time before his death, and his hours of consciousness were, as his life had been, peaceful and calm. His funeral was attended by a multitude of his admirers, the Rev Messrs. Simpson, Wilson, Humphrey and Tyler officiating. His body reposes in the beautiful Cemetery of Cave Hill, which he did much to adorn and beautify.

married 1st. Nannie Tarascon, daughter of John Tarascon of Louisville. She was the widow of Edmund Taylor.

married 2nd Clara Jewel of Louisiana Mar 18, 1843.

married 3rd. Susan Wallace Cromwell. She was born Aug 20, 1831.

children:

4(i). Lewis Shirley d. Feb 18, 1873,

married Laura Brannin, b. April 12, 1846, d. Sept 5, 1871, daughter of Elizabeth Roberts and Abram Owen Brannin who was the son of Eliz. Owen Brannin.

children:

5(i). Brannin Shirley In the 1880 census, he is listed as b. ca. 1866 and is a patient in the Beechhurst Sanitarium.

married Brite MacDonald

children:

6(i). Elizabeth Shirley born Jan 4, 1888, died July 4, 1944, m. 1st. Thomas Lee Shevlin of Minneapolis. For three years he was All-America end at Yale and Captain of undefeated team of 1905.

6(ii). Thomas Henry Shirley

5(ii). Bettie Shirley born Nov 17, 1869, d. May 3, 1940, m. George Ewing Nov 12, 1890 Louisville, KY. He was born Sept 6, 1866, d. June 3, 1919

4(ii). John Colmesneil Shirley born May 12, 1836, d. July 28, 1912 Jefferson Co KY, age 76 (death cert),

married Susan Hobbs. She was born Dec 16, 1845, d. Dec 7, 1917.

children:

5(i). Edward Hobbs Shirley born Sept 19, 1868, d. Nov 24, 1931

5(ii). Nannine Shirley born Nov 4, 1866, m. 1st T.S. Locke,

4(iii). Thomas Huffman Shirley born Dec 31, 1843, d. Nov 29, 1898,

m. Ella Swagar May 9, 1864. She was born June 18, 1845, daughter of Joseph Swagar b. Oct 29, 1792, d. May 22, 1883 of Louisville KY, and Rachel Moore of Philadephia PA as his 2nd wife. Joseph Swagar was born in Montgomery Co. PA, emigrated to KY in 1815 and settled in Louisville where he engaged in ship building and the river trade; first man to sail a steamboat to the mouth of the Yellowstone; inspector of hulls at Louisville; President of Franklin Bank; made the trek to California and back in 1849, died in Louisville and is buried in Cave Hill Cemetery.

children:

5(i) Eva Belle Shirley born 1865 d.1940, m. Robert Lewis

5(ii). Zachary M. Shirley born 1867 d. 1939

5(iii). Clara Moore Shirley born July 27, 1869, died May 14, 1949, m. Burt Adams Tower, Professor at University of Hawaii.

5(iv). Congressman Joseph Swagar Shirley born Nov 28, 1871, Joseph Swagar was a lawyer for 16 years, Republican in Congress from Louisville; Chairman Appropriations Committee in W.W.I.; Director of Finance , U.S. Railroad Adm. March 1919-Sept 1920; practiced law in Washington D.C. from 1920 until his death. d. Feb 13, 1941, He is buried in Cave Hill Cemetery.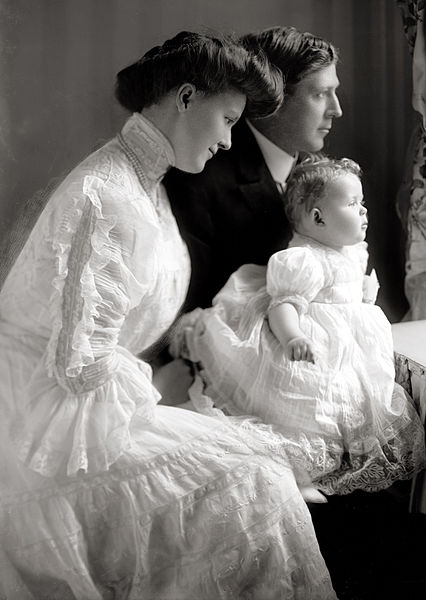 Congressman Joseph Swagar Sherley and wife Mignon
married Mignon Critten (chr. Mary Winifred) April 21, 1906 Staten Island, NY, daughter of DeFrees Critten and Olive Stilwell.

5(v). Minn-Ell Shirley born 1877 d. 1944, m. Fulton Mandeville

4(iv). Benjamin Jewel Shirley born Nov 8, 1845, d. Oct 19, 1863 (18 yrs old)

4(v). George Douglas Shirley born 1857 d.1917

3(iii). Thomas Jefferson Shirley born May 7, 1811 Drowned in the Mississippi when young. Twin of Zachariah Madison

3(iv). Mary Shirley born July 13, 1813 d. Apr 16, 1884 m. Alfred Herr Dec 7, 1830

3(v). Martha Shirley born Apr 25, 1815 d. about 1856 m. Col. Stephen Ormsby Jr.

3(vi). Robert Pope Shirley born May 22, 1818 d. Mar 11, 1897

3(vii). Harriet Louise Shirley born May 27, 1820 d. Mar 27, 1871 m. Wm. D. Scott Mar 23, 1843

3(viii). Warner Lewis Shirley born Nov 12, 1822 d.s.p.

3(ix). Agnes Glen Shirley born Jan 1, 1824 d. 1884 m. Dr. Abijah Samuel Frederick of Shelby Co. KY

3(x). William Malborn Shirley born Jan 26, 1826 Jefferson Co. KY. d. Feb 12, 1856 Collin Co. TX

married Sophronia Gist.

3(xi). Eliz. Matilda Shirley born Aug 13, 1827 d. May 19, 1922 m. Thomas Morton Scott (brother of Wm. D. Scott).

children by Pauline:

3(xii). Alexander Henderson Shirley born June 5, 1830 KY, died 1902 TX.

m. 1st Louisa Watson in 1852 and they had no children.

m. 2nd May 9, 1878 Mary Lora Burns.

children:

4(i). Lewis Thornton Shirley

4(ii). Jerusha Maude Shirley m. Thomas Allen Brown

4(iii). Louetta Shirley m. Walter Ellis Floyd

4(iv). Ashel Henderson Shirley

4(v). Thomas Earl Shirley

3(xiii). Rebecca Kellar Shirley born Feb 27, 1837 Jefferson Co. KY d. Apr 24, 1905 TX m. Albert Gallatin Shirley, her cousin Jan 26, 1856 Collin Co. TX

3(xiv). Thomas Meridith Shirley

m. Louise Van Alstyne

3(xv). Abram Lewis (Jack) Shirley born Nov 23/5, 1842 in Kentucky. He died Apr 18, 1925 at McKinney, Collin Co Texas, age 84y 4m 25d. Buried at Melissa Cemetery

Ancestor of DNA participant Kit #64897 - Haplotype R1b1a2

married Susan Louise Patty on 27 December 1864

children:

4(i). Hon. Zachary M Shirley born 30 November 1865. He was identified as a McKinney TX lawyer, deceased in the 1920 obituary of his brother William Morton Shirley. He died 22 June 1895. Buried Pecan Grove Cemetery, McKinney, Collin Co Texas

married Anna Throckmorton Bailey

4(ii). William Morton Shirley born 11 August 1868 in Texas. He died 19 October 1920 in Collin Co Texas. He was Collin County Treasurer and his long obituary was published on the front page of the Weekly Democrat-Gazette newspaper on 21 October.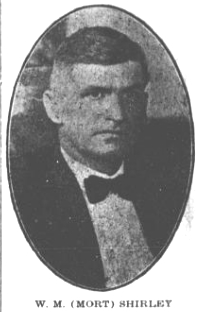 married Iva M. Slaughter on 14 January 1897. She was a graduate of Mary Nash College and a daughter of Matthew Slaughter

4(iii). Thorton S. Shirley born 30 July 1870 in Texas. He died 10 August 1865 at Houston, Harris Co Texas. He was a furniture salesman. Buried at Melissa Cemetery, Collin Co Texas

married Allie M _____

4(iv). Lewis Edgar Shirley born 8 October 1876. He died 6 September 1903, about age 27. Buried Melissa Cemetery, Collin Co Texas

4(v). Prof. Douglass Alfred Shirley born 29 June 1883 at Melissa Collin Co Texas. He was Assistant Dean of the State Normal College at Canyon Texas at the time of his brother William Morton Shirley's death. He died 22 December 1949 at Canyon, Randall Co Texas. Buried Dreamland Cemetery, Randall Co TX

married Willena M Hannaford

3(xvi). Dianna Shirley born Aug 27, 1846 d. April 21, 1927 m. Albert Goodwin Graves May 30, 1865

3(xvii). Thornton Edgar Shirley born July 16, 1849 KY. He was Chairman of the Board of Trustees of what would later to become Texas Christian University in Texas. He died on 22 June 1938 at Phoenix Arizona. Buried at Melissa Cemetery, Collin Co TX

Thornton Edgar Shirley

AT TOP OF THIS PAGE, CLICK ON LINK "MISC INFO FOR THIS BRANCH". THERE IS AN ARTICLE ON THAT PAGE ABOUT THORNTON EDGAR SHERLEY.

married Virginia H. Bean on 12 February 1885.

children:

4(i). Pauline Shirley born about 1885, age 15 in 1900 census

4(ii). Carl Shirley born about 1889, age 11 in 1900 census

4(iii). Hattie Shirley born about 1891, age 9 in 1900 census

The following are Delilah Shirley's legitimate Fleshman children

2(ii). Joshua Fleshman

2(iii). James Fleshman

2(iv). Allen S. Fleshman

2(v). Jane Fleshman. She m. 1st George Price Mar 13, 1820 in Madison Co. VA m. 2nd James Powell from whom she divorced.

2(vi). Ruth Ann Fleshman. She m. Nelson Gillespie Dec 2, 1830 in Louisa Co. VA

2(vii). Absolom Fleshman

2(viii). Noah Fleshman

m. ___Overton

2(ix). Polly Fleshman. She m. Archey Brown

2(x) Mildred Fleshman. She m. Barnett Grimsley