1(iii). Zachariah Shirley born ca. 1757 (twin) lived in Madison Co. VA. He never married but had 2 sons.
Will of Zachariah Shirley - Dated Dec 31 1825. Brother: Thomas Shirley should have all my estate both real and personal with these provisions that he shall associate with my friend and neighbor Thomas Clore and that plantation whereon my mother now live shall be bought if it can be and rented out for the purpose of supporting the minister of the gospel belonging to the Baptist order that may preach in this neighbourhood where oru black people may conveniently attend. Sons: Zachaiah and James Shirley to be provided for, if their prudence will merit the same; Brother Thomas sell som of our surplus lands and lay money out in some western counties in 100 or 150 acres for our brother Joshua Shirley to live and raise his family. [no executor names]. Signed Zaha. Shirley. Wits: John Lewis, Thomas Clore. James (X) Hurt.

child with Elizabeth Keagy. She was born Dec 5, 1776 in VA was the youngest of 11 children of Henry Keagy and Barbara Stoner. She and Zachariah Shirley was the mother of:

2(i). Zachariah Shirley, Jr. He died Mar 2, 1875 Shenandoah Co. VA age 78.

married 1st. Barbara Keagy Aug 15, 1825 (she was the daughter of his uncle Christian).

married 2nd Mary Koontz May 12, 1841, married 3rd Sallie___. She was named in his will.

children of Zachariah and Barbara

3(i). Anna Shirley

3(ii). Thomas J. Shirley born ca. 1826 VA

3(iii). Martin V. Shirley born Sept 6, 1829 They are living in Page Co. VA in 1880 census. He died. May 10, 1915

married Eliza Ann Brubaker March 14, 1850. She was born Nov 1, 1832 and died July 24, 1898, daughter of John Brubaker Jr. and his wife Elizabeth Koontz.

children:

4(i). Barbara Elizabeth Shirley born Dec 15, 1850 m. Daniel S. Hite

4(ii). Sarah Catherine Shirley born Feb 11, 1852 m. John William Long, son of Philip and Mary Long

4(iii). John Thomas Shirley born Jan 8, 1858

married Martha A. Comer. She was born June 13, 1858

children: (born Page Co. VA)

5(i). Mary Kate Shirley born Jan 19, 1886 m. James Kemper Burner

5(ii). Zachariah Martin Shirley born Oct 1, 1887 d. Fe 5, 1935

5(iii). Thomas Rueben Shirley Sr. born Sept 18, 1889 m. Linda Shaffer

5(iv). Annie E. Shirley born Sept 19, 1892 m. Hubert Monroe Strickler

5(v). Lelia Ruth Shirley born July 18, 1894

5(vi). Dollie E. Shirley born Mar 22, 1899 m. G. Clifford Long

4(iv). Abraham Zachariah Shirley born April 1, 1859

married Mary Ellen Rebecca Aleshire Mar 19, 1885 Page Co. VA. She was born Oct 6, 1866 died Jan 21, 1948

children:

5(i). Martin Reuben Shirley born July 10, 1890, d. Feb 4, 1949

m. 1st Ethel Williams Feb 2, 1880, divorced 1911,

m. 2nd Mabel Claire Ruffner June 12, 1915

children:

6(i). Virginia Ella Shirley born Sept 5, 1916, d. ___ m. 1st. Eckel Davis, m. 2nd Lemoine Johnson

6(ii). William Abraham Shirley born Mar 22, 1918, d. Nov 22, 1877, was in the Army in WWII in 1941.

6(iii). Reuben Martin Shirley born May 10, 1919, d. Feb 12, 1996, m.1st ___ m. 2nd Liz ____

6(iv). Clara Elizabeth Shirley born Feb 23, 1921, d. May 4, 2001 m. Francis Brown

6(v). Mary Catharine Shirley born Oct 22, 1922, d.___ m. Kauffman Long

5(ii). Eliza Elizabeth Shirley born Aug 20, 1898 m. Augustus Martin Modisett

5(iii). Leo Abraham Shirley born Jan 28, 1906, d. Aug 12, 1992, m. 1st. Edna May Kite, m. 2nd Lillian M. ___ m. 3rd ______.

5(iv) Infant Shirley d 1884, 5(v). Infant Shirley d 1886, 5(vi). Infant Shirley d 1887

4(v). Mary Ellen Shirley born April 1, 1862 m. John R. Brubaker, son of Gideon and Mary Brubaker

4(vi). Annie Eliza Shirley born March 15, 1868 m. Philip Long Brubaker, son of Gideon and Mary Brubaker

4(vii). Robert Lee Shirley born Jan 30, 1871

married Gertrude Camella Brubaker Nov 28, 1895. She was born Sept 21, 1869 and died Dec 17, 1898

child:

5(i). Elizabeth Shirley born Sept 1, 1896

3(iv). Christian Shirley born ca. 1836 VA. He was the father of Dr. W. C. Shirley, a longtime dentist. at New Market, VA.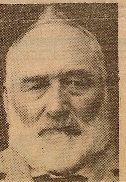 Christian Shirley
This photo appeared in a newspaper identifying Christian as a Confederate Veteran.
He attended 'The Old Soldiers' Reunion, an event the was the highlight of the year.
3(v). Samuel P. Shirley He died July 28, 1915 Shenandoah Co. VA

3(vi) Elizabeth H. Shirley born 1842 in Pendleton Co VA; She married William E. Gaines in 25 Oct 1866 in Page Co VA (marriage record: "dau of Zachariah Shirley"

3(vii). Barbara A. Shirley

3(viii). Catharine Shirley. She married Andrew J. Brubacker Nov 7, 1850

Child by Lucretia/Lucy Clark (sister of Sallie); She and Zachariah Shirley had 1 child.

2(ii) James Clark, alias Shirley born Oct 28, 1798 Madison Co. VA. In 1822 he was boarding with his cousin, Lewis Sherley, in Caswell Co. NC. where he engaged with him in horse racing; He died "on water" in 1828 or 1829 and is buried in "Carolina".

1829 - Thurs. July 23, 1829 "Sherley", died on 16th of May, about 60 miles below Natchez, Mississippi, James Sherley of Caswell Co., aged 30 years leaving a widow and 3 small children... RRW .From Abstracts of Vital Records from Raleigh NC Newspapers 1820-29

1829 Sept 30. Caswell Co Will Book L pg 445 - Inventory of the property of James Sherley decd: 1 side board, a cow and calf; stallion and 1 horse left in Tennessee. by said Sherley. By James W. Jeffreys, adm.

married Susan Mitchell (A "runaway" marriage) in 1823. She was a daughter of Thomas Mitchell of Caswell Co. NC, with whom James was engaged in slave trading;

children:

3(i). Marion Shirley Identified in Virginia Chancery documents as one of three children of James Clark, alias Shirley (son of Zachariah Shirley). According to Chancery documents, he died unmarried before the age of 21.

3(ii). Virginia C. Shirley. Identified in Virginia Chancery documents as one of three children of James Clark, alias Shirley (son of Zachariah Shirley). She married James B. Upton

3(iii). Indiana Shirley. Identified in Virginia Chancery documents as one of three children of James Clark, alias Shirley (son of Zachariah Shirley). She married 1st Theodore Perkins, (they had a daughter Clarissa); m. 2nd Robert B. Joyner, (they had a daughter Georgette)