This family lived in Bledsoe Co TN, Ray Co MO, Washington Co Ark, TX and OK
Jesse B. Shirley b 1780-90 died from cancer before 1850 most likely in Bledsoe Co. Tennessee. He is said to be the son of John Shirley born August 27, 1738 of Laurens Co. SC.
married __________ Someone said the surname for Jesse's wife was Allen? I have no info if that is correct.

children:

1(i). Landon Jesse (Landy) Shirley born Oct 23, 1814 SC; living in Bledsoe Co TN in 1850; Moved to Moniteau Co. MO. By 1880 Landon Jesse Shirley is in Collin Co. TX and by 1900, Carter Co. OK.; d. Oct 22, 1904 Provence, Carter County OK.

married Sarah Swafford. (at least 5 children)

children in 1850 Bledsoe Co TN census, 1860 Moniteau MO census

2(i). Mary Elizabeth Shirley born Sep. 15, 1839 at Bledsoe County TN; died May 6, 1913; buried Provence Cem, Ardmore, Carter Co OK. She married William M. Jones

2(ii). John Calvin Shirley born Aug. 12, 1840 at Bledsoe County, TN; died Feb. 23, 1901; buried Provence Cem, Ardmore, Carter Co OK.

married Mary Ann Belshe

children:

3(i). Sarah Elizabeth "Sack" Shirley b: 1863 in Missouri

3(ii). Susan Angeline Shirley b: 17 Dec 1865 in Jefferson City, Cole County, Missouri

3(iii). William Shirley b: 1869 in Missouri

3(iv). Robert E. Lee Shirley b: abt 1871 in Missouri

3(v). James Sparral Shirley b: 21 Jun 1874 in Missouri

3(vi). Eliza E. "Lide" Shirley b: Dec 1876 in Texas

3(vii). Martha M. "Mattie" Shirley b: Apr 1879 in Texas

3(viii). Jesse Calvin Shirley b: 16 Feb 1882 in Texas

2(iii). Nancy J. Shirley b 1842 TN

2(iv). Milliy Angelina Shirley b 1844 TN

2(v). Aaron F. Shirley born 1855 TN

married Nellie A. Coker

children:

3(i). Everet Shirley b: Nov 1898 Indian Territory

3(ii). Stella D. Shirley b: 1901 Oklahoma

3(iii). Willie Shirley b: 1904 Indian Territory

3(iv). Lee Shirley b: 1906 Oklahoma

3(v). Dessa Shirley b: 1908 Oklahoma

1(ii). Mary Ellen (Mollie) Shirley born Oct 27, 1818 Charleston, SC d. 1911, Ray County MO. She married James Calvin Swafford in Bledsoe Co. Tennessee. (11 children).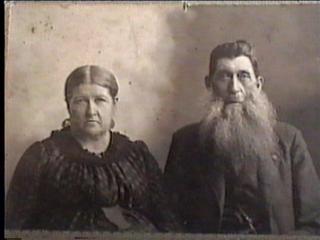 Mary Ellen Shirley and husband J.C. Swafford
(www.familyoldphotos.com)
1(iii). Edward (Ned) Shirley born Jan 12, 1821 in Pendleton Co South Carolina according to an 1863 deposition, age 46 (1860 census says TN). He lived in Bollinger Co MO in 1860 and moved to Carroll Co Arkansas in 1870 census; He died at the home of his daughter in Fayetteville, Arkansas, (is the date of birth correct?)

married Elizabeth Minerva Green in Cape Girardau MO
Seated center is: Edward Sherley b. ca. 1820 TN, wife Eliz., older gentleman may be her father;
Standing: Burton, Hannah, Ola, Susan and Jane. (The order is not known.)
Photo submitter now unknown to Shirley Association

1(iv). Joseph P. Shirley born about 1826 SC

1(v). Rufus B. Shirley born December 26, 1827, SC; Lived in Sulphur Springs Rhea Co TN in 1870; d. July 05, 1881;

married Malinda Shropshire Abt. 1849

children:

2(i). Rufus Shirley born about 1858 TN (1860 and 1870 census)

2(ii). William T. Shirley born about 1861 (1870 census)

1(vi). Blackmon Ligon Shirley born June 15, 1829 Sequatchie Valley, Bledsoe Co. Tennessee. Died Feb 17, 1933 Parker Co. TX. He had 6 children by 1st wife, 3 sons by 2nd wife, and had a daughter by 3rd wife. He was in Company F 5th Tennessee Infantry, Union Army, Civil War (see considerable additional information from newspaper articles etc on the Miscellaneous page linked at the top of this page)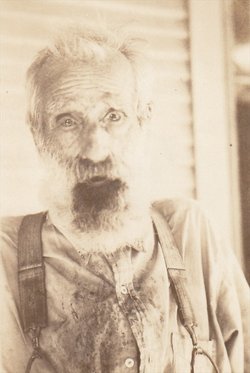 Blackman Ligon Shirley

married 1st Frances Worthington who died in 1869,

married 2nd Cassandre Eliz. Dilbeck Fitts, a widow, Sept 1, 1870 in Rhea Co. TN.

married 3rd Annie Moore April 4, 1910 at Weatherford TX.

children:

2(i). Sarah Jane "Sadie" Shirley May 4, 1852 Hamilton Co. TN m. William H. Fitts. She died Feb 27, 1942 Carter Co. OK (12 children)

2(ii). Margaret Elizabeth "Marg" Shirley Aug 9, 1854 Hamilton Co. TN m. James A. Freiley Aug 30, 1877 Rhea Co. TN (9 children)

2(iii). Hester Ann Shirley 1858 TN m. George Clinghan (2 daughters)

2(iv). Kittie Catherine Shirley Mar 7, 1860 TN d. July 2, 1937 Electra Texas, m. John Thomas Fitts Nov 21, 1876 Rhea Co. TN (6 children)

2(v).William Shirley 1863 no info

2(vi). Mary Safronia Shirley Mar 24, 1867 Hamilton Co. TN d. May 23, 1942 Wise Co. Texas m. William H. Casey Oct 28, 1885 Parker Co. Texas NO children. They did adopt a child and raised several others.

2(vii). Jesse Carroll Shirley Jan 15, 1869 He was a stock farmer of Bowie TX He died Mar 7, 1957

m. 1st. Anna Lu Ella Vernon.

m. 2nd Minnie Donaldson (no children)

m. 3rd Carrie Mae Peters.

children:

3(i). Effie Frances Shirley Mar 8, 1891 Parker Co. Texas d. Nov 5, 1978 m. Jesse Ray Wertenberger Aug 22, 1915 Archer Co. Texas (6 children)

3(ii). Roy Wesley Shirley Nov 25, 1893 Parker Co. Texas m. 1st Pearl Wertenberger, sister of Jesse. m. 2nd _____ (3 children by 1st marriage and 2 by 2nd marriage)

3(iii). Carl Oscar "Jack" Shirley Mar 20, 1895 Parker Co. Texas d. Mar 15, 1936 Young Co. Texas m. Amey Dell Gannon (5 children)

3(iv). Mamie Bell "Maye" Shirley Jan 15, 1897 Young Co. Texas m. 1st___ m. 2nd William Thomas Blackwell (7 children)

3(v). Arthur Whitfield Shirley Dec 25, 1899 Young Co. Texas m. 1st. ___ M. 2nd Barbara ___from Italy.

3(v). Jesse James Shirley (Bill or J.J.) Jan 10, 1901 Young Co. Texas single

3(vi). Jewel Irene Shirley Mar 10, 1904 Young Co. Texas d. Feb 13, 1906 of Diphtheria

3(vii). Clarence George Shirley April 24, 1919 Mineral Wells, Texas

3(viii). Lewis Carroll Shirley April 24, 1921

3(ix). Erma Lee Shirley ca. 1923

3(x). William Allen "Bill" Shirley May 26, 1925

3(xi). Edward Milton Shirley ca. 1927

2(viii). Philip Shirley 1872 Rhea Co. TN No info

2(ix). Phylander "Fie" Shirley Jan 5, 1873 Rhea Co. TN d. Jan 31, 1957 Parker Co. Texas, m. Zerina Edith Holeman Dec 5, 1905 Springtown, Texas. (1 daughter)

2(x). James G. Shirley Feb 12, 1874 TN d. Mar 13, 1892 Parker Co. Texas

2(xi). Gladys L. Shirley Aug 5, 1911 m. 1st. Roy Plumlee, m. 2nd William Wilson Waters (3 children)

1(vii). James Calvin (Cal) Shirley 1832 Bledsoe Co. Tennessee; lived at Smith Crossroads in Rhea Co TN in 1870; d. before 1880, probably in Rhea Co. TN.

married Sarah Jane Swafford in 1854. (9 children)

children

2(i). James Shirley 1855 TN

2(ii). Landon Shirley 1857 TN

2(iii). John Shirley 1858 TN

2(iv). Nancy Shirley 1860 TN

2(v). Jane Shirley 1867 TN

2(vi). Millie Shirley 1869 TN

2(vii). Betta Shirley 1871 TN

2(viii). Joseph Shirley 1873 TN died 28 Sep 1950 Dayton, Rhea Co TN

2(ix). Letta Shirley 1876 TN

1(viii). Louisa Jane Shirley was born 1834 in TN, and died Aft. 1866 in Lawrence, TN. She married Wesley Vernon Abt. 1853, son of Absolom Vernon and Mary Vernon. He was born 1827 in NC, and died Aft. 1880 in TN.

1(ix). Sarah Jeanette Shirley b. 1836, Bledsoe County TN; d. November 01, 1862, Bledsoe County TN; m. Jesse Carroll, 1855, Bledsoe County TN.
---
This Shirley family also of Bledsoe Co TN is likely related to the above Branch 6 family
Jesse Shirley. He was named as father of Jesse Alexander Shirley of Stark Co IL in his son's death certificate. Likely the Jesse Shirley found in early Bledsoe Co TN records. He apparently died prior to 1850 census. (Same Jesse Shirley as above?)
married Charity P _______. She was enumerated, age 31, presumably as a widow with children in 1850 Bledsoe Co TN census

children:

1(i). Thomas H. Shirley born Sept 26, 1846 Pikeville, Bledsoe Co. TN Lived in 1880 Lincoln Co. Kansas. He held a US government pension, presumably from service in the Civil War. He was married and living in Wayne Co Iowa in 1870 census, with siblings Isaac N and Alexander Shirley. He lived in Lincoln Co Kansas in 1900 and Russell Co Kansas in 1910 and 1920. He died Dec 21, 1928, age 84 at Lucas Russell Co Kansas. Buried at Delhi Cemetery, Osborne Co Kansas

married Esther Ann Lenon (nee Darrow), widow of Clinton Lennon deceased, on 14 April 1867 at Hamilton Co Illinois

children:

2(i). Dora Shirley born about 1872 in Iowa, age 8 in 1880 census

2(ii). Lizzie Shirley born about 1877 in Iowa, age 3 in 1880 census

2(iii). Nora Shirley born about 1879 in Kansas, age 1 in 1880 census

2(iv). Harry Shirley born 1882. He died 17 March 1920. Buried at Delhi Cemetery, Osborne Co Kansas.. He married Ella Maude Farrington and 2) Nora Elizabeth Farrington.

2(v). Lewis Thomas Shirley born 9 April 1885 at Cedron, Lincoln Co Kansas. Birth registered in Multnomah Co Oregon (parents named) . Lived with parents in 1900 Lincol KS census, age 14. He and family lived in Multnomah Co Oregon in 1940 census. Buried Portland, Washington Co Oregon.

1(ii). Isaac N. Shirley born 6 November 1845 TN (tombstone), age 3 in 1850 census. Living with siblings Thomas and Jesse Shirley in Wayne Co Iowa in 1870 census. He was living in 1880 Rhea Co. TN census and in 1900. They lived in Coal Co Oklahoma in 1910 census. He died 13 January 1916, age 70. Buried at Byrds Prairie Cemetery, Tupelo, Coal Co OK

married Mary E. ______ about 1870

children:

2(i). J. C. Shirley (male) born about 1870, age 10 in 1880

2(ii). S. J. Shirley (female) born about 1872 in TN, age 8 in 1880

2(iii). Landy Shirley born 28 May 1877 in TN (tombstone), age 3 in 1880. He was married and living next to parents in 1900 census. He died 26 December 1949, age 72. Buried Elmore City Cemetery, Garvin Co Oklahoma

2(iv). Thomas B Shirley born about 1880 in TN, age 0 in 1880. He was married and living next to parents in 1900 census

2(v). Joseph Shirley born about 1882 in TN, age 18 in 1900

2(vi). Charles I Shirley born about 1885 in Kansas, age 15 in 1900

2(vii). Alice L Shirley born about 1887 in TN, age 13 in 1900

2(viii). Rosa A Shirley born about 1891 in TN, age 9 in 1900

2(ix). George H Shirley born 9 December 1893 in TN (tombstone), age 7 in 1900. He died 11 December 1965, age 72. Buried Marlow Cemetery, Stephens Co Oklahoma

2(x). Maud E. Shirley born about 1896 in TN, age 4 in 1900

1(iii). Jesse Alexander Shirley born 1 June 1850 at Chattanooga Tennessee (death cert.) age 1 in mother Charity P Shirley's 1850 census of Bledsoe Co Tennessee. He and siblings Thomas Shirley and Isaac N Shirley are living in Benton Wayne Co Iowa in 1870 census. Jesse Alexander Shirley died 26 January 1931 at Toulon, Stark Co Illinois, buried at Victoria, Knox Co IL (birthplace, wife and father named in death record)

married Lenori Hammond on 26 June 1875 at Knox Co IL

children:

2(i). Jesse Clinton Shirley born Jan 7, 1878 Centerprairie, Knox Co. IL, d. Feb 1, 1890

2(ii). Mary Ethel Shirley born July 11, 1879 Centerprairie, Knox Co. IL, m. Arthur Miner

2(iii). Estella Peall Shirley born Jan 16, 1881 Centerprairie, Knox Co. IL, m. Harry Rowe

2(iv). Alta Luella Shirley born May 29, 1883 Centerprairie, Knox Co. IL, m. Clinton Foglesong

2(v). Julia Gertrude Shirley born Nov 18, 1884 Centerprairie, Knox Co. IL,, d. Oct 17, 1957, m. Pierson Rowe

2(vi). Etta Myrtle Shirley born Sept 15, 1886 Centerprairie, Knox Co. IL,, d. Sept 28, 1944 m. Earnest Dailey and Fred Atwood

2(vii). Bessie Blondel Shirley born Oct 19, 1888 Centerprairie, Knox Co. IL,, d. June 25, 1971 m. Walter Smith, Fred Gunther and Fred Rahmeyer

2(viii). Forest Lemont Shirley born May 11, 1891 Victoria, Knox Co. IL d. Jan 6, 1905

2(ix). Floyd Calvin Shirley born Sept 13, 1893 Victoria, Knox Co. IL, d. Nov 27, 1973 m. Julia Kimble Oct 30, 1912 and Edith Martin Miller May 17, 1943

2(x) Sadie Lavern Shirley born Sept 22, 1895 Victoria, Knox Co. IL, d. Aug 16, 1947 m. James Peter Moline Dec 24, 1912

2(xi) Eddis Ward Shirley born Jan 1, 1897 Toulon, Stark Co. IL d. Feb 1901

2(xii) Charles Alexander Shirley born Jan 2, 1900 Toulon, Stark Co. IL d. Feb 1901

2(xiii) Ivan Winfield Shirley born Feb 1, 1902 Toulon, Stark Co. IL d. April 1916