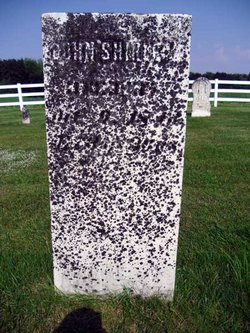 John Ambrose Shirley was born Sept 10, 1770. He died Oct 9, 1843 Marshall Co. Indiana. John was a farmer and a carpenter. The traditional family story is that after a family problem of some sort, John left the home of his parents and took off on his own. His parents are unknown to us at this time. By 1799 John and Elizabeth were listed on the tax records of Mason Co. Kentucky They apparently settled in that part of Mason Co. which in 1807 was to become Lewis Co. In 1811 John was listed as a Justice of the peace in Lewis Co.. On June 28, 1813 John granted Power of Attorney to one Reuben Pollard of Ohio to assist in acquiring John's share of his father's estate. This document is recorded in the deed book of Lewis Co. Kentucky. About 1815 John and Elizabeth Shirley moved from Kentucky to Indiana Territory. In 1816 Indiana became a state and a new capital was laid out at Indianapolis in 1825 in Marion County. In 1827 the Shirley family settled on virgin land about 13 miles from Indianapolis which then was nothing more than a village. John took land in Madison Co. which in 1828 was to become Hancock Co. Indiana. One history of Hancock Co. states that amongst the first settlers was John Shirley of Kentucky.
married Elizabeth Braxton or Danner, (or he may have been married twice, both named Elizabeth), in Marietta, Washington County Ohio in 1797. She was born in PA.
children:
1(i). Ambrose Sheppard Shirley Dec 12, 1798 KY, died Nov 5, 1877 Le Claire, Iowa. Ambrose was a carpenter, a farmer and later became a Justice of the Peace for almost 50 years.
married 1st. Philena Perrin June 24, 1819 in Fayette Co. Indiana. She was born July 23, 1801 d. Jan 19, 1848 Cedar Co. and was the daughter of John Perrin and his wife, Hephzibah Williams. John Perrin was a native of Rehoboth MA. and the 7th generation to have lived there. He and his family moved to Scott Co. Iowa about 1840.

married 2nd Elizabeth Lamer May 9, 1849 Scott Co. Iowa.
1(ii). Philemon William Shirley Apr 29, 1803 died Dec 31, 1866 Marshall Co. IN.
married 1st Mary Callen in 1828 in Fayette Co. IN.

married 2nd Hannah Silvey in 1854.
1(iii). George Benjamin Shirley 1807. George lived in Fayette and Hancock Co. IN in 1850 census. He died about 1858.
married 1st Fanny Crump in 1829 in Hancock Co IN. Theirs was supposedly the first marriage in Buck Creek Township.

married 2nd Matilda Ruby in 1847 in Hancock Co IN. She remarried to Samuel Bolander prior to 1860 census. They lived in Marion Co IN in that year.

Children:

2(i). Nancy Shirley 1829 Hancock Co. IN m. George W. Burch Marshall Co. IN.

2(ii). Louisa Shirley m. James J. Corbaley Marshall Co. IN

2(iii). Tabitha Shirley

2(iv). Mary Shirley

2(v). Susan Shirley

2(vi). John Shirley

2(vii). Catherine Elizabeth Shirley born about 1848, age 2 in family's 1850 census household, age 12 in the 1860 Bolander household

2(viii). George Washington Shirley born 10 May 1849. Age 0 in family's 1850 census household. He died July 23, 1917 in IN, age 10 in the 1860 Bolander household

Obituary snippet: "...When George was about 7 years old his father called him to his bedside and putting his hand on his head and said to him "George be a good boy, I must leave you" and died soon..."

2(ix). Phoebe Shirley born about 1858, age 2 in the 1860 Bolander household
1(iv). Tabitha Shirley, May 19, 1808 Lewis Co. KY. She married Jacob Laurence Payne in 1828 in Marion Co. IN. Children born in Monroe Co IN.
1(v). John Alexander Shirley June 24, 1812 in Lewis Co. KY. He died in 1861 of erysipelas.
married 1st Lydia Blakely

married 2nd Martha Cormican in 1849 in Marshall Co. IN.
1(vi). Samuel Newton Shirley 1814 Lewis Co. KY. They lived in Johnson Co. MO. Samuel spent his early boyhood in and around the territory now known as Columbia Township in Fayette Co. Indiana. In 1827 the family moved on west, settling in the area surrounding the future town of Cumberland Indiana, on the county line between Hancock and Marion Counties of Indiana. John Shirley located on the Hancock County side.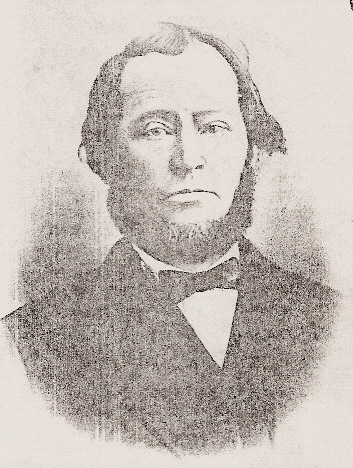 Samuel Newton Shirley
married Elizabeth White on December 24, 1845 in Marshall Co. Indiana. Eliz. is probably the daughter of Isaac White who was a neighbor of the Shirley family. Eliz. was born in Ohio. Her father was a native of Pennsylvania and her mother of Massachusetts. Hannah White, wife of Isaac White in 1850, was a native of New Jersey.
1(vii). William Braxton Shirley born 10 March 1816 Lewis Co. KY. William died April 1887 from smoke and fire inhalation, and burns suffered during a fire that swept the prairie near Norcatur Kansas. He lived only 6 miles away. His profession was that of a minister. He lived several places. ..Marshall Co. IN, Maclean Co. and Richland Co. Illinois, then to Decatur Co. Kansas in 1881. He also was called upon for doctoring such things as arthritis, setting bones, coughs and fevers.
married 1st Eleanor Blakely 1837 in Marshall Co. IN

married 2nd Rose Ann Gray Dec 14, 1847.
1(viii). Reuben Franklin "Frank" Shirley born 21 August 1820 Fayette Co. IN, died 1906 Rockfalls, Whiteside Co. Illinois, In 1864 Reuben and Jane moved to Lee Co. Illinois where they purchased a 240 acre farm. IN 1867 they moved into Whiteside Co. where they purchased an 80 acre farm on the Dixon Road east of Rock Falls. they sold this in 1876 to their son, Samuel, and purchased a half block in Arey's Addition on Rock Falls, erecting a home in which they were still living in 1885.
married Jane Thompson June 2, 1842 Marshall Co. IN
1(ix). Levi Shirley died about age 2 years
1(x). Levin Shirley died about age 2 years.