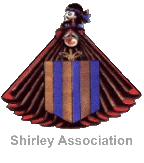 The Shirley Association has been a member of the Guild of One-Name Studies since 1988

Lewis Shirley
b. ca1814. Lived Alabama and Arkansas
Brother of Aaron Shirley Branch #42
Both families are part of Branch #1
Lewis Shirley born Aug. 5, 1814; He was a Justice of the Peace and performed marriages. died Dec 30, 1874 Montgomery County Arkansas. Tombstone Inscription: Died Aged 60 years, 1 month, 25 days. Mason. Buried in Shirley Cemetery, located not far from Shirley Spring in Montgomery Co. Arkansas.
In 1853 eight members of the Shirley family moved to Montgomery Co. Arkansas. The entire family left Alabama in a wagon train and they settled briefly in east Texas where David Lewis Shirley was born in 1853. They then moved by wagon train north into Montgomery Co. Arkansas, helping to blaze the trail through the wilderness to a site just south and west of Oden. Upon coming to a nice spring of water, they decided to settle permanently in the area. They built a log house in the place which became known as Shirley Spring at the head of Shirley Creek, a few miles south of the Ouachita River, southeast of the later community of Huddleston. Shirley Creek flows into the river from the south through land now (1988), owned by Edna Gortemiller, and the Shirley Spring area is now part of the Ouachita Forest Service land. The growing Shirley family cleared the land and farmed. They grew cotton, corn, and wheat. There was a mill in Big Fork where the wheat was ground into flour. Trapping and hunting provided fresh meat. Fishing was plentiful. The cow provided milk and cheese. Fruits and vegetables were dried and hung to be used later. Soaking made them soft again.

married 1st Sarah Ann Mullinax on Sept 5, 1839 Tuscaloosa Co. AL,

married 2nd Mary Ann Patterson on Aug 21, 1842 Tuscaloosa Co. AL.

children by 1st wife Ann Mullinax:

1(i). James Wright Shirley born Jun. 10, 1840 AL; Lived Montgomery County Arkansas. He was a talented musician and violin maker. He made fiddles and played throughout the area. He was a Union soldier in the Civil War Pvt. Co. D Ark Cav. He died Dec. 2, 1911 and buried in the Shirley Cemetery, Montgomery Co AR.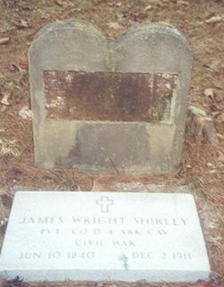 James Wright Shirley
Shirley Cemetery, Montgomery AR
married 1st Mary Jane Fryar in 1870,

married 2nd Ella Phelps in 1907.

children by 1st wife, Mary Jane Fryar

2(i). Lewis Franklin Shirley born about 1874 Arkansas

married Ella Wilhite.

children

3(i). Willie Shirley

3(ii). Charmy Shirley

3(iii). Florine Shirley

3(iv). John Daney "Dan" Shirley

3(v). Omer Shirley

3(vi). Dona Shirley

3(vii). Lona Shirley

3(viii). Irene Shirley

3(ix). Etna Shirley

3(x). Nellie Shirley

3(xi). Grace Shirley

3(xii). Henry Lewis "Pete" Shirley

2(ii). Hezekiah "Hezzie" Shirley born about 1888 Arkansas, They lived in Leflore County Oklahoma near Poteau.

married Bessie Metcalf. (4 children)

children by 2nd wife, Ella Phelps

2(iii). Helen Shirley born about 1909 Arkansas

2(iv). William Howard Shirley born about 1911 Arkansas


children by 2nd marriage to Mary Ann Patterson

1(ii). Martha Jane Shirley

married Joseph Shirley, her first cousin and son of Aaron Shirley. The family lived in Montgomery County Arkansas

1(iii). Anne Shirley never married

1(iv). Mary Ann Shirley m. Benjamin Brewer. They had 7 children

1(v). Susan Shirley m. 1st Mr. Ellison, 2nd Bill Goodner

1(vi). Rev. David Lewis Shirley born about 1853 Texas; He was a school teacher and a Baptist preacher, preaching at Little Hope Church, south of Waters, (now Pine Ridge), and at Sulphur Springs Arkansas. He lived just over the line in Polk Co. AR near Board Camp.

married 1st Sarah Eliz. Gaston 16 Jan 1873 in Montgomery Co Arkansas (10 children),

married 2nd Viola Durrough (3 children).

children

2(i). Joseph Aaron Shirley b. 30 Aug 1875 d. Nov 1973 Polk Co, Ark

married Mary Ellison b. 1887 Board Camp, Ark

children

3(i). Jessie Edridtch Shirley b. 1915 Arkansas d. 1965 Houston, TX

married Frankie Edgal Grammer b. 22 Sep 1914

1(vii). Tenna S.E. Elizabeth Georgeann Josephine Shirley born about 1854, m. Dr. Stephen C. Bates. (3 children).

1(viii). Amanda Shirley born about 1859 Arkansas

1(ix). Cordeliah Shirley born about 1861 Arkansas, m. Riley Reynolds. (3 children)