1(iv). George Shirley

born about 1770; He died at Cooper Co MO
married Betsey Lee on Dec 20, 1797 in Lincoln Co. KY

Known children: (there are surely more per census)

2(i). Charles David Shirley born about 1806 KY. He was an early pioneer in Cooper Co. Missouri, settling on Clarks Fork sometime in 1820s. His son William A.J. Shirley was born on the Shirley homestead.

married Susan C. Thomas on Oct 10, 1826 in Madison Co. KY.

children

3(i). George A. T. Shirley born Aug 25, 1828 KY

married Cornelia Ann Baer on Oct 23, 1853. (She was the niece of the wife of Valentine Shirley (branch #20), Catherine Baer).

children

4(i). Samira J. Shirley born Aug 6, 1855; She died 1922

4(ii). Virginia C. Shirley born May 7, 1859; She died 1926; She married Frank George in 1883 in Cooper Co MO

4(iii). Charles Henry Shirley born April 29, 1861; He died 1926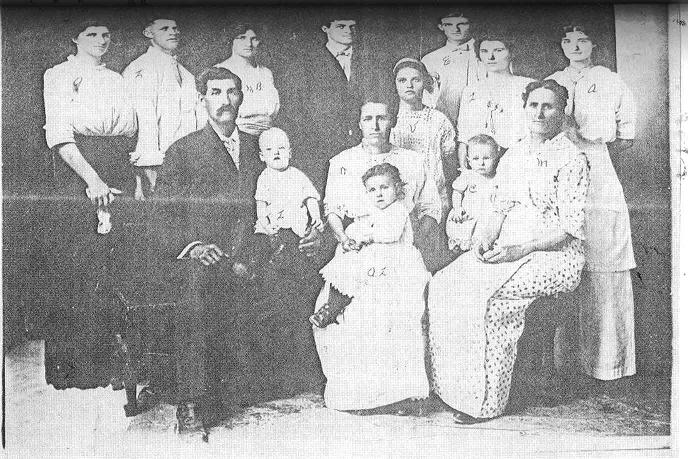 Standing left to right: Adell (and husband), Nellie B., Harry,Everett, Virginai, Lenna (wife of Everette). Avis

Sitting left to right: Charles Henry holding Lewis (son of Adell), wife of Harry, holding child, Mary Ann holding child of Everett's.

married Mary Ann Davis on Dec 15, 1886

children

5(i). Harry Lee Shirley born Nov 27, 1887

5(ii). Avis Mae Shirley born Sept 13, 1889

5(iii). Clarance Everette Shirley born Sept 25, 1893

5(iv). Una Shirley born Sept 21, 1895

5(v). Henry Wilbur Shirley born Aug 3, 1897

5(vi). Nelle Beatrice Shirley born Jan 13, 1900

5(vii). Mary V. Catherine Shirley born Jan 9, 1904

4(iv). Annie Laura Shirley born Aug 23, 1863

4(v). Arthusa Shirley born May 15, 1865 d. 1957

4(vi). John W. Shirley born May 10, 1867 d. 1958 was a bachelor and lived with his brother Emmet in Sedalia, Missouri.

4(vii). Emmet Lee Shirley born March 4, 1869 d. 1947

children

5(i). Irwin Shirley

5(ii). Kenneth Shirley born Sept 15, 1906 d. Jan 20, 1964 m. Evelyn__. No children.

5(iii). Norbert Shirley born ca. 1911 d. ca. 1920 (?)

4(viii). Andrew Cole Shirley born Jan 11, 1872 d. 1920

m. Pearl White

children

5(i). Alma Shirley born ca. 1904 d. ca. 1982 m. Frank Hilton. No Children.

5(ii). Frances Shirley born ca. 1919 d. ca. 1989 m. Herman Noles. No children.

4(ix). Elmer Shirley born Oct 17, 1873 d. May 11, 1922

m. Margaret White Jan 1, 1900. She was born Mar 10, 1883 d. April 27, 1956

children

5(i). Francis Paul Shirley born May 31, 1906 d. May 4, 1973 m. Nellie

5(ii). Walter Elmer Shirley

3(ii). Charles Shirley born 1832 MO

3(iii). Syrles Shirley

married Matty Scott

children

4(i). Leslie Shirley died young

4(ii). Edward Shirley lived Boonville, MO

4(iii). Augustus Shirley lived Chicago, IL

3(iv). Symyra Shirley; She died young

3(v). William A. J. Shirley born ca. 1835 on the old family homestead. William Andrew Jackson Shirley and his wife, Harriett Eller, lived on the Shirley homeplace for a few years and then sold it, moving to the Eller place, finally settling on the homestead of 120 acres in Palestine Twp.

married Harriet Melvina Eller in 1872. She was born Dec 24, 1850 on a farm near Boonville. She was the daughter of David and Martha (Oglesby) Eller, David was born in Missouri in 1822 and was killed by the bushwhackers during the Civil War. He was the son of Jacob Eller who was one of the first pioneers to settle in Cooper County Missouri. Jacob was a native of North Carolina.

children

4(i). Charles David Shirley born Mar 2, 1872 d. May 5, 1945

Charles attended the Stony Point School and also the Concord School. After his district school days he studied at Hooper Institute in Clarks Fork Twp. He always followed farming. He purchased his first tract of 116 acres in the fall of 1900 and placed all of the needed improvements on the place. He rented his next farm for two years prior to its purchase in 1905. It was the oldest settled place in Cooper County, known as the Oglesby farm. This tract was entered as Government land by his grandfather Oglesby who gave the farm to Thomas Oglesby, an uncle of Charles David Shirley and from who Charles purchased it. Charles David Shirley was a democrat and a Baptist as was his forefathers.

married Grance Chamberlin Sept 25, 1912.

children

5(i). Charles David Shirley

5(ii). Harriett Elizabeth Shirley

4(ii). Florence Shirley born May 7, 1874 d. Jan 29, 1958 m. Albert Chamberlin Nov 27, 1895

4(iii). William Aubrey Shirley born July 22, 1876 m. Nell Harness Dec 10, 1919

child

5(i). George William Shirley

4(iv). Harry Lee Shirley born Sept 27, 1878 m. Myrtle Alee Dec 16, 1903

children

5(i). Le Allee Shirley

5(ii). Clyde Nicholas Shirley

4(v). Susan Martha Shirley born Mar 28, 1881 d. April 23, 1968

2(ii). Marthann Jane Shirley - born 7 February 1819 in Kentucky (date constructed from tombstone). She is named as daughter of George Shirley in the 1883 biography of her husband David Dodds who she married on 20 December 1838 in Cooper Co MO. She died 10 February 1895, age 76Y 3D and was buried at Montrose Cemetery in Henry Co MO

DODDS, David - Deepwater Township - 1883 History of Henry County Missouri, National Historical Co pg 609. David Dodds, a pioneer of Henry County, was born in Butler County, Ohio, May 15, 1812. His father, John Dodds, was a native of Ireland, and immigrated to the United States when a young man. He married Margaret Miller, originally from Pennsylvania. David accompanied his parents on their move from Ohio to Indiana, and settled in Cass County in 1830, being among the pioneers there. He spent his youth on the farm, and in 1836, came to Missouri, locating in Cooper County, where he was engaged in farming, and where he resided about seventeen years. He was married in Cooper County December 20, 1838, to Miss Martha Jane Shirley, a Kentuckian by birth, and a daughter of George Shirley. In 1853, Mr. D. came to Henry County and located on the land where he has since resided, and which he entered some two years after. He was one of the first citizens of Deepwater Township, and one among the first in the county. He now has a farm of 200 acres in his home place, on section 21, all improved. fenced, etc. He also has forty acres of timber, and a farm of fifty acres near Appleton City, in St. Clair County. Mr. Dodds has raised a family of twelve children: Cynthia Jane (now Mrs. J. Hill), Elizabeth (now Mrs. Isom Stubblefield), John, Jesse L., Charles A., Margaret (wife of James McBride), Matilda Dodds, Mary C. (wife of James Cook), Thomas C., Amanda (wife of James A. McBride). Martha J. and David. Mr. and Mrs. D. are members of the Cumberland Presbyterian Church.

2(iii). Jesse S. Shirley - born about 1809 in Kentucky, age 41 in 1850 Cooper Co census. He names his sister Marthann Dodd in his 1856 Cooper Co will.

1856 Cooper Co MO Will of Jesse S. Shirley Written: 9 June 1856 Recorded: 26 May 1856 To my nephew, Jesse Dodd ... To my sister, Marthan Jane Dodd ; To my nieces: Elizabeth Catharine Shirley and Mary E. Gardner ; to my step-daughter, Mary Durncil ; to my son, Robert Miller ; and to my daughter, Elizabeth Smith ...Witnesses: Benjamin Rogers and S. S. Seat

married Elizabeth _______ age 40 in 1850 census

children:

3(i). Martha A. Shirley born about 1837 in Missouri, age 13 in 1850 census

2(iv). Cynthia Shirley - her daughter is named in the 1856 Cooper Co will of her uncle Jesse Shirley. She married James A Gardner on 19 November 1835 in Cooper Co MO

Likely children of George (?)

2(v). Thomas C Shirley - his daughter Elizabeth was a minor, age 17 and heir of Thomas C Shirley deceased in 1857 Cooper Co MO probate record. George Bullock was granted her guardian. This event is presumably related to the 1856 estate settlement of Jesse Shirley which mentions his neice Elizabeth Catherine Shirley as a legatee - thus possibly making Thomas Shirley his brother. Nothing more known

2(vi). Cyrus Shirley - born in Kentucky. He is closely involved with George Shirley and is surely his son, but the smoking gun evidence is lacking (as yet). Cyrus was enumerated as the owner of slaves in the 1850 census. He was gifted 80 acres of land from George Shirley in 1851 in return for keeping he and his wife in their elder years. He lived at Clarks Fork, Cooper Co MO in 1860 census.

October 21, 1851 Cooper County, Missouri - Deed Record Book: 2, page: 183 - State of Missouri County of Cooper - Be it remembered that on the 21st day of October 1851 agreed by and between George Shirley of the County of Cooper and State of Missouri and Cyrus Shirley of the same county and state, in manner and form following, viz: the said Cyrus Shirley for the consideration hereinafter memtioned doth for himself, his heirs and assigns, proimise and agree to and with the said George Shirley, his heirs and assigns that he, the said Cyrus Shirley, shall and will to the best of his ability supply the said George Shirley and Elizabeth, his wife, with good and sufficent board, clothing and medical attention during the life of either or both. In consideration whereof the said George Shirley for himself, his heirs or orphans, promise and agree to and with the said Cyrus Shirley, his heirs and in addition to 80 acres of land during my life time or that of my wife, Elizabeth, during her life time as follows, the Northwest Quarter of the Northwest Quarter of Section 35, Township 48 and Range 16, containing 40 acres, but it is upon the express condition that the said Cyrus shall, will and truly comply with the afore mentioned conditions to board, clothing and medical attendance when neccessary and whenever the above memioned are not complied with, then the instrument to be null and void and for the performance of all and every part of the aforesaid agreement, the said George and Cyrus Shirley do hereby bind themselves, their heris and assigns. In testomony whereof, we have hereunto set our hands and seals this day and year before mentioned. Cyrus Shirley, George Shirley, By James N. Baker

married Mary Ann Robertson on 10 March 1841 at Cooper Co MO

children:

3(i). Arthusa Shirley. born about 1845, age 15 in 1860 census. She married Thomas B Boyles on 7 June 1866 in Cooper Co MO

3(ii). Mary Elizabeth Shirley - enumerated as Mary in 1850 and as Elizabeth in 1860 census, age 13

3(iii). Georgian Shirley born about 1850 age 10 in 1860 census

3(iv). Emeler Shirley (f) - not enumerated in parents' 1850 census household, but age 12 in 1860, Enumerated as Emma E Shirley age 21 in 1870 census household of parents

3(v). Andrew Shirley born about 1852, age 8 in 1860

3(vi). Amanda C Shirley born about 1856, age 4 in 1860
---
HISTORY OF COOPER COUNTY (1919)

Charles D. Shirley. — The progressive farmer of today is not content
to till his land in a mediocre, hit-and-miss manner, and is not satisfied to
keep any but the best of live stock on his place. Here and there over the
county are men of intelligence and foresight who are making a specialty
of producing pure-bred live stock and are engaging the business as a com-
mercial venture. Charles D. Shirley, of Clarks Fork township, is one of
this class. Mr. Shirley is specializing in Angus cattle, and intends to
breed this fine variety of cattle. He also keeps pure-bred Shorthorns on
the place, and pure-bred Poland China hogs. A flock of 100 head of
Shropshire sheep are a paying venture on the farm. The Shirley farm
consists of 336 acres, and has been the home of the present proprietor
since 1902. During the past 17 years all of Mr. Shirley's time that he
could spare from crop production, has been devoted to building improve-
ments on the farm. The big barn has been remodeled, fences built, a
concrete silo erected, an attractive driveway is in process of building,
and the time is coming when the Shirley estate will be one of the finest
in the land. Mr. Shirley was born March 2, 1872, on a farm in Clarks
Fork township, Cooper County.

William A. J. Shirley, his father, was born on the Shirley homestead
in the same township in 1835, and died in 1882. He was a son of Charles
Shirley, a native of Virginia, who was an early pioneer in Cooper County,
settling on Clarks Fork sometime in the twenties. William A. J. Shirley
was married May 3, 1871, to Harriet Malvina Eller, who was born Dec.
24, 1850, on a farm near Boonville, and is a daughter of David and Martha
(Oglesby) Eller. David Eller was born in Missouri in 1822, and died in
1864. He was killed by bushwhackers during the Civil War. He was a
son of Jacob Eller, who was one of the first pioneers to settle in Cooper
County, and was a native of North Carolina. The mother of Mrs. Shirley
was born in Virginia in 1828, came to Cooper County with her parents in

1831. and died here in 1912. Mr. Shirley's mother, Malvina (Eller) Shir-
ley, was one of the following children born to David and Martha Eller:
Nancy Jane, Bunceton, Mo. ; Mrs. Harriet Shirley ; Henry, Susan Elizabeth
Kepner, Lucretia Ann Moore, William, Mrs. Mattie Knaus, Mrs. Mollie
McFarland.

Mr. and Mrs. Shirley lived on the Shirley home place for a few years,
then sold it and moved to the Eller place, finally settling on the homestead
of 120 acres in Palestine township. The children born to them are as
follows: Charles D., of this review; Florence, wife of Bert Chamberlin;
Harry L., living on an adjoining farm ; Susan, at home with her mothei ,
and William, managing the home farm.

Charles D. Shirley attended the Stony Point School and also the Con-
cord School. After his district school days he studied at Hooper Insti-
tute in Clarks Fork township. He has always followed farming. He
purchased his first tract of 116 acres in the fall of 1900, and placed all of
the needed improvements on the place. He rented his present farm for
two years prior to its purchase in 1905. The farm which Mr. Shirley
owns is one of the oldest settled places in Cooper County, known as the
Oglesby farm. This tract was entered as Government land by his grand-
father Oglesby, who gave the farm to Thomas Oglesby, an uncle of Charles
D. Shirley, and from whom the present owner purchased it. The original
elm tree, from which "Lone Elm Prairie" takes name, stood on this farm.

Mr. Shirley was married in September, 1912, to Miss Grace M. Cham-
berlin, born in Cooper County, a daughter of the late Albert M. Chamber-
lin, a sketch of whom appears in this history. Mr. and Mrs. Shirley have
two children: Harriet Elizabeth, born Sept. 7, 1913; and Charles David,
born March 11, 1915.

Mr. Shirley is a democrat, as were his ancestors before him. He is
a member of the Baptist Church, the faith of his fathers. He is a mem-
ber of the Woodmen of the World, at Speed, Mo.