Update Jul 2011 - "Daniel Shirley, brother of John and Peter served in the War of 1812 and applied for bounty land many years later when he lived in Iowa. In many of the official US govt correspondences, the Gov't says he served under the name aka Daniel Schyray. I just saw another document in his file that says 'I forwarded a declaration to your office under date of 30 November 1850 for a GERMAN named Daniel Shorely or Schyray. I think he stated in his declaration that he lost his certificate of discharge' .....There is an intriguing orphans court record in York Co PA for John, Daniel, and Peter, sons of John Shirey dated in the 1813-15 timeframe (perfect for the father to have died and perfect for the age of the 3 boys prior to their departure for Berkeley County VA ). BUT....the surname is SHIREY (very clear and legible and the same spelling on numerous orphans court documents). Now, while the names Peter, Daniel and John are very common in this area because of the Germans, this item is still possibly a Shirley (maybe). The reason I say this is because the surname in Berkeley and Morgan tax lists are consistently (year after year) SHIRELY, not Shirley etc. There is always an "e" after the "r"."
Peter Shirley (Uusually spelled 'Shirely') born about 1792 in York Co. PA (according to his marriage record); They lived near Rock Gap Virginia. He died June 30, 1884 age about 92 years; buried Mt. Tabor United Methodist Church cemetery. According to his 1868 marriage record, his parents were John Shirely and wife Mary.
married 1) Elizabeth Zeilor on Apr 21, 1823 in Frederick Co. VA. Elizabeth died May 12, 1868 age 62 yrs 9 mos.
married 2) Barthenia Ambrose Feb 13, 1868 she died 1879.
children:

1. Mary Shirely born about 1824 VA

2. Sarah Shirely born about 1830 VA

married Jacob Michael

3. Peter Shirely born about 1832 VA

married Mary Ellen Shade; she died Aug 27 1891 age 53 years; buried Mt Tabor United Meth Ch. Cem.

children:

(1). Rebecca E. Shirely born about 1860 WV

(2). Peter Wesley Shirely born about 1876 WV

(3). Adam P. Shirely born about 1878 WV

4. Frederick Shirely born July 13, 1836 in Morgan Co Virginia; he died December 1 1912;

married Hannah Webber April 21, 1859 in Frederick Co Virginia; She was the dau of Samuel Webber and maria Dailey.

children:

(1). George Richard Shirely was born 22 Sep 1860 in Swinging Bridge, West Virginia, and died Aug 1943 in Siler, Frederick County Virginia.

married Catherine Gerusha Luttrell on 25 Feb 1896 in Winchester, Frederick County, Virginia, daughter of Daniel Luttrell and Elizabeth Mason. She was born 28 Dec 1864 in Frederick County, Virginia, and died 27 Dec 1947 in Shepherdstown, Jefferson County, West Virginia.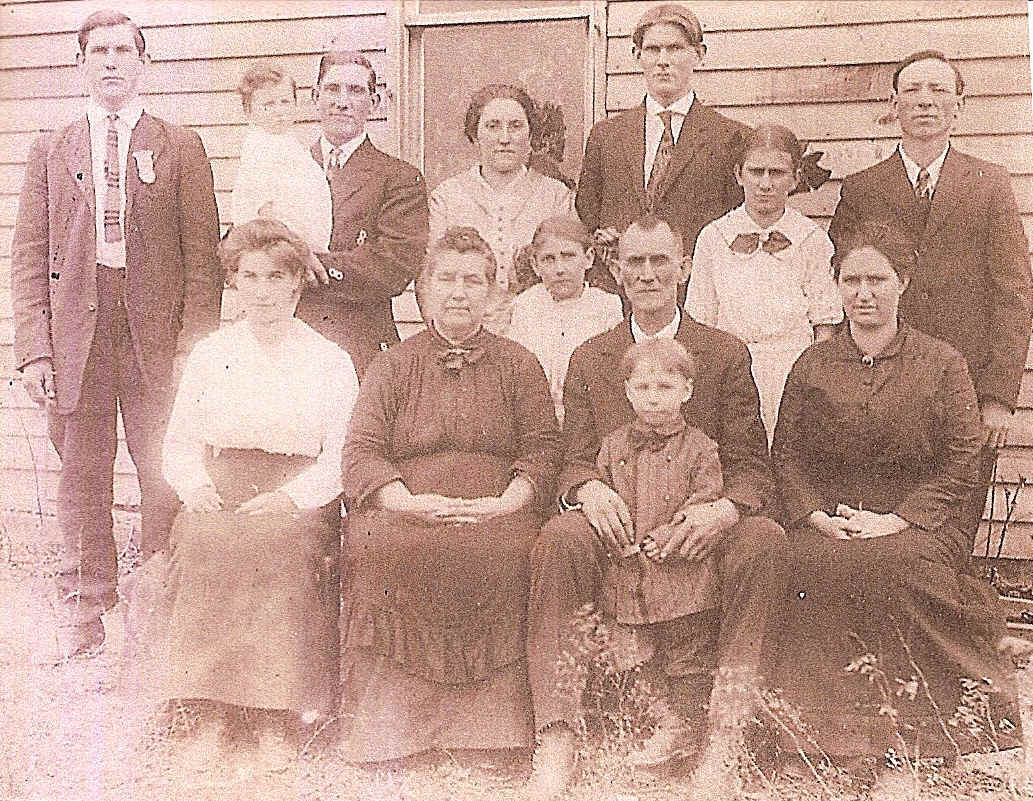 George Richard and Catherine Shirley family
Charles Russell Shirley standing back row holding child (Hattie) and
Ernest Randolph Shirley 2nd male from R. in back row (hair parted in the middle)
Submitted by Anna Gray
children:

A. Laura Agnas Shirely born on Dec 6, 1886 Frederick Co. VA d. Nov 15, 1927, Berkeley Co. WV

B. John Wesley Shirely born on Nov 19, 1888 Morgan Co. WV d. Jul 16, 1928 Martinsburg, Berkeley Co. WV

C. Charles Russell Shirely born on May 1, 1890 Shockeysville, Frederick Co. VA d. Oct 21, 1947 Middleway, Jefferson Co. WV.

D. Ernest Randoph Shirely born on Sep 15, 1891 Frederick Co. VA d. Sept 25, 1927 Shepherdstown, Jefferson Co. WV

E. Rosetta Shirely born on May Oct 30, 1896 Frederick Co. VA d. Apr 15, 1967, Martinsburg, Berkeley Co. WV

F. Hattie Albartie Shirely born on Jan 21, 1902 Morgan Co. WV d. Jun 11, 1991 Jefferson Co. WV.

G. Bertha Delia Shirely born on May 7, 1907 Swinging Bridge, WV d. Jul 5, 1974 Winchester, Frederick Co. Virginia

married Harry Stickley Hartley; he was b. Feb 10, 1919 d. Jun 17, 1993 Winchester, Frederick Co. Virginia.

(2). Maria Elizabeth Shirely born 1862 in Morgan Co WV, died August 1943

(3). Charles E. Shirely born 1866 in Morgan Co WV; died 1950 (another source says his name is Harley L. Shirley who married Ivy Tennessee Bishop, but census records clearly identify this child as Charles E Shirely)

(4). John Wesley Shirely born Jun 10 1867 in Morgan Co WV; he died Jan 12 1904

married Florence Florida Place on Jul 20 1891 in Berkeley Co WV

(5). Robert Nelson Shirely was born Feb 1870 in Morgan Co WV;

married 1) Anna M "Hanna" Barker on Oct 20 1893 in Morgan Co WV (or Dec 20 1893) dau of John Barker and wife Rebecca

(6). Martin Luther Shirely was born May 31, 1872 in Morgan Co. WV; he died Dec 20 1963

married Elizabeth Ann Bishop

(7). David Albert Shirely Sept 1, 1875 Morgan Co. WV; he died Mar 11 1962

married Sarah Jane Barker

(8). Emma Florence Shirely was born Mar 2 1878 in Morgan Co WV and died Nov 12 1963

married 2) Alburtus Potter sometime after 1900

(9). Isaac Station Shirley was born May 25 1880 in Morgan Co WV; he died Jan 5 1906 in Morgan Co WV

(10). Henry Frank Shirely was born July 17, 1884 Morgan Co. WV; he died 1950 in Frederick Co WV

5. Daniel Shirely born about 1836 VA

married 1) Martha Jane Dailey in 1862
married 2) Daisy Speelman

children:

(1). John William Shirely

married Mary Alice Stotler (grandparents of Alice Powers)

(2). Charles Isaac Shirely born Jan 13, 1867 WV (grandparents of Eileen P. Shirley)

(3). Mary E. Virginia Shirely

married Edward Rankin

6. John William Shirely born Jan 15, 1841, VA, d. Oct 10, 1891 Frederick Co. VA,

married Mary C. Ware

children:

(1). Barbara C. Shirely born about 1870

(2). Elizabeth A. Shirely born about 1872

married Will Rogers (4 children)

(3). Tarison Shirely born about 1874 d. 1950

married Mary Dailey (no children)

(4). Nathan Shirely born about 1874 d. 1949

married Elma V. Korns (9 children)

(5). Van Israel Shirely born April 23, 1877

married Mary B. Adams (parents of Granville Shirley)

(6). Rose Shirely born Aug 29, 1879 d. 1944

married Sam Hedrick (5 children)

7. Margaret Jane Shirely born about 1843 VA,

married Nathan Ambrose in 1863

8. Elizabeth Charlotte Shirely born about 1845 VA

married 1) Fredrick Hovermale,
married 2) Rufus Smith