Riley Shirley, born about 1803 in South Carolina (source: 1850 census of Campbell Co. GA.); Living Campbell Co GA beginning in 1840 census. He is probably Riley Shirley, son of Moses Shirley of Habersham Co GA, Branch #61, who first appears in the Habersham 1830 census age 20-30 with one son age 0-5 years. Riley Shirley of Habersham Co disappears from county records after that date which would fit the profile of Riley Shirley of Campbell Co GA. Riley Shirley died after 1880.
married 1st Mat Allen (not sure of the origin of this claim)
married 2nd Rutha Boatright; died before 1868.
married 3rd Nancy Rodes on 24 October 1868 in Campbell Co
Children:
The 1840 census shows 2 daughters born 1830-35, 2 daughters born 1835-40; One son born 1835-40; One son born 1830-40.
1. David A. Shirley born 1828 GA; living in Campbell Co as a single man in the HH of Riley McGuire (age 50) in 1850 census; He and family settled in Douglas Co. GA
m. 1st Susannah Brock

m. 2nd Frances Allen Yancy

Children:

2(i). Henry B. Shirley born 1862 GA

2(ii). Nancy A. Shirley born 1865 GA

2(iii). Joel T. Shirley born 1870 GA

2(iv). Alfred N. Shirley born 1872 GA

2(v). George Wilson Shirley born 1874 GA In the late 1800's, George Wilson Shirley and three of his brothers went to Texas. George was a produce dealer in Winnsboro, and, worked the cotton gin, getting up at 4:30am.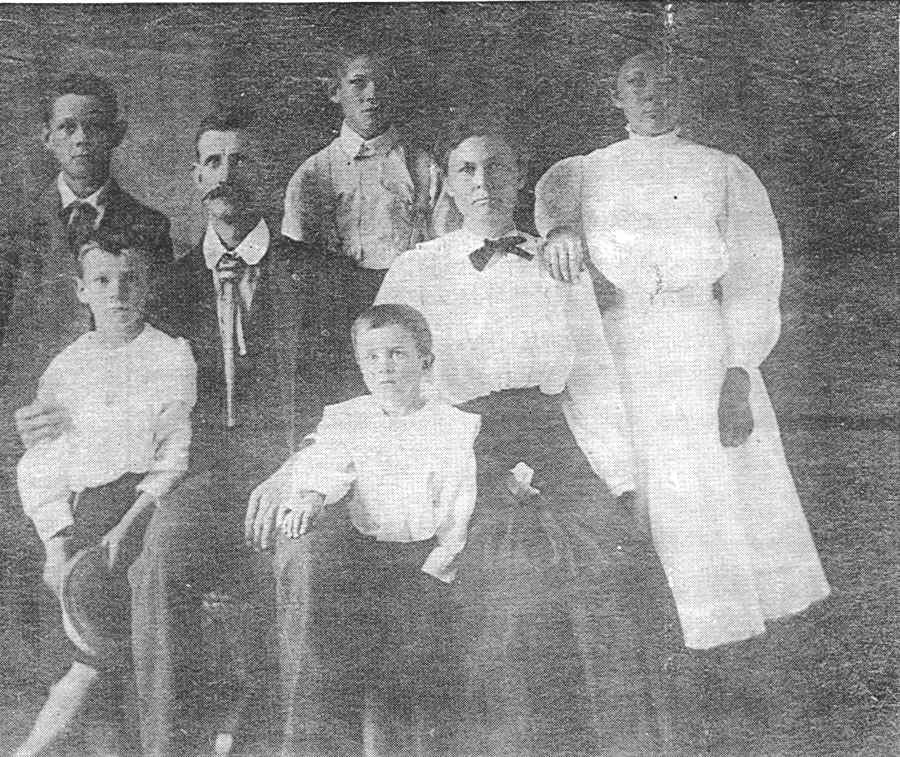 left to right: Chester, George Wilson (father), George (Gus), Mary Ella (mother),
Mary, Harvey and Nathaniel Guy
married Mary Ella Payne

Children:

3(i). Mary Shirley born 1895

3(ii). Oliver C. Shirley born 1899

3(iii). Harvey Shirley born 1901

3(iv). Nathaniel G Shirley born 1903

3(v). Robert Shirley born 1906

3(vi). Angie Shirley born 1909

3(vii). Nathan Shirley born 1911

2(vi). Moses M. Shirley born 1876 GA
2. Elizabeth Shirley born 1833 GA; married John Brock 4 Feb 1855 in Campbell Co GA
3. Abner Monroe Shirley born 1835 GA; Enlisted as a Private on 12 August 1861 in CSA Company E, 35th Infantry Regiment Georgia; Hospitalized on 10 April 1864 at Jackson Hospl, Richmond, VA during the war; Deserted in 1864 as so many other soldiers did toward the end of the war; Lived 1870 onward at Stony Fork, Watauga Co NC; He died 1918 in Stony Fork, Watauga Co., NC ; buried at Stony Fork Bapt. Church Cem.
Photo was posted to findagrave by Brian Shemwell

The following information has been provided by Alan L. Lamb, via a letter Mr. Lamb wrote to a Mr. Brock, Mr. Lamb was living in St Louis at the time of this writing - Nov. 1988: (source: Barbara Rogerson)

"The parents of Elizabeth Shirley were Abner Monroe Shirley, born about 18 35 in Georgia, and Susan Banks. They were married in Jan of 1857 in Campbell County, GA. According to my great-grandfather, Lemuel Riley Shirley, his parents lived in or near Campbellton. Lemuel gave Campbellton as his place or birth. Your mother Elizabeth was born in 1858, then on April 9, 1860, her brother Lemuel was born. Lemuel said his mother died at h is birth. My father searched the Campbellton cemeteries a few years back, but he found nothing. I have thought that perhaps she was buried with her parents at the old Allen cemetery across the river in Douglas county.

After the Civil War, Abner Monroe Shirley married a widow with several children. They moved to North Carolina. The last I know of Abner is in Watauga County, NC, in 1880. his second wife had children by him also.

Lemuel Riley Shirley, my great-grandfather and brother of your mother, left home at some point after his father, Abner, married again. He could not get along with his step-brothers, and apparently he was bitter at them the rest of his life, as he never corresponded with them. I know this information for fact, as Lemuel's youngest daughter, Lillian, is still alive and living here in St. Louis. She is my great aunt. She has told me many times of seeing her father burn unopened letters from his family. Lemuel ended up in Virginia in 1883 where he married his first wi fe in Buchanan County. Lemuel worked the mines in Bramwell, West VA, until his wife contrated TB, then in 1890 they moved to Barber County, Kansa s, thinking the weather would improve her health. She died in 1891, and a year later Lemuel married a local girl. He had four children by his first wife, and five by his second wife. My grandmother was the second child of his first wife. Lemuel later moved to Wellington, Sumner County, Kansas, then he moved to Muskogee, Ok. He was a carpenter by trade. He divorced his second wife, married two more times, no children. Lemuel ended up at the Mason home in Guthrie, OK, where he died in 1949, a nd is buried there."

married 1st Susan Banks 16 jan 1857 at Campbell Co GA

married 2nd Martha Ann Watson

Children:

2(i). Elizabeth M Shirley born 23 March 1858 in GA

2(ii). Lemuel Riley Shirley born 9 April 1860 in GA

Children of Abner and 2nd wife Martha

2(iii). William M. Shirley born 2 Nov 1865 in Stony Fork, Watauga Co., NC

2(iv). Henry M. Shirley born 10 April 1867 in Stony Fork, Watauga Co., NC

2(v). George Lee Shirley born 1873 in Stony Fork, Watauga Co, NC
4. Parmelia Shirley born 5 May 1835 GA; She died 19 March 1919 in Winnsboro, Franklin Co., TX; married James Goolsby on 13 April 1854 in Campbell Co GA
5. Sarah Ann Shirley born 5 May 1838 in Campbell Co GA; She married William Shaver 8 March 1855 in Campbell Co GA
6. William F. Shirley born 1840 GA; Lived Campbell Co GA; Collected a pension for his service in Co E 35th Regt GA voluneteers; He died Apr 12 1914
married Elizabeth ______ on 17 Sept 1868; She applied for a Widow's pension for her husband's CSA service in Campbell Co GA on 29 Aug 1914.
---
Past contacts of the Shirley Association descending from this branch of the family are:
Bronzie Dixson, Alan Lamb, Wayne Shirley, Lester Shirley, Dale (Euretta) Shirley, William A. Shirley, Jean Daniels, Janet Burks, Terry Shirley and Reuben Shirley.
-----------------------------------
Received an email 1/16/05 interest is in associated family of this branch....
Betty, I have been browsing the Shirley Assn. Website and am interested in discussing the Riley Shirley line with anyone who might be working on it. David Shirley, son of Riley Shirley is found in 1850 residing in their home with my McGuire/Banister ancestors in Georgia. I am interested also in learning more about David Shirley's wife, Susan Brock. If you know of someone working this line, please forward them my email address.
Thank You,
Regards,
Vivian Eakes Hull of Hermitage, TN