Thaddeus Shirley b. Aug 25, 1757 Newberry Co. SC, died November 29, 1840 York Co. South Carolina,
married Elizabeth________; She died in 1846, York Co. SC.
Elizabeth Shurley's estate papers in Case 7, File # 1379, York Co. Estate Records. Probated nov 3, 1846: oldest son Meredith, $10; 2nd son Philemon Shurley, $10; oldest daughter, Ruth Wright, $10; 2nd daughter, Elizabeth Wherry, $10; 3rd dau, Nancy Quick, $10; 4th daughter, Frances Perry, $10; James Shurley $10; all other to youngest son Eli Clawson Shurley, executor. C. L. Clawson furnished coffin, $10; Dr. Jacob Clawson, medical bill, $66.25. A. Brown, tombstone, $12.65.
children
1.i Meredith Shirley b. ca. 1790 d. ca. 1863 York Co. SC,
Meredith Shurley taught school in a log cabin in the 1840s in the Gold Hill area of Fort Mill township. It was said he required as strict obedience of the adults as he did of the children he taught. His primary textbooks were the Blueback Speller and Pike's Arithmetic. In 1860 Meredith Shurley (b c 1790) was living as a member of the Ware household and was listed in the U.S. Census as a teacher, aged 70 years.

Master of Arts thesis, "Cultural Factors in the History of York County" by Eula B. Thomasson, Winthrop College, June 1937 - Hickory Grove under Meredith Shurley may have been the first in the county to offer military instruction.) In 1848 Meredith Shurley taught school near the residence of G. C. Leach, Esq. Many grown men and women were pupils. The Berrys, Leaches, Hemphills, McKinstrys and Whitesides were the most loyal patrons of the school. For a week before the closing of the school, Mr. Shurley drilled his pupils in their studies thoroughly. The boys were put through a military drill. And the teacher was noted for his interest in the hygenic welfare of his pupils. The last day of his school in 1848, he drilled the boys for two hours, despite the fact that it was raining. They used sticks for guns. Anyone who failed properly to perform his duty in ranks was taken out and drilled in an "awkward squad". Spelling matches were popular, and tickets were given out each evening to those standing at the head of the class. These tickets were kept and counted before the patrons and trustees at the end of each term (a term was one-fourth of the time agreed to teach - usually twelve months). Mr. Shurley boarded among the pupils. The pupils were proud to have him in their homes, and many times arguments and perhaps feelings arose between pupils as to who had the right to his company. In 1849 Mr. Shurley taught school in a log cabin, built for that purpose, about one-fourth of a mile from Hickory Grove. He followed the old method of conducting his school. He would take up school as soon as pupils could get there in the mornings, and many evenings he did not dismiss the pupils until the sun went down. In his day he was a first-class teacher. He was a splendid penman. The Bible, Webster's Spelling Book, Walker's Dictionary, Pike's and Smiley's Arithmetics were the principle text books used in his school. Mr. Shurley was good at promised whippings, many of which he never gave, but when he did, it was well done. His method of teaching spelling and reading was for all the pupils to spell or read aloud in learning the lessons. He often had as many as forty pupils on the floor spelling at the same time. Frequently a bench ten feet long was crowded with bare-footed boys, all swinging their feet and swaying their heads, and spelling at the top of their voices. The old man, when he had a chance to be heard, would say, 'Hurrah! boys; that's the way.' Then they would all begin again joined by as many more. -

1830 York SC Census - Meredith Shirley, page 387: 1110001000000 - 1110010000000

1840 York SC Census - Meredeth Shirley, page 284: 2210000100000 - 0020101000000

1860 York SC Census

Jas R Ware 38
Scythena Ware 39
Meridus Ware 15
Mary E Ware 10
John D Ware 8
Wm Ware 7
Meridus Shirley 70

married Elizabeth Walston, daughter of Elias Walston. She was still alive in 1862, according to son John R's diary entry.

children

2.i Elizabeth Shirley died unmarried. She was living with brother Martin Luther Shurley in 1870 census household in Pulaski Co Arkansas

2.ii John Rooker Shirley, b. November 1818; He was operating a school with many scholars in Fairfield Co SC in 1850 census; He died March 15, 1863, York District, SC.; buried Ebenezer Presbyterian Church Cem. Rock Hill York Co

He was doubtless named for the Rev. John Rooker, founding pastor of the Flint Hill Baptist Church, located north of what is now Fort Mill and very near the North Carolina State line. if the name "John Rooker" came from the Baptist pastor, then the likelihood is that some of the early Shurleys in York County were of the Baptist faith. John Rooker Shurley ... was a renowned teacher and school principal in both Fairfield and York districts. He founded the Shurley Institute at Winnsboro and then moved it to Ebenezer, where he was the principal of the Ebenezer Academy until his death. The latter school was often referred to as "the Athens of York."

married 1st. Martha Ann Leitner Dec. 8, 1847 Fairfield Co. SC.,

married 2nd. Mary Ann Fewell Aug 4, 1852. She was born June 29, 1833, died Aug 2, 1900 and was the daughter of Alexander Fewell.

children by Mary Ann Leitner

3.i Leitner Shirley b. November 11, 1848; d. Bef. August 01, 1903

As a young man he went to live in Brazil with his Leitner cousins who had fled the South following the Civil War. He did not remain there for any length of time and returned to the United States with Cephas J. and Matilda (Rives) Kee, natives of Chester District, S.C.

He followed in his father's footsteps and conducted several well-known schools in South Carolina. He was at one time principal of the Ebenezer Academy. Later he removed to Lancaster County, S.C. where he operated an excellent school for many years. He called the school Carolina Academy for it was close to the North Carolina line and many of his pupils lived in Mecklenburg's Providence community.

Lancaster Ledger, 1 Aug 1903. - The handsome monument erected at Pleasant Valley church to the memory of Prof. Leitner Shurley, by his former pupils, will be unveiled with impressive ceremonies next Thursday. Capt. W. E. Ardrey of Fort Mill, will act as master of ceremonies, and will make the introductory speech. Mr. Thomas F. McDow of Yorkville; Mr. Victor S. Bryant of Durham, N.C. and Mr. James a Bell of Charlotte, all former pupils of Mr. Shurley, will make addresses appropriate to the occasion. Mr. Shurley, who spent several years of his life in South America, was one of the most successful teachers this country has ever known. He was remarkable for the thoroughness with which he prepared boys for college. He taught at a private school at Pleasant Valley for a number of years, which drew a large patronage from North Carolina, as well as from different parts of this state. He was idolized by his pupils.

married Margaret W. Ross about 1874, married 26 years in 1900 census.

children by Martha Ann Fewell:

3.ii Margaret Elizabeth Shirley July 7, 1853, She married Nathaniel Jeremiah Napoloen Bowen

3.iii Mary Celia Shirley Oct. 7, 1854, She married Lucien Gill

3.iv Sallie McMeekin Shirley March 1, 1856, died Oct. 5, 1862, age 6

3.v John Alexander Shirley Oct. 21, 1857. Member of the Ebenezer Presbyterian Church. He died June 10, 1918, obituary in the Rock Hill newspaper.

married Molly Fewell

children:

4(i). Bessie Shurley born 1884. She died 1973. She married John M. Salters

4(ii). John Rooker Shurley born 1890. He died 1938). Lived Rock Hill SC in 1918

married Margaret Ruff

4(iii). W. T Shurley Lived Pennsylvania in 1918

4(iv). Annie Leitner Shurley. She married F. D. Frissell (named in father's obituary). Lived Pennsylvania in 1918. Married John Rutherford London.

3.vi Fannie Matilda Shirley June 27, 1859, died Sept. 22, 1860, age 1

3.vii Barron Beauregard Shirley March 21, 1861, He died Jan 5, 1862, age 9 mos; Buried Ebenezer Presbyterian Church Cem. Rock Hill, York Co

3.viii William Rooker Shirley Oct 2, 1862, died Sept 9, 1872, age 9

2.iii Cynthia Jane Shirley b. ca. 1818 York Co. SC She married James Ware

2(iv). New William Z Shurley born about 1830 in Richland Co SC, age 20 in 1850 Fairfield Co SC census household of his presumed brother John R Shurley, occupation: Teacher.

2(iv). New Martin Luther Shurley born about 1833 in York Co SC, age 17, scholar, in 1850 Fairfield Co SC census household of his brother John R Shurley. He was married, living at Plant Township, Pulaski County Arkansas in 1870 census. He left Arkansas in 1879 leaving his two minor children Robert and John with a guardian. He lived in Henderson Co TN in 1900 census, occupation servant, widowed age 67

20 Nov 1862 diary of John Rooker Shurley: "Brother Luther who has been living in Mississippi for the last two years, was at my home this afternoon, when I returned from school...He and his family have come back to So. Carolina on account of the Yankees taking possession of the country near where they were living." (The Quarterly, York County Genealogical and Historical Society, Volume VII, Number 1, June 1995, page 12).

married Jemima _______ (according to diary entry and census). She died prior to 1900, most likely before 1880

children:

3(i). Josephine Shurley born about 1862 in Mississippi, age 8 in 1870 census; She was a domestic servant age 17 at Eagle Lonoke Co Arkansas in 1880. She has a 1 year old daughter, Marberry household

children

4(i). Lucinda Shurley born about 1879, apparently out of wedlock

3(ii). Sarah Shurley born about 1863 in South Carolina, age 7 in 1870 census

3(iii). William Shurley born about 1865, age 5 in 1870 census; He was a laborer age 15 at Eagle Lonoke Co Arkansas in 1880, Driskill household

3(iv). Robert L. Shurley born about 1866, age 4 in 1870 census; He was a laborer age 14 at Eagle Lonoke Co Arkansas in 1880, Glover household. R. M. Driskill named his guardian in 1880 court record.

1880 May 21 Lonoke Co Probate Court page 249 - No 157 - Robert Shurley et al minors - This day comes R M Driskill and presents to the court his petition verified by his affidavit representing that some time in the year 1879 M L Shurley removed beyond the limits of this state that he left petitioner his two minor children, Robert and John Shurley , both under the age of fourteen years and requested him to raise and educate them as best he could, that they have little or no estate that the interest of said minors would be protected by having a legal guardian appointed for them to con[ ] person and direct their labor and to reveive and manage the conpensation for their services and asking that he be appointed guardian for them. [ordered; discharged December 1881 page 479]

3(v). John J. Shurley born about 1868 in South Carolina, age 2 in 1870 census; He was a laborer age 12 at Eagle Lonoke Co Arkansas in 1880, Glover household. R. M. Driskill named his guardian in 1880 court record.

3(vi). Woodman Shurley born about 1870 in Arkansas, age 0 in 1870 census (b Jan, triplet?)

3(vii). Madison Shurley born about 1870 in Arkansas, age 0 in 1870 census (b Jan, triplet?)

3(viii). Edward Shurley born about 1870 in Arkansas, age 0 in 1870 census (b Jan, triplet?)

2(v). New Oliver Shurley born about 1831 in York Co SC, age 19, scholar, in 1850 Fairfield Co SC census household of brother John R Shurley. He died in the Civil War, Private Co F 41st SC regt.

8 Aug 1862 diary of John Rooker Shurley: "I and John went down to my farm. Found all well but Mother, she is not very well. She had just got a letter from bro. Luther bringing the sad news that Bro. Oliver was dead. He took sick in camp at Tupelo, Miss. and lay in the Hospital for some time and was carried home but lived only 9 days after he got home. He leaves a wife and two little children a daughter and son. Bro. Oliver was the youngest of the family that is living. He was about 26 years old, always had been stout and hearty...He was a member of the Baptist Church." (The Quarterly, York County Genealogical and Historical Society, Volume VII, Number 1, June 1995, page 11).

married Temperance Rachel Perry on 9 January 1858, became widow of Pontotoc Co MS, Source: Civil War citizen files; Records show she was of Fairfield Co SC afterward.

1858 January 9 O.P. Shirley married T.R.C. Perry at Pontotoc Co Mississippi

children:

3(i). daughter Shurley

3(ii). son Shurley
1.ii Philemon Shirley b. ca. 1792 Newberry Co. SC, died ca. 1854 York Co. SC
York District Estate Records, Case #24 File 1013. 1854. Philemon Shurley, Dec'd. F. D. Schooley, et al, exors. Tracts of land to sons Absolom Shurley and Eli Washington Shurley; to wife Lucretia Shurley; dau Malinda Lock, wife of Levi Lock; dau Lucinda Bennett; dau. Lucretia Schooley; dau Emeline Ferguson; 2 grandchildren: Wm C. Schooley, son of my daughter Elvira Schooley, dec'd and George W. Sturgis, son of my daughter Barbara Sturgis, dec'd.

married Lucretia Walston, daughter of Elias Walston

children

2.i Eli Washington Shirley living with parents age 16 in the 1850 York SC census; His estate was probated in York Co SC in 1857; died about age 23.

2.ii Lucinda B. Shirley m. Josiah Bennett

2.iii Lucretia Shirley Feb. 15, 1816, died Dec. 4, 1900 m. Daniel Franklin Schooley. He was born Aug 13, 1816 York Co. SC d. Sept 3, 1887 York Co. SC.

2.iv Barbara Shirley died May 1850 York Co. SC m. 1st. John Sturgis, m. 2nd George Sturgis

2.v Absolom Shirley Nov. 26, 1818; living in Giles Co TN in 1850 census, owner of 30 slaves; living in Jasper PO Walker Co AL in 1860 and 1880 census; died Oct 6, 1898 Walker Co. Alabama

married 1st Mary H. ______ (appears in the 1850 Giles Co TN census)

married 2nd Nancy Perry born 1832 SC (appears in the 1860 Walker Co AL census)

children

3.i May E. Shirley born 1844 SC (1850 and 1860 census)

3.ii Elizabeth L. Shirley born 1845 SC (1850 and 1860 census)

3.iii Mary [ ] Shirley born 1853 TN

3.iv Nancy Jane Shirley born 1855 TN

3.v Sarah [ ] Shirley born 1857 TN

3.vi Henrietta Shirley born 15 Apr 1858 TN or AL; married J. J. Sparks; she died 30 Aug 1928 at Townley, Walker Co AL, age 70y 4m; buried Scott Grove Cem.

3.vii Lucinda Shirley born about 1864 AL

3.viii Jerusha Shirley born Jun 7 1866 AL; married Parker; died 26 Sep 1957 at El Paso, El Paso, Texas, age 91y 3m 19d; buried Roscoe TX (death cert)

2.vi Malinda Shirley 1819 m. Levi Locke. He was b. July 22, 1816 Chester Co. SC

2.vii Elvira Shirley Nov. 4, 1820 York Co. SC, died Jan 10, 1848 York Co. SC, m. Daniel Franklin Schooley

2.viii Emeline Shirley Oct 20, 1828 York Co. SC d. April 17, 1903 Walker Co. AL, m. Benjamin Joseph Ferguson who was born Aug 11, 1828 Chester Co. SC and died Feb 9, 1914 Walker Co. AL.
1.iii Ruth Shirley b. November 26, 1793 Newberry Co. SC, d. March 23, 1873 Glenwood Mills, IA., married Reuben Wright, son of Richard Wright and Nancy Morgan. He was born Jan 10, 1790 Rowan Co, NC and died ca. 1843 Putnam Co. Indiana
1.iv Nancy Shirley b. ca. 1799 Newberry Co. SC, died before 1860 Noxubee Co. Mississippi, married Martin Quick
1.v Elizabeth Shirley b. ca. 1801 Newberry Co. SC, married Samuel Wherry in York Co., SC, son of William Wherry and Elizabeth Anderson. He died ca. 1840 in Hickman Co., TN
1.vi Frances Shirley b. ca. 1802 Newberry Co SC, married Jeremiah Perry who died 1870 Pontotoc Co. MS
1.vii James Shirley b. ca. 1804; He was alive 1846 at the time of death of his mother; no other info known. Possibly this James Shurley, Branch 102)
1.viii Eli Clawson Shirley b. Feb 21, 1808, died Nov 6, 1855 Chester Dist. SC, buried Jordan Burial Ground.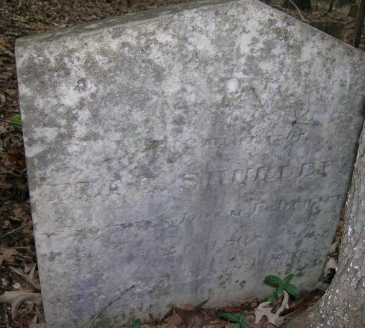 Eli C. Shurley
Birth: Feb. 21, 1808, Death: Mar. 6, 1855
Burial: Jordan Graveyard East Chester County SC
married Mary Culp. She was born Feb 22, 1820 Chester Co. SC died Aug 23, 1853 Chester Co. SC. Mary was the daughter of Henry Culp born Feb 27, 1785 died May 26, 1856 and Nancy Jordan born Mar 7, 1792 Chester Co. SC died July 24, 1847 Cedar Shoal, Chester Co. SC (Nancy was daughter of Henry E. Jordan b. ca. 1760 d. Nov 1, 1843).

children

2.i Nancy E. Shirley she married Robert White

2.ii Mary Shirley

2.iii Elisha Eugene Shirley born about 1846; He died 20 Sep 1915, age about 65 at the State Hospital in Richland SC; buried in the white asylum cemetery

married Margaret N. McFadden born July 20, 1850 Chester Co. SC d. Jan 9, 1907

children

3.i John Culp Shirley born Oct 3, 1869 died Feb. 12, 1870; buried Jordan Graveyard Chester Co SC, age 4 mos

3.ii Sallie Shirley born June 28, 1872 Chester Co. SC

3.iii William Clawson Shurley Dec 15, 1873 Chester Co. SC; Lived at Landsford, Chester Co in 1920 and 1930 census. He died Dec. 18, 1950; He was buried at Elmwood Cemetery, Fort Lawn, Chester Co SC

married Maggie Henson. She was born Nov. 24, 1885, age 44 in 1930. She died Aug. 1, 1960. Buried at Elmwood Cemetery, Fort Lawn, Chester Co SC

children:

4(i). Gary Shurley born Jul. 4, 1915 in Chester Co SC, age 4 in 1920 census, age 14 in 1930 census. PFC US Army. He died Mar. 17, 1988. Buried Elmwood Cemetery, Fort Lawn Chester Co SC

married Alma E. ______

3.iv Mary Shirley born 1876 SC; listed in family's 1880 census household

2.iv Thaddeus H. Shirley born Feb 8, 1847 Chester Co. SC d. March 12, 1875 Chester Co. SC, age 28; Buried Jordan Graveyard Chester Co SC

2.v Josiah Haynes Shirley born Jan 20, 1851 Chester Co. SC d. Aug 1, 1858, age 7; Buried Jordan Graveyard Chester Co SC