This Lineage Page Last Updated January 2021 (Currently under revision and update)
Thomas Shirley born say 1770 (1820 census profile) likely in South Carolina. Evidence is building that Thomas Shirley first appeared in extant records in Rutherford Co NC where a Thomas Shirley married Betsy Dearing. Championus Shirley and John Shirley who migrated with Thomas Shirley to White Co TN also appeared in Rutherford Co NC records. Several other families closely linked to the Shirleys of White Co TN also migrated from Rutherford Co NC. Thomas Shirley next appeared briefly in Jefferson Co TN with Champ Shirley in 1805, then in Claiborne Co TN where Thomas purchased and sold a parcel of land in that county in 1808. Thomas, Champ and John Shirley migrated to White Co TN by 1811 when they appeared in tax lists in that year. He then appeared in the 1820 White Co census with 6 children. He moved to Marion Co TN sometime around 1825, the date he sold 70 acres of land in White County and about the time he started to buy land in Marion Co; He supposedly died between 1825-1830 TN according to a modern historical account (lacking sources, but may be from family tradition?). Brother of John Shirley of White Co TN and Jackson Co AL Branch 24 (source: Goodspeed bio of Wm Carroll Shirley) DNA does not match that of John Shirley descendants!
1800 Rutherford Co NC Census - (presumed) Thomas Shirley 20010 - 10010 - 00

1810 Tennessee census lost, older sons married by 1820?

1820 White Co TN Census - Thomas Shirley 20001 - 02210

Goodspeed's History of Marion Co TN (bio of William Carroll Shirley s/o John Shirley ) "John Shirley migrated from his native state to White county, Tenn., and in 1818, moved from thence to the Sequatchie valley. His brother, Thomas, went to White county at the same time and moved with him to the Sequatchie valley in 1818. He, Thomas, and his son, William, sold goods to the Indians where Whitwell now stands, and the house they built and occupied as a residence is still standing and in use as such."

"By 1824, Thomas Shirley Sr. and William D. Shirley owned land lying along the Sequatchie River in Marion County. They also bought lots in the new town of Jasper. Around that time, Thomas migrated from White County to Marion County and established a trading post. He and Thomas W. Spicer entered into a business partnership in 1827. The trading business was located in Jasper, Marion County. According to Court records, they traded in "negroes, horses, cattle, bacon, corn, passessory, claims, goods, ware, and merchandise." The partnership was dissolved in 1834, and a series of lawsuits followed."

1825 - Power of Attorney Thomas Shirley Sen. And Margaret Shirley appoint Thomas Shirley Jr our lawful attorney whatever is due from any person or estate in the counties of Guilford and Orange in the state of North Carolina 13 Nov 1825 witness Thomas H Spencer, S Hicks 234 - Marion County, Tennessee Marion County, TN Court of Pleas and Quarter Sessions, 1825, p 234. also DB A 1826.

"Thomas Shirley Sr. migrated to Cheekville (later called Shirleyton) in Marion County, TN and operated a trading post. An Indian bought a hunting knife, but he became disgruntled and returned. He attacked and killed William Shirley, a son of Thomas Sr. Thomas Shirley Jr. was armed with a huge poker and was able to fend off the attacker." - Apparently family lore, but also printed by historian John Wilson without citation (this tale may not be true)

Ancestor of DNA Kit #723835 (Matches the DNA result below. Need further details on the exact descent to present day)

married (presumed) 1) Betsey Dearing on 7 June 1798 in Rutherford Co NC

married 2) Margaret _______. She was identified as spouse when she and Thomas signed power of attorney to son Thomas Shirley Jr in Marion Co TN

children: (known)

1(i). William Shirley family tradition says he was killed in an Indian attack. However, it may not be true.

"Thomas Shirley Sr. migrated to Cheekville (later called Shirleyton) in Marion County, TN and operated a trading post. An Indian bought a hunting knife, but he became disgruntled and returned. He attacked and killed William Shirley, a son of Thomas Sr. Thomas Shirley Jr. was armed with a huge poker and was able to fend off the attacker." - Apparently family lore, but also printed by historian John Wilson without citation (this tale may not be true)

William D Shirley obtained a TN land grant in 1824 for land in Marion Co TN. [The only tax list in existant for this county is in 1836 and he is not on it.] At some later date, A William Dearing Shirley married in Marion Co TN (Branch 51) migrated north to Montgomery County, Illinois supposedly in 1828. Enumerated in Montgomery County, IL 1840 Census, p 371. Montgomery County , IL 1850 Census, 22nd District, SW Part, p 107 B. Then migrated to El Dorado County, CA 1860 Census, Mud Springs, p 979. He may not be the same as the above William Shirley who tradition claims was killed by Indians.

1(ii). Thomas Shirley, Jr. born 1797 North Carolina. Residing in Hamilton Co TN in 1840 and 1850 census; Living with his son James B. Shirley in the James Co TN 1880 census, age 82 (James Co was temporarily created, but reverted back to Hamilton Co in 1919); He died about 1887 and was buried at the Shirley Cemetery at Savannah Bay

Thomas Shirley Jr. was witnessing land deeds in Hamilton County as early as 1828. In 1836, he sold Moses Payne five slaves for $3,100. An election was held "at the house of Thomas Shirley" in February of 1836. He acquired 434 acres, including Williams Island and land on the side of Walden's Ridge. At his property near Ooltewah, he had a ferry landing and half interest in the Shropshire mill. John Jackson Shropshire had married Mary Shirley at Whitwell in 1821. Thomas Shirley Jr. was active in trying to establish the town of Vannville (Harrison) and was its first postmaster in 1839. He was an admirer of the Cherokee Chief James Brown, and he named one son for Brown.

1840 Hamilton Co TN Census - Thomas Shirley 2101301000000 - 0110010000000

Thomas Shirley Jr. on Nov. 25, 1863, fled his home "under advice from neighbors from threats that had been made that would cost him his life." Julia Ann and the daughter, Adaline, stayed at the house, though they spent most nights with Henry and Louisa Penick. Shirley made his way to the home of Robert and Eliza Williamson near Tunnell Hill , Ga. , refugeeing there several weeks. He became deathly ill, but finally recovered. His wife and daughter arrived with two horses, a wagon and some bedding, and they went on to join James B. Shirley at Thomaston. Meanwhile, a Union man, Peter Monger, took over the Shirley place. He allowed a cohort, Joseph G. Ritchie, to live there. Other members of Ritchie's family had been killed by Confederate sympathizers, and he had vowed revenge. While Ritchie was at the Shirley home, it was burned down in the winter of 1864-65 by the Confederate William Snow "and his bandits."

1887 [James County TN Record, now defunct] Hamilton County TN Wills Vol 2 page 1 - Will and Codicil of Thomas Shirley of Ringold GA - Know all men by these presents that I Thomas Shirley of Ringgold in the county of Catoosa nd state of Georgia farmer being of sound disposing mind and memory do make and publish this my last will and testament. 1st I give and bequeath to my son James B Shirley all of my estate both real and persona of which I may be possessed at my death. With the following exceptions. To my grandson George O Cate Jr I give and bequeath the sum of one hundred dollars 2nd I give and devise to my belowed wife Julia Ann a good and comfortable support for life out of my estate. 3rd I give and devise to my son James B Shirley any and all estate in lands personality which I may acquire after date of this will afterpayment of my debts and legacies. 4th I ordain and appoint James B Shirley as executor of this my last will and testament. In testimony where of I have here unto set my hand and seal and publish and declare this to be my last will and testament. In the presence of the witnesses named below. This January 25th in the year 1873. Thomas Shirley (seal). Wit: A J Robert, W S Inman, W L Whitman, J L Varnell, J D Shropshire, Ferdinand Jett, Dated Feb 13 1873 Dr J A Esmon, Hix Padget, Rufas Padget

Codicil - Terms of this codicil or supplement are as follows: 1st My beloved wife Julia Ann having died the said demise and bequest in her favor is revoked and recalled and in no sense is to be deemed or held a charge upon the land or other property bequeathed by my said Will above copied to James B Shirley. 2nd I do in all othe respects ratify and confirm said Will in which the above is a copy. 3rd I declare in addition to the statements in said Will contained, that the lands and real estate intended to be therein devised lie mainly in James County Tennessee and on and near the waters of Savannah Creek and through which the road from Ooltewah in James Co Tn to Georgetown at the Meigs County line runs past and being known as the Shirley Lands and about which I once had a lawsuit in the courts of the US with Peter Monger and is now being occupied by tenants and embrace 800 acres more or less. But my devise and bequest aforesaid to said James B Shirley is not to be understood as limited and restricted to the said lands last above referred to; but is to be understood and his hereby expressly declared to include and embrace all the lands of which I may die owned or possessed situated in the County of James in the state of Tennessee and in any other county in said state and also to embrace any and all lands and personal property which I may own at my death in any county of the State of Georgia or any other state or government where ever the same may be 4th. I also give and bequeath to my said son James B Shirley all the moneys notes accounts and debts I may die owner or possessed where ever situated without regard to limits or boundaries of state or county lines. 5th And if anything remains of my estate not embraced in the foregoing provisions of this and the Original Will of 25 January 1873 I give and bequeath the same real perosnal and mixed rents, moneys choses? in action and everything else to the said James B Shirley absolutely and forever subject alone to the payment of all my just debts and the bequest of one hundred dollars to George O Cate Jr. It is proper to state I have many years ago give to George O Cate Sr father of George O Cate Jr all I think he or his child should have of my estate. 20 August 1878. Thomas Shirley (seal) Witnessed by: Maxey Ethridge, Robert G Andrews, John W Andrews, J L Varnell, J D Shropshire, Ferdinand Jett. Feb 13 1883: Dr J A Esmon, Hix Padget, Rufus Padget; Recorded at Oolteway 2 August 1887. J C Heaton clerk, James Co TN; Re-recorded 19 August 1916, John A Hall clerk, James Co TN

married Julia Ann Johnson; she died in the 1870s. buried at the Anderson Cemetery at Ringgold GA

children:

2(i). Lucien Bonaparte Shirley born about 1828, bachelor. He was one of the leading attorneys of early Hamilton County TN. Living in his parents household, age 22 in the 1850 Hamilton Co TN census; He appears in court records in Fannin Co GA in the 1850s apparently a resident of that county at the time, but is untraced after that date; Update 2018: I recently found record of Lucien B Shirley and Thomas Shirley (presumably his father) in Fannin Co GA court records in the mid 1850s, apparently residing in that county, serving on juries, with LB Shirley taking the oath to practice law in Fannin Co GA. More research needed.

2(ii). Cordelia Shirley m. George Oliver Cates in Hamilton Co., TN. Cordelia died either in childbirth, or soon thereafter. George Cates remarried a widow, Mary Davis, & had many other children. George is buried in the Mitchell Cemetery in Hamilton County TN.

2(iii). Adaline R. Shirley born about 1832; died in 1876 at the age of 44; buried at the Anderson Cemetery at Ringgold GA

2(iv). Thomas Shirley lll born about 1834, died young

2(v). Dr. James Brown Shirley born May 31,1837; 2nd Co. K of the 1st Confederate Cavalry at Oltewah. He rose to the rank of third sergeant, but he was captured May 12, 1863, at Linden , Tenn. He was exchanged the next month and then was hospitalized at Thomaston , Ga. , in October; graduated from Tennessee Medical College in 1890 and became a doctor. Living in what was then James Co TN in 1900 census; He died 1902.

married Mary Acshah Andrews

children

3(i). Adaline Josephine Shirley, married W. Edward McDonald on 2 Sep 1916 at Hamilton Co TN

3(ii). James B. Shirley Jr. After the family's land was taken by TVA, James moved to a farm at Winchester

married 1st Sarah Conner born 7 Oct 1905; died 18 Feb 1941 at Winchester, Franklin Co TN; daughter of John Emory Conner and Sally M. Roberson

married 2nd Louise Axmacher Lutz.

children:

4(i). Walter Shirley married Nellie Ruth Morris,

4(ii). James B. Shirley III died of colitis when he was three,

4(iii). William Shirley married Retha Hershman,

4(iv). Mary Frances Shirley married Phil Burkhalter,

4(v). Jesse Paul Shirley married Willa Ann Myers.

3(iii). Homer Shirley born 17 Sep 1885; died 17 Nov 1941 at Chattanooga, Hamilton Co. TN

married Beulah Wilson.

3(iv). Thomas Griffin Shirley born Jun. 1, 1877. He was living in the household of his mother in 1910 census, status: Divorced: He died Jun. 22, 1944; buried McDonald Cemetery, Ooltewah, Hamilton Co TN

Ancestor of DNA Kit #39124

married 1st Daisy Hartman; divorced

married 2nd Elizabeth Monger.

children

4(i). Kate Shirley (of 1st wife)

4(ii). James Fielding Shirley who married Louise Glover,

4(iii). Thomas Griffin Shirley born 8 November 1918 at Ooltewah, James County Tennessee. He died 8 July 1988.

married Jemima Reed on 4 July 1952

children:

5(i). Thomas Griffin Shirley III

5(ii). Alan Phillip Shirley b. July 27, 1957; He was a graduate of the University of Georgia. He was murdered in Burke Co, Ga July 3-4, 1981. He is buried in New Boynton Cem next to his father.

4(iv). William Frank Shirley who married Ruby Arnold,

4(v). Glenn Frederick Shirley who married Lynita Guess,

4(vi). Robert Lee Shirley who married Elizabeth Carlock.

2(vi). Commodore Perry Shirley died infant
Likely the same Thomas Shirley from above
The primary source for the following lineage is the History of Macoupin County Illinois, published in 1879. Clearly the source for the biographical information presented for the Shirley family was William C Shirley, the primary person outlined in the biography. William C Shirley was the son of James Shirley and the grandson and Thomas Shirley. Surely William C Shirley would know the details of his father and grandfather's migration.
Thomas Shirley of White Co TN
History of Macoupin Co Illinois (1879) - "Thomas Shirley, moved to Virginia, and after residing in that state a few years, moved on to Tennessee, where he was one of the pioneer settlers." Editor: I wonder if Virginia is a memory error, being North Carolina instead, specifically Rutherford Co NC?

married _______

children:

1(iii). James Shirley of White Co and Hamilton Co TN. Moved to Hamilton Co TN in 1829 where he was an Indian trader. He died 1829 Editor: I see no evidence of James Shirley in the records of White Co TN, Hamilton Co TN or any other nearby county. There is instead lore that the above Thomas Shirley died in the late 1820s, so is there some confusion? Maybe Championus Shirley was also known as James Shirley?

History of Macoupin Co Illinois (1879) - "James Shirley, was born in Virginia, and was a boy when the family made their home in Tennessee. In White county of that state, he married Jerusha Snodgrass. Mr. Shirley's mother [Jerusha] was born in Virginia, from which state her father emigrated to Tennessee. The oldest of the two sons by this marriage, was William C. Shirley.

At that time the Cherokee Indians, who afterward were removed west of the Mississippi, occupied a portion of Tennessee and Georgia, and Mr. Shirley's father [James] was engaged in trading with them in the vicinity of where, the town of Chattanooga now stands. He moved his family from White county in 1828, when Mr. Shirley was five years old, to what is now Hamilton county, Tennessee, where he sold goods to the Indians till his death, in 1829.

married Jerusha Snodgrass in White Co TN; She apparently re-married after the death of her husband James Shirley in 1829 (Early Hamilton Co TN marriage records lost) and lived in Hamilton County till her death. She died in 1842 according to her son's biographical information. (Pre-1860s probate records lost in Hamilton Co)

children:

2(i). Hon. William C. Shirley was born 20 November 1823 in White Co Tennessee. William and Mary Jane Shirley first appear in Madison Co. IL census of 1850, age 27. He was elected to the Illinois General Assembly in 1858 to represent Macoupin County and was reelected to the House of Representatives in 1866. In the 1900 census, William died sometime prior to 1900, as wife Mary is head of household and living with her sons, William A. and Rufus Shirley.

History of Macoupin Co Illinois (1879) - "William C. Shirley was born in White County, Tennessee, November 20, 1823....

At that time the Cherokee Indians, who afterward were removed west of the Mississippi, occupied a portion of Tennessee and Georgia, and Mr. Shirley's father was engaged in trading with them in the vicinity of where, the town of Chattanooga now stands. He moved his family from White county in 1828, when Mr. Shirley was five years old, to what is now Hamilton county, Tennessee, where he sold goods to the Indians till his death, in 1829.

Mr. Shirley's mother married again, and continued to live there till her death, in 1842. A considerable number of white settlers had moved into the Indian country, and a few schools had been established. Mr. Shirley for a time attended a missionary school at Brainerd (TN), and also went to school in the neighboring state of Georgia.

At the age of seventeen , he determined to begin life on his own account, and accordingly accompanied A. M. Rollins to Council Bluffa, Iowa, then one of the principal lndian trading posts on the Missouri river. This was in the year 1840. Mr. Rollins had been appointed the government agent to superintend the removal of the Indians out of Iowa into Kansas and Nebraska, and was the proprietor of a store at Council Bluffs. Mr. Shirley had gained a good knowledge of the Indian language while among the Cherokee Indians in Georgia and Tennessee, and was employed for two years in the store at Council Bluffs; his accomplishments in the Indian tongue enabling him to discharge the duties of his position in a very satisfactory manner. He concluded, however, to settle in a more civilized country, and in 1842 came to Illinois, and made his home in the neighborhood of Hillsboro, in Montgomery county.

He undertook the business of trading in cattle, horses and mules. He bought them in Montgomery and adjoining counties in the summer, drove them North to Wisconsin, which state was then rapidly filling up with settlers, who became ready purchasers; and in the winter, shipped them down the Mississippi, and disposed of them to the planters in Mississippi and Louisiana. On the 4th of December, 1845, he was married to Mary J. Hoxsey, daughter of Dr. Archibald Hoxsey, of Madison County.

After his marriage he was engaged at farming, in Montgomery county till 1849, and then removed to Madison county, twelve miles northeast of Edwardsville. In 1852 he settled in Staunton and began the business of selling goods, and also improved the farm adjoining the town of Staunton on which he has since resided .

Disposing of his interest in the mercantile business, in 1861, during the four years which followed , a period which embraced the war of the Rebellion, he was mostly occupied as a government contractor, furnishing the war department with mules and horses.

After the war, he saw that a railroad was necessary to the development of the southeastern part of Macoupin county, and the neighboring counties of Madison and Montgomery, and accordingly directed his energies toward the accomplishment of that object. He had already been a member of the State Legislature, in 1858-9, and was a candidate again in 1866, with the principal purpose of securing a charter for building this much needed road. He was sent to the legislature, and in 1867, secured the charter for the Decatur and East St. Louis railroad.

An organization uuder the charter was effected the same year at Litchfield , and Mr. Shirley was chosen President of the new company. ' He went to New York, and succeeded in getting the Toledo, Wabash and Western railroad company interested in the project He consummated all the arrangemcats with the Wabash company, for
building the road, and then, after the consolidation of the two companies, resigned his position as president, in 1869. The road was successfully completed in June, 1870.

He has since been engaged in farming at Staunton.

In 1870 as contractor, he completed part of the Indianapolis and St. Louis railroad, between Terre Haute and Indianapolis, and in 1872 was similarly employed in building the Helena and Iron Mountain road in Arkansas.

His political record has been marked by a consistent support of the principles of the Democratic party. From 1848, when he cast his vote for president for Lewis Cass, till the preseut time, he has never failed to advocate the election of the general Democratic ticket. He was a staunch Douglas man in the exciting political campaigns in Illinois, previous to the war. In the great coutest between Lincoln and Douglas in 1858, he was a candidate for the legislature on the issue of electing Douglas to the United States senate, and in the ensuing session, he had the pleasure of recording his vote in favor of the great champion of the principles of Democracy.

While a member of the house in 1867, the bill was pessed authorizing Macoupin county to borrow fifty thousand dollars for the purpose of building a courthouse. The original bill was introduced by John A. Woodson, then state senator, and authorized the borrowing of one hundred thousand dollars, but, through the exertions of Mr. Shirley, the amount was cut down to half that sum . His record in this matter is one of commendable economy. The subsequent acts legalizing further appropriations were pussed in 1869, after Mr. Shirley ceased to be a member of the legislature.

married Mary Jane Hoxsey on 4 December 1845 at Montgomery Co IL (where William Dearing Shirley, likely a relative, was enumerated in 1840). She was born 17 August 1825, daughter of Dr Archibald Hoxsey and his wife, Harriet Stephenson. She was widowed, age 75 in 1900 census for Macoupin Co IL

children

3(i). Harriet Jane Shirley born about 1846 IL, age 4 in 1850 census, age 13 in 1860 census. She married H.S. Dorsey and they had 6 children

3(ii) Judge Robert B. Shirley born 9 October 1850 in Madison Co IL, age 9 in 1860 census; He was married and enumerated in Macoupin Co IL in 1880 census, age 29; He became a Circuit Court judge; He was enumerated in Macoupin Co IL in 1910 census as a boarder, widowed, age 57; He died 22 June 1914 (tombstone) while living in Carlinville Macoupin Co IL; Buried Carlinville City Cemetery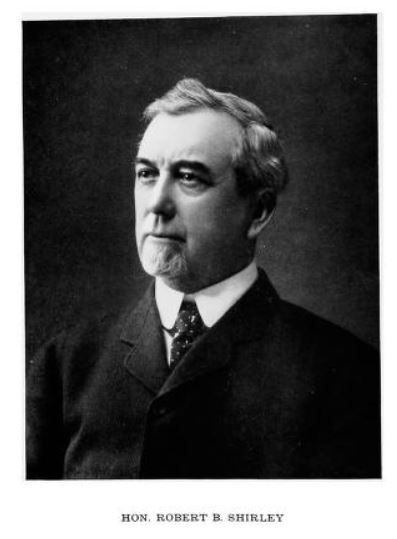 Biographical sketches of leading citizens of Macoupin County, Illinois (1904) - "Hon. Robert B. Shirley, a prominent resident of Carlinville, Macoupin County, and judge of the Seventh Judicial District of the State, whose portrait accompanies this sketch, was born in Madison County, Illinois, October 9, 1850, and is a son of Hon. William C. and Mary J. (Hoxsey) Shirley. His family has long been one of prominence in Southern Illlinois. Robert B. Shirley attended the common schools of Madison and Macoupin Counties, and received a good common school education. In 1873, he entered upon the study of law in the office of William R. Welch at Carlinville, Macoupin County, and was admitted to practice July 4, 1876. In 1878 he entered into partnership with Hon. S. T. Corn, now chief justice of the Supreme Court of Wyoming, and they continued together with success until 1885, when our subject began practicing alone. He has always been an active worker for the success of the Democratic party, and has frequently been called to offices of public trust. He has served as chairman of the Democratic Central Committee, held the office of city attorney of Carlinville three terms, was master of chancery from 1885 to 1887, and was a delegate to the National Democratic Convention held at Kansas City in 1900. In 1893 he was his party's nominee for judge of the Circuit Court in the Fifth Judicial District to succeed Hon. Jesse J. Phillips, who had been elected to the Supreme bench, and he was elected the following July without opposition. He was nominated by acclamation in the same district in 1897, and when the districts were changed and Macoupin County was placed in the Seventh Judicial District, he was nominated as judge of the Seventh District and elected by a large majority. He was re-elected to the office in 1903 for a term of six years and now serves in that capacity. In 1900 he was a leading candidate for the Supreme bench of the State but failed to receive the nomination. Judge Shirley's record on the bench is above reproach and redounds greatly to his credit. Possessing essentially a judicial mind, his many years of experience in practice before the courts have well fitted him for so important an office, and in the discharge of his official duties he has gained not only the good will of the entire bar but of the citizens of the Seventh Judicial District as well. Of keen, discriminating and impartial mind, he knows no parties to the actions brought before him and adjudicates all matters according to their legal light, tempered with a high sense of justice. On October 16, 1879, Judge Shirley was joined in marriage with Etta W. Burton, a daughter of Henry W. Burton, an honored resident of Carlinville. Fraternally he is a Mason and Knight Templar, and a member of the Knights of Pythias and Benevolent and Protective Order of Elks. - Biographical record: this volume contains biographical sketches of leading citizens of Macoupin county, Illinois

married 1) Etta Burton, daughter of Henry Burton who was living with them in the 1900 census of Macoupin Co IL; She died 8 October 1908 in Macoupin Co IL, Buried Carlinville City Cemetery

married 2) Harriet G Steidley of Carlinville on 30 November 1910

no children

3(iii). Mary Elizabeth Shirley born 1 February 1855 in Illinois, age 5 in 1860 census. She married Abolom Dempsey in 1882. She died 11 February 1929 and is buried in Memorial Park Cemetery in Sedalia, Pettis Co MO.

3(iv). William A. Shirley born August 1857 IL, age 3 in 1860 census, age 15 in 1870 census. He was living with his mother in 1900 census of Macoupin Co. IL, age 43. Resided for several years in St. Louis. His estate and will were administered in Macoupin Co IL in 1903. He bequeathed all of his estate to his siblings, thus implying he died single.

3(v). Rufus Shirley born about 1860, age 4 months in 1860 census, age 10 in 1870 census; Lived with widowed Mary Shirley in 1900 census, age 40; He lived with sister Virginia Smith in 1910 census, "single" (sic), age 49

married Emma Walters and they had a daughter, Mary Jane.

no children

3(vi). Virginia Shirley born about 1862 IL, age 8 in 1870 census; She married Harry T. Smith and they had 2 children (Shirley and Virginia)

2(ii). 2nd Oldest son (mentioned but unnamed in History of Macoupin Co Illinois biography) born say early 1820s in Tennessee

2(iii). possibly other children?

---
Knoxville Daily Chronicle, January 29, 1871, Page 4
Important Decision by Judge Trigg
A Deep-Laid Plot Exposed

Judge Trigg delivered a very important judgment yesterday in the equity side of the Circuit Court in the case ot Thomas Shirley vs. Peter Monger, argued some terms since. A statement of the facts of the case, as it is one of considerable magnitude, may not prove uninteresting.
In March, 1868, Messrs. Baxter, Champion and Ricks filled a bill in equity in the Circuit Court for Thos. Shirley against Peter Monger and others, of Hamilton county, East Tennessee.
The material allegations of the bill were, substantially, these: Mr. Shirley charged that, in November, 1863, he was compelled to leave his home, near Harrison, Hamilton county, and flee to Georgia, because of his sympathy for the Confederate cause. At the time he left, he owned, unincumbered, a valuable tract of land ot 800 acres, worth $20,000.
In October, 1865, he alleges, the defendant, Peter Monger, obtained a judgment against him for $10,000 and interest on a note purporting to have been executed by Thomas Shirley (the complainant) to one John W. Westmoreland for $10,000, on the 1st of December, 1863, and endorsed by Westmoreland for value received to defendant, Peter Monger. This note
Shirley alleges was a forgery; that at the time it purports to have been executed he was lying at the point of death in Georgia; that he never owed a debt of anything like that amount to any one; that no such a man as John W. Westmoreland ever lived or could be found; that the endorsement was a forgery and the whole claim and judgment fraudulently procured by Monger and his confederates, to obtain possession and title to his farm. Under the judgment obtained at Harrison, the land was sold and Monger became the purchaser. The note, after judgment was rendered, was taken by some one from court and has never since been seen. Afterward, to complicate the plot, Shirley charges Monger had the farm libeled for confiscation in the District United States Court here, and condemned for sale. Monger then intervened and set up his claim under the judgment at Harrison. Shirley alleged the whole proceeding fraudulent and a conspiracy to get his land; that he never knew anything about the judgments or sale until he returned home after the war, and prayed that the judgments of Harrison and Knoxville might be set aside, and a writ of possession for his land awarded, and a decree rendered for back rents. Monger answered and denied all the allegations, particularly the forgery conspiracy; claimed that he bought the note from Westmoreland. for Confederate money, in good faith. The proof failed to identify any such man as John W. Westmoreland, but showed, on the other hand, that Shirley was a close business man, and never owed any large sum of money or had such dealings as to make the execution of a note of that amount necessary.
Judge Trgg, in delivering his opinion, characterized it as one of the most remarkable cases he ever knew; made some severe comments upon the fraud and rascalitv developed, and ordered counsel for Shirlev to prepare a decree setting aside the judgment in the court at Harrison: the order of condemnation, sale and intervention in the District Court at Knoxville; an order awarding possession of the land to Shirley, and an account for back rents since I865, allowing Monger credit for the amount paid on the condemnation in the District Court.
The decision is worth about $20,000 to Mr Shirley, and for this reason, as well for the peculiar and startling facts developed, is worthy ol especial attention.
--------------------------------------------
Cases Argued and Decided in the Supreme Court of the United States
Volumes 86-89; By United States. Supreme Court
October Term 1874, page 449
Mr. Justice Swayne delivered the opinion of the court:
This is an appeal in equity from the Circuit Court of the United States for the Eastern District of Tennessee. Shirley was the complainant in the court below.
His bill alleges that Monger instituted proceedings against him by by attachment in the Circuit Court of Hamilton County, Tennessee, upon a promissory note purporting to be executed by Shirley to John W. Westmoreland, for the sum of $10,000, dated December 15, 1863, payable three months from date and indorsed y the payee to Monger; that a judgment was rendered against Shirley by default; that a large and valuable farm belonging to him was sold under the judgment and bought in by Monger; that Shirley was then absent from Tennessee and was ignorant of the proceedings; that the note and indorsement were forgeries, and that the whole proceeding, culminating in the sale of the farm, was a gross fraud upon Shirley, perpetrated by Monger. It is further alleged that Monger, in certain proceedings in confiscation in the District Court of the United States for the District of East Tennessee, had fraudulently acquired a title to the life estate of Shirley in the farm. The prayer of the bill is, that Monger's title may be annulled, that he may be compelled to account for the rents and profits of the property, and for general relief. Monger answered and denied all the material allegations of the bill. Testimony was taken upon both sides. The court below sustained the bill and decreed accordingly. Monger thereupon removed the case, by appeal, to this court......
The facts alleged by Monger are as follows: Shirley sympathized with the rebel cause, and early in the war removed to Georgia, within the insurgent lines. While he was there, a man, claiming to be John W. Westmoreland, came to Tennessee, passed through the lines of the Union Army, and offered to sell the note to Monger for its face in Confederate paper, which was then and there worth ten cents on the dollar. Monger bought the note, underdue, and paid for it accordingly.
The deposition of David Westmoreland was taken in December, 1868. He testified that about three months before that time, a man, claiming to be John W. Westmoreland, came to his house and said the object of his call was to ascertain whether they were related. He mentioned that he had sold the note of Shirley to Monger. The witness had never seen him before, and never saw him afterwards. The note disappeared from the files of the court and could not be found. There is no proof of any consideration for giving the note, and none of its execution, as to time, place or circumstances. The testimony of John W. Westmoreland was not taken, and there is no proof that a person of that name was or had been in existence, except the testimony of the David Westmoreland before mentioned, and his further testimony that he had a brother so named, who lived and died in Missouri before the war.
According to Monger, the seller of the note came secretly and departed secretly. There is no proof that at that time he saw anyone but Monger. There is no trace of his residence or presence anywhere, before or afterwards. The deposition of David Westmoreland in nowise identifies the stranger who called on him, as the person he assumed to be. The testimony is injurious to Monger. That person, whoever he was, was living in the fall of 1868, while this suit was £ and more than four years after the alleged transfer of the note to Monger. He was willing to give Monger the benefit of his declarations to David Westmoreland for whatever they were worth. His disappearance and subsequent non-appearance can be accounted for only upon the ground that he was afraid to put himself within the reach of the law by appearing as a witness.
Shirley's deposition was taken. He swears positively that he never executed the note and that he never knew anyone of the name of the payee.
Richey, a witness in his behalf, testifies that Campbell and Monger conspired together and forged the note. The character of Richey for truth is shown, by a host of witnesses, to be very bad. The character and testimony of Richey are destroyed by the witnesses called to impeach and contradict him.
There is proof that, at the date of the note, Shirley was very ill, and if not then unable to execute a note, certainly gave none. The effect of this evidence is much weakened by the adverse depositions taken by Monger. We have, therefore, laid the testimony of all these witnesses out of view. There is no evidence of the slightest weight that the signature to the note was in Monger's handwriting. The whole superstructure of the case as regards the note rests upon the unsupported declarations of Monger. It is unnecessary to pursue the subject further. The facts of this branch of the case are as free from doubt and difficulty as is the law. They fill the largest measure of conviction in the mind, that the note was a forgery, that Westmoreland, if not a myth, was a party to the crime, and that he has wisely shrunk back and since remained in guilty concealment.
But it is insisted that Monger has a valid title to the life estate of Shirley in the farm, derived from the confiscation proceedings, and that, therefore, the plaintiff's case must fail. The life estate was sold in those proceedings, and Monger bought it in for $700. Before the sale was confirmed, Monger intervened and represented that before the libel of information was filed, he had attached the premises, and he insisted that his lien, thus acquired, was paramount, as well as prior, to that of the government. The court decreed that the money he had paid, less the costs, should be refunded to him, and that the Marshal should execute a deed conveying to him the life estate of Shirley. Both were accordingly done. The latter order was an extraordinary feature in the case. The proceedings in behalf of the United States were thus used to pass a title for which they received nothing, and it was conveyed to Monger, who paid nothing for it. If the attention of the court had been called to the error in the entry, it would doubtless have been corrected. The same learned judge who made the order enjoined Monger in this case perpetually from asserting the title. This shows that he attached no importance to it. But conceding that the Marshal's deed did pass the legal title to the life estate, the answer to the objection is, that under the circumstances, Monger must be held to have taken it, as he took his title, under the attachment proceedings in trust, ea maleficio, for Shirley, and subject to all his equities. It would be a reproach upon the administration of justice, if such a title, thus acquired, could avail to defeat the rights of the complainant, and give triumph to the iniquity which has been practiced upon him. The decree of the Circuit Court is affirmed.
--------------------------------------------------------