The Shirley Association knows no evidence that the following William Shirley is the son of George and Ruhanna (Norris) Shirley Branch 13
William Shirley born about 1780-90, Virginia. He died Oct 28, 1845 Carroll Co. MO.
Sometime between 1830 and 1833, William Sherley and his family moved to Dubois County, Indiana. Wilson's History of Dubois County, Indiana states that "stock marks" were recorded and in 1833 William Sherley's name appears as one pioneer having a mark registered William Sherley's mark was: a swallow fork in the right ear and a upper half crop in the left ear. In 1837 a "stock mark" was issued to a John Sherley and this is believed to be the son of William Sherley. In this same year a"stock mark" was issued to Zachariah Meyers, son-in-law of William Sherley. In the 1840 census of Dubois Co. Indiana roll #78, lists #638 as William Shearley: 1 male 5-10, 1 male 50-60, ...2 females 10-15, 1 female 15-20, 1 female 40-50. Deed recorded of Dubois Co. IN show that William Shirley and his wife, Nancy, bought (from Peter SHERY) and sold land in Section 14, Township 2 South of Range no. 5 West. The last deed found was dated Feb. 26, 1845. He also transferred his "stock mark" on Feb. 15, 1845 to Jacob Blemker. In the early part of 1845 William and Nancy Shirley moved to Carroll Co. Missouri along with several of their children. They settled in the Mandeville area in Northwest Carroll Co. and William Shirley applied for a patent on 80 acres in Section 15, Twp. 54 of Range 25. However, on or about the 28th of October, William Shirley died. His estate was probated in the Probate Court of Carroll Co. Missouri, with John Powers and Nancy Shirley, as Administrators. Seven children were listed: Nancy Meyers, John Shirley, Elizabeth Powers, Mary A. Shively, Harriett Short, Sarah J. Shirley and Isaac Shirley, the last two named were minors. Final settlement of the estate was made in 1849. In 1850, Nancy Shirley and her minor son, William Isaac Shirley, were residing with John A. and Elizabeth Powers, her daughter. By 1860, William Isaac Shirley was married and his mother Nancy, was living with them.Nancy B. Shirley was not found on the 1870 census and it is assumed she died some time between 1860 and 1870. Family stories say that William and Nancy Shurley are interred in the Powers cemetery (sometimes called the Pitts cemetery). Many of the stones are broken and lost and this whole cemetery is overgrown with brush and weeds. No stones were located for William and Nancy Shirley. However, other members of the family are interred there. Descendants of William and Nancy Shirley currently reside in the Mandeville, Missouri community.

married 1st Milcah Howe, Aug 17, 1813, Hardin Co. Kentucky. She died 1814-15 Hardin Co. KY.

married 2nd. Nancy Froman June 4, 1815 Perry Co. Indiana. She died 1860-70 Carroll Co. MO.

children:

1(i). Nancy Shirley born May 1814 Perry Co. IN, daughter of Wm and Milcah Howe Shirley. She married Zachariah Myers Sept 12, 1832 and lived in Dubois Co. IN. and moved to Carroll Co. MO in 1841. She died Sept 18, 1858 Carroll Co. MO.

Zachariah Myers was born in Washington Co. KY. He went to Indiana when he was about 22 and was engaged for a short while, in boating on the Ohio and Mississippi Rivers. He was a member of the Methodist Episcopal. Church.

1(ii). John Shirley born Aug 13, 1818 Perry Co. Indiana, died Feb 20, 1906 Carroll Co. MO. Both are interred in the Smith Cemetery, located approximately two miles south of the town of Mandeville, Carroll Co. MO.

His early years were spent in Perry Co. and he moved into the adjoining county of Dubois, IN in 1833. In 1842, John and his family came to Carroll Co. MO. by boat and landed at Hill's Landing. He entered a large farm in what is now Fairfield and Leslie Twps. and lived there almost continually until his death. He was a prosperous farmer, an excellent citizen, and one of the most prominent men of the community where he lived, until disabled by the infirmities of old age. He was one of the most active and prominent members of the Mandeville Christian Church from its earliest existence. He lived an exemplary life and died at a ripe old age highly respected and dearly beloved by all who knew him.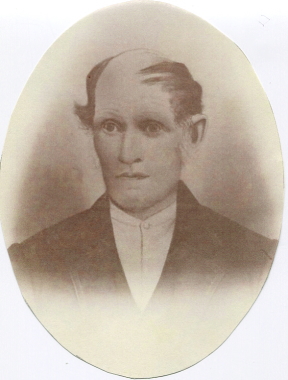 John Shirley
married Tabitha Davis Nov 18, 1837. She died Jan 29, 1895.

Children:

2(i). John Thomas Shirley born Oct 6, 1838 Dubois Co. IN died (stroke) Jan 9, 1913 Carroll Co. MO. John T. was in the 1860 census of Morris, Carroll Co. MO and his name was spelled SHURLEY. He appears to be living in a hotel or a boarding house as many many other people are living in the same place. His wife is also living there with 3 young boys who may be her brothers as they have her maiden name.

married 1st Rebecca Ann Kinnear Mar 15, 1857

married 2nd Angeline Thomas Oct 12, 1882 in Carroll Co. MO. She was the daughter of William Oliver Perry Thomas and Amanda Shirley who were married Nov 8, 1854 Carroll Co. MO. Angeline died June 26, 1940. Both are buried in the Smith Cemetery south of Mandeville, Carroll Co. MO.

Children:

3(i). Francis W. Shirley born July 30, 1883 Carroll Co. MO d. Nov 10, 1960 Carroll Co. MO

married Sarah Caroline Nance Sept 14, 1904

children:

4(i). Virgil Eugene Shirley born Feb 6, 1909

4(ii). John William Shirley born Oct 30, 1912

3(ii). Jesse M. Shirley born May 31, 1886 Carroll Co. MO d. Sept 13, 1941 Richmond, MO

married Maude L. Anderson June 5, 1907

children:

4(i). Evelyn Belle Shirley born Oct 16, 1908

4(ii). Edward Lee Shirley born July 3, 1913

2(ii). Eliza Jane Shirley born April 7, 1840 married Nathan G. Cooley Mar 22, 1858

2(iii). Sarah Ann Shirley born Mar 1, 1842 died Mar 24, 1916 Carroll Co. MO, married Levi W. McCain

2(iv). William Silas Shirley born Dec 26, 1843 died Nov 16, 1918 Carroll Co. MO,

married Lucy Folger Feb 19, 1869.

No children

2(v). Lydia Frances Shirley born Nov 16, 1845 married Charles Stoffer. They moved to Oregon. No further info.

2(vi). Mary Ellen Shirley born July 6, 1848 m. John Tucker Nov 28, 1873

2(vii). Charles Heidel Shirley born Aug 12, 1852 died April 1, 1853 Carroll Co. MO. (less than 8 months old)

2(viii). Nancy Jane Shirley born Jan 12, 1855 died June 22, 1910 Carroll Co. MO. married James H. Wells Jan 3, 1871. (No children).

Nancy Jane Shirley Wells

1(iii). Elizabeth Shirley born June 28, 1822 Perry Co. IN died April 15, 1876 Carroll Co. MO married John Anderson Powers June 6, 1839 Dubois Co. IN.

1(iv). Mary Ann Shirley born 1823 Perry Co. IN died Nov 24, 1891 Paola, Miami Co. Kansas married John Wesley Shively Jan 25, 1844 Dubois Co. IN.

1(v). Harriett Shirley born June 19, 1825 Perry Co. IN died Jan 13, 1894 Dougherty, Murray Co. Oklahoma married Daniel Short Nov 26, 1846. He was born Edmonson Co. KY and died Brown Co. Texas in 1900.

1(vi). Sarah Jane Shirley born Sept 13, 1830 Perry Co. IN died April 25, 1867 Carroll Co. MO, married William J. Powers Oct 10, 1850 Carroll Co. MO. He died Ponotoc Co. Oklahoma in 1926. He was the brother of John Anderson Powers, husband of Sarah's sister, Elizabeth.

1(vii). William Isaac Shirley born April 17, 1833 IN died Jan 7, 1876 Carroll Co. MO. Buried Powers Cemetery, Carroll Co MO

married Lucinda Smith Jan 24, 1855 Carroll Co. MO. She was born in Mississippi and died in 1910 Carroll Co. MO.

children:

2(i). William H. Shirley born Aug 27, 1857 died April 1, 1872 Carroll Co. MO, (15 years of age)

2(ii). John Smith Shirley born Aug 29, 1859 died Nov 5, 1938 Carroll Co. MO, In an article from the History of Carroll Co. MO it says he was of Irish and French descent.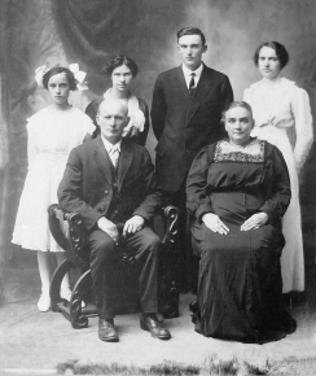 John Smith Shirley and wife Hattie Alice Pitts Shirley.
(Back: left to right) Martha Lucinda, Elvirdia Ruth, Presley Everett, Winona Bernice.

source: findagrave.com
married Hattie Pitts April 16,1884 Carroll Co. MO.

children:

3(i). Infant Shirley born and died on July 31, 1886

3(ii). Sylvester Shirley born May 22, 1890. He died October 31, 1890 infant

3(iii). Presley Everett Shirley born 6 November 1891 Carroll Co. MO

Presley Everett Shirley

A descendant says this photo is not Everett. Can anyone identify who?

married Elverdia Ruth Liller

ancestor of DNA participant Kit #333243

3(iv). Winona Bernice "Nonie" Shirley born Aug 24, 1893 d. Sept 16, 1981 Carroll Co. MO. She married Joseph Russell White Oct 6, 1917

3(v). infant Shirley

3(vi). Martha Lucinda "Mattie" Shirley born 21 November 1899 married Samuel Jesse Shirley

2(iii). Luella A. Shirley born July 31, 1861 Carroll Co. MO died September 31, 1862 Carroll Co. MO. Buried Powers Cemetery, Carroll Co MO

2(iv). Ulysses Simpson Grant Shirley born July 3, 1863 at Mandeville Carroll Co MO. He died November 20, 1945 at Alma, Harlan Co Nebraska

married Ida Loyola Mahaffie on 1 January 1890

children:

3(i). Edna Berilla Shirley born 1891

3(ii). Maude Erma Shirley born 1896

2(v). Frances Shirley born October 11, 1864 at Mandeville Carroll Co. MO. She married James Emanuel Mahaney

2(vi). Mary Ann Shirley born February 22, 1868 (twin) She married Sumner Lyman McLeod

2(vii). Martha Tabitha Shirley born February 22, 1868 (twin) She married Abraham L. Havens

2(viii). James Thomas Shirley born Nov 11, 1871 died Mar 20, 1891 Carroll Co. MO (19 years of age). Buried Powers Cemetery, Carroll Co MO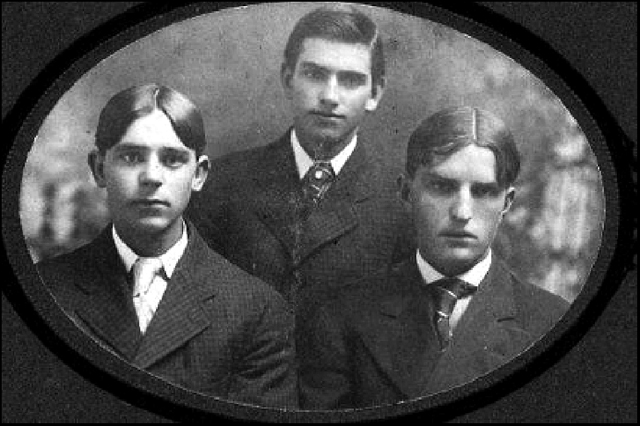 (left to right) Ulysses Simpson Grant Shirley, John Smith Shirley, James Thomas Shirley

source: findagrave.com