Misc Information Argeland Shirley branch 2
Email addresses and messages from the descendants of Argeland Shirley
Posted May 30th, 2001
Message recceived from David Bianco on May 25th, 2001
I've been researching my Shirley ancestors for almost a year now, and I just found this site tonight. This is a major breakthrough for me! Thanks, David Bianco djbianco@yahoo.com
In a letter dated same date, May 25th...
I am descended through Oliver Perry Morton Shirley. His daughter was Eva Mae Shirley, my great-grandmother. (She was my mother's father's mother). She married Joseph William McClain. They had two children. Their son, Joseph Morton McClain was my grandfather. He married Wilda Mae Brinkman.
I'm very excited to finally find the Shirley Association. I'm really looking forward to banding together with others to advance our research into the family lines.
________________________________________________________________________
Oliver Perry Morton Shirley was born May 7, 1865 to Embley P. and Mariah Lisher Young Shirley.
They lived east of Russiaville on what is now Road 26. Their house was on the north side of the road about 3 miles east of Russiaville.

Oliver Perry Morton was supposed to have been named for the Governor of Indiana, OLIVER PERRY MORTON. However, I found his grandmother was named Philadelphia PERRY, and his mother had a brother named OLIVER. He was the youngest of the family. He had a sister named Eva who lived at Lebanon, with whom he and his family kept close relations. The other sister, Laura, moved to Kansas. Even though this sister lived at a distance, the two sisters and their brother kept a very close relationship all their lives.

The older sister, Eva, married a man named William King, and they had one son named Elmer, and three daughters... Grace, Zella, and Laura Belle. Laura married a man named Elijah Hendricks, and they had two sons and three daughters; they were named Harry and Emerson, the girls were Geneva, Mabel and Hazel.

Oliver Perry Morton was called MORT all of his life and that is how he was always known. I do not know much about his boyhood days, other than he loved to square dance. He married young to a girl named Alice Newton. They had two children, Mae and Fred. Alice died when Fred was born, so Mort's mother took care of them.

I failed to say that Mort's father died when Mort was a year old, and Mort's mother married again to a man named Allen F. Coons (Kuhn). They had no children. After this marriage the family moved to Kansas. They traveled in a "covered wagon". For some reason they came back to Indiana before to long.

After Mort's first wife died, he married a girl named Rachel Anna Garner. Mae lived with them but I don't know if Fred did or not. Fred went to Kansas and lived with his Aunt Laura through part of his boyhood days.

Mort and Anna lived most of their lives in Russiaville. Mort worked for Sam Hollingsworth at the saw mill and some of the time at the grist mill for "Cappy" Hollingsworth.

There were four children born to Mort and Anna, two of whom died when they were small. Harold and Flora lived to be adults. Flora died at age 40 and Harold has reached 91 years.

Mort and Anna were divorced in 1916, and the children stayed with their father. Mort bought a small house at the northwest side of Russiaville. After some years he traded for a small acreage southwest of town.

About this time, (1925), he married again, to a widow named Ellen Coy of Tipton. They were divorced May 8, 1931. Mort traded houses twice more, the last one being the south part of Russiaville. He became ill here and went to live with Mae at Logansport, but was not happy there so he came to Pendleton with Harold for a short time. He then went to a nursing home at Kokomo where he died December 12, 1950.

At one time Mort and Anna were active members of the Baptist Church in Russiaville. Of this time he said "that was the happiest time of my life".

I do not have much information about Mort's half brothers and sisters. I know that Embley Shirley had two girls and three boys by his first wife, Mary I. Hitt. I do not know where they were married. Mort knew two of his half brothers, Samuel and James. Samuel lived in Nebraska where he died August 24, 1910. He had a son named Mort. Mariah Lisher Young Coons (Kuhn) had four children, Nan Lowery, Lina Reynolds, Phoebe Ramsey and a son Levi Young. Levi Young lived in Arizona. He is supposed to have lived on a ranch. The children of Aunt Eva King kept in touch with the Youngs. Lina Reynolds lived in Colorado where she died. She seems to have had some money, for she willed Mort $500. Nan Lowery lived in Indianapolis at one time, where she had a son. I think she is buried at Albright Cemetery near Kokomo. I know nothing of Phoebe Ramsey.

Mariah Lisher Young Shirley Coons (Kuhn) is buried at Crown Hill Cemetery on her daughter's cemetery lot in Kokomo.


WRITTEN BY: Mrs. Harold Shirley of Pendleton Indiana on July 19, 1988 at the request of her nephew, Clarence Ragan. [Helen and Harold were supportive members of the Shirley Association for a number of years and attended our Shirley Convention in Indianapolis in 1985. Both are now deceased].
---
More Information on Doctor Jackson Shirley
Submitted April 2008 by Kirk Smith VP of the Russiaville, Indiana Historical Society; email BallPalyingKids@aol.com
When I open your site, Argeland comes up first. His #7 child is Doctor Jackson Shirley. I have been told that it was a custom to name the 7th son of the 7th son "Doctor". He became a physician and so was called "Doctor Doctor Jackson Shirley"! You have a photo of Embley Shirley, the first son of Edmund (in the same line) that looks exactly like Doctor Jackson Shirley!

I will put together a short history on the Doctor Jackson Shirley and send to you. One of the most interesting things about Doctor J. Shirley was his being part of the "Underground Railroad", a popular organization of this area. His house burned around 1985? (I am still looking for the newspaper article as it had a photo contained) and I knew of the previous tenants who told me stories about the house and it's hiding places. Doctor Shirley's land had walnut trees planted by the Doctor that are still present.

My friend, related to Doctor Shirley, loaned me his medicine kit/chest a few years ago to look at. The wooden box was very precious. She is also the source of the photos. Her husband passed away nearly 5 years ago and was the direct ancestor, the Newby Family line.
---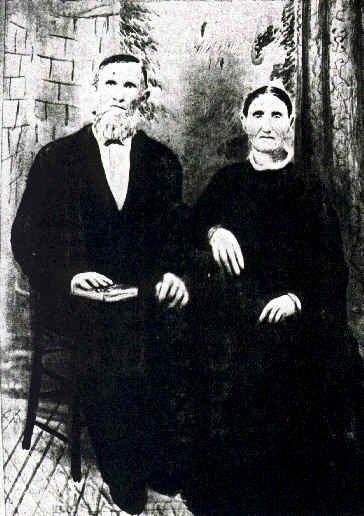 John Jacob and Mariah Endicott Booher
(parents of Mary Eliz. Booher, wife of Samuel Henry Shirley)
1899 Newspaper Article

J.J. Booher's Hand Amputated
Saturday morning at 10 o'clock Dr. C. E. Brown of Armstrong assisted by Dr. Exton of Gifford and Dr. Harris of this place, amputated J. J. Booher's right hand at the wrist. He had been a sufferer from a cancer on his right hand for three years and it had eaten the bone of the wrist away. He had been confined to his bed for several weeks but is able to be up and about the house since the hand was removed. He is 84 years of age.