1(v). Thomas Shirley, Jr. born June 15, 1779; he died April 9, 1851 at Hiseville Barren Co. KY
married Hannah Dale. She was born January 15, 1779 and died Jan 20, 1859. She was the sister of Rueben Dale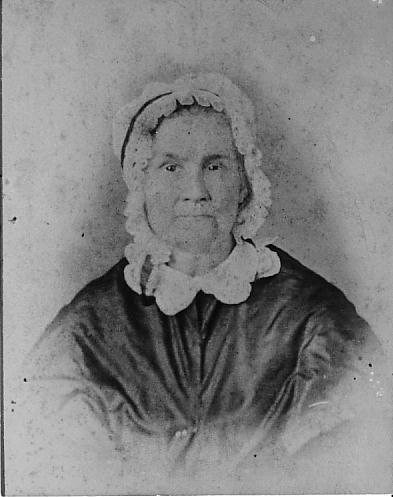 Hannah Dale Shirley
Photo from Margo Elmhorst

children:

2(i). Elijah Shirley born March 7, 1803; He died April 1860

married Mary "Polly" Harbison June 12, 1828 born Mar 3, 1808 Barren, Kentucky, died Jan 25, 1865 Metcalfe, Kentucky, USA

children:

3(i). Robert Shirley born Nov 11, 1830 KY. Enumerated in Metcalfe Co KY in 1880 census. He died. Jan 15, 1913. He was buried at Shirley Cemetery, Metcalfe Co KY. Ancestor of Kit #644563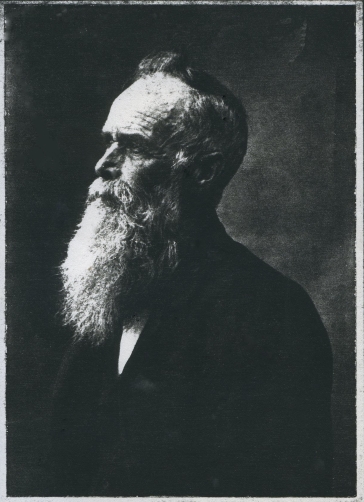 Robert Shirley
(source: finadagrave)
married 1) Sarah Ann Gee Dec 21, 1850. She was born Dec 21, 1831 d. Aug 28, 1865,

married 2) Mary A. Knipp, She died 22 January 1890 and buried at the Shirley Cemetery, Metcalfe Co KY.

married 3) Marcella J. Love on 20 November 1890 in Metcalfe Co KY

children: by 1st. wife Sarah Ann

4(i). William Lee Shirley born Aug 2, 1853 d. Apr 20, 1905

married Quintilla Harbison

4(ii). James R. Shirley born Aug 2, 1853 (twins?) d. Oct 28, 1923

4(iii). John T. Shirley born Sept 16, 1855 d. Jun 15, 1905

4(iv). Sarah F. Shirley born Nov 15, 1857 d. Sept. 18, 1858

4(v). Lemuel Crittenden Shirley born July 25, 1859 Shirleys of Butte Co California

LEMUEL CRITTENDEN SHIRLEY. – No object lesson could be presented to the student of history more striking than the transformation wrought in California during the past half century. Lemuel Crittenden Shirley well remembers the appearance of the country thirty-six years ago, when he first came to California from Kentucky. He was born near Glasgow, Ky., July 23, 1859, a son of Robert and Ann (Gee) Shirley, both Kentuckians. The former was a farmer, was a stanch Union man, and died at the age of eighty-one. His wife died when she was thirty-five years of age. They had six children, only two of whom are now living. Grandfather Elijah Shirley was born in Virginia and migrated to Kentucky, where he helped to develop the country.

Lemuel Crittenden Shirley was reared in Kentucky and attended the public schools until he was sixteen; from that time until he was twenty he worked with his father on the home farm. He then worked two years for wages, receiving one hundred dollars per year. He felt that California held better opportunities for a young man, and having an uncle, Benjamin Ely, near Winters, Yolo County, decided he would come West and join him. He arrived in October, 1881, and at once went to work for Mr. Ely, remaining with him three years, after which he worked at carpentering two years in Winters. The next year he was foreman on a ranch. With his farming experience in California and in the East, and with twenty-five hundred dollars he had saved, he felt equal to undertaking ranching for himself, and in 1886, with his brother, C. E. Shirley, leased twelve hundred acres of the Pratt grant, Butte County, and bought the farming outfit for six thousand dollars. He paid down one thousand and reserved fifteen hundred dollars for his first year's expenses. He planted eight hundred acres to grain, using two eight-mule teams in his work. He found that he would need more money to carry him through the year, and went to see J. H. Rice at Dixon, the man who owned the property he was farming. He obtained five hundred dollars and Mr. Rice advised him to get a Holt combined harvester and said if the dealer would not sell to him, that he, Mr. Rice, would go on his note, but he obtained it with no security except his own note. Mr. Shirley was successful from the beginning, and the first year reaped twenty thousand bushels of wheat which he sold for $1.65 per cental. After Mr. Shirley had made his clean-up for the year he took a trip back to Kentucky to visit his family and friends.

In 1888 the brother, C. E. Shirley, died, and Lemuel C. continued farming on the Pratt grant alone until 1906. As he succeeded he leased more land; at one time, from 1893 to 1897, with S. J. Nikirk, he also farmed the Phelan ranch of two thousand acres, besides leasing two thousand acres more of the Pratt grant for two years of that time. He had four eight-mule teams and his partner had three eight-mule teams; they had two combined harvesters and were kept exceptionally busy for they raised large quantities of wheat and barley. In 1897, when his lease for the Phelan ranch was up, Mr. Shirley bought his present ranch of one hundred forty acres, located three miles north of Chico on Shasta Road, and known as the Waste place when he moved onto it. He ran the Pratt ranches until 1906, when he sold off a part of his outfit, continuing to raise from five to six hundred acres of grain each year. On his home place he has set out thirty-five acres in French prunes and ten acres in peaches; for irrigating his orchards and alfalfa he sunk a well and installed an electric pumping plant with a capacity of eleven hundred gallons per minute. He raises hogs and sheep, increasing his flock to one thousand ewes of the Merino breed. For thirty-one years he has operated a combined harvester and since 1906, besides doing his own work, cuts for others. Since 1914, his sons run the harvester.

At Madison, Yolo County, Mr. Shirley was married to Miss Martha Howard, a native of the Lone Star State, and they have had five children born to them: Beulah May, Mrs. Britton Lobdell of Chico; Robert C.; Joseph Howard; Eugene E.; Leola M., a graduate of Chico Normal School, was engaged in teaching, and is now the wife of Rev. Galen L. Rose of Chico. The other children are graduates of Chico High School, and Eugene E. supplemented his education with a course in the department of agriculture at the University of California. The three sons were associated with their father in business until they volunteered and enlisted for service in the United States forces against Germany. Robert C. and Howard are in the aviation section of the signal corps, and Eugene E. is in the medical department, One Hundred Sixtieth California Infantry. Rev. Galen L. Rose has volunteered as a chaplain. In 1887 Mr. Shirley made his first trip back East; in 1907 he took his family back on a two months' trip to visit his father, who was then living. He has been very successful and with his family enjoys all good things that go to make for happiness and right living.

Mr. Shirley is a Democrat in politics. In 1902 he was nominated on that ticket for the office of supervisor and at the election won by six hundred majority in a Republican district. He took the oath of office in January, 1903, and served four years; the last year he was honored by being elected chairman. In 1906 he was a candidate for reelection and won by about the same majority, serving until January, 1911. The district had grown until there were over two thousand Republican majority, and when Mr. Shirley was renominated for his third term he was defeated by only one hundred fifty votes. He served the county impartially and gave excellent satisfaction to his friends and constituents. His motto always has been a square deal for everybody. He is a stockholder of the California State Life Insurance Company of Sacramento. He was made a Mason in 1884, in Buckeye Lodge, No. 195, F. & A. M., at Winters, Cal., but transferred his membership to Chico Lodge, No. 111, F. & A. M. Both Mr. and Mrs. Shirley are members of Josephine Chapter, No. 104, Order of Eastern Star. Mr. Shirley also belongs to Chico Lodge, No. 113, I. O. O. F., and to Great Oak Camp, No. 136, W. O. W. He and his wife are active members of the Christian Church at Chico, of which he is a member of the board of trustees.

Transcribed by Marie Hassard 23 October 2008. Source: "History of Butte County, Cal.," by George C. Mansfield, Pages 1050-1052, Historic Record Co, Los Angeles, CA, 1918.

married Martha Howard

children:

5(i). Beulah May Shirley. She married Britton Lobdell of Chico CA

5(ii). Robert C. Shirley

5(iii). Joseph Howard Shirley

5(iv). Eugene E. Shirley

5(v). Leola M. Shirley, a graduate of Chico Normal School, was engaged in teaching, and is now the wife of Rev. Galen L. Rose of Chico.

4(vi). Charles E. Shirley born Mar 15, 1862 d. Mar 18, 1888, age about 26

4(vii). Nevil O. Shirley born April 8, 1864 d. Nov 27, 1887, age about 23

children of 2nd wife

4(viii). George A Shirley born about 1870, age 10 in 1880 census

4(ix). Edmund Rogers Shirley born 15 September 1870, age 8 in 1880 census. He moved to Yolo Co California by 1900 and San Luis Obispo Co CA by 1910 census. He died 17 February 1952 and buried at San Luis Cemetery, San Luis Obispo CA

married Fannie Word on 5 December 1894 in Yuba Co CA. She died 1937.

children:

5(i). Clyde Shirley born about 1895 in CA, age 5 in 1900 census

5(ii). Charles Albert Shirley born 10 October 1901 in CA (source: Calif Death Index), age 9 in 1900 census. He died 27 March 1982 in Nevada Co California

5(iii). Paul Curtis Shirley born 21 March 1907 in CA, age 3 in 1900 census. He died 10 November 1967 and buried at San Luis Cemetery, San Luis Obispo

3(ii). Amanda Shirley born ca. 1832 KY nothing more known

3(iii). Thomas M. Shirley born ca. 1835 KY nothing more known

3(iv). Mary Shirley born ca. 1836 KY nothing more known

3(v). William Jefferson Shirley born Nov 6, 1837 Barren Co. KY d. Mar 18, 1906 Metcalfe Co. KY

married Margaret Eliz. Slemmons b. Jan 9, 1848 Barren Co. KY d. Feb 4, 1918 Metcalf Co. KY

children:

4(i). Vena Shirley born ca. 1866

4(ii). John E Shirley born. Dec 2, 1868

4(iii). Nancy Ann Shirley born April 7, 1871 Summer Shade, Metcalfe Co. KY

4(iv). James W. Shirley born ca. 1873

4(v). Mollie Shirley born ca. 1876

4(vi). Susie Mamie Shirley born Jan 11, 1876 KY

4(vii). Eugene Shirley born June 23, 1878 Metcalfe Co. KY

3(vi). John Shirley born April 2, 1839 KY d. Aug 12, 1851

3(vii). Eli Shirley born Nov 4, 1840 KY d. Oct 29, 1905

3(viii). Sarah A Shirley born. ca 1844 KY

3(ix). James A. Shirley born Jan 6, 1846 d. Dec 18, 1851

3(x). Frances Shirley born Aug 8, 1847 KY d. Mar 8, 1864

2(ii). Levi Shirley born Jan 7, 1806 d. Aug 21, 1833, age 27y, 7 mo, 14days; buried Turpin Cemeter in Lincoln Twp, Hendricks Co IN; He is found in Barren Co KY records in April 1828 when he witnessed the will of Jonathan Clark in that county. On January 26, 1833 Levi purchased 80 acres of land in Hendricks County (DB 2, p 403) from Temple Cooper - Source: See research of Margo Elmhorst, April 2013

married Nancy Newham on 28 May 1832 in Marion Co IN (a transcription says Lem Shirley m Nancy Ninum). She apparently married Robert Cox in Hendricks Co IN on April 1838 after the death of Levi Shirley. A William T Shirley age 17 b IN (about 1833) is living in her Hendricks Co IN 1860 household. Nancy Newham Shirley Cox died between 1860 and 1870.

possible child

3(i). William T. Shirley born about 1833, age 17 in the 1860 census household of Robert Cox and wife Nancy. He lived in Brown Township in Hendricks Co IN in 1860 and 1870; He died in 1871 and is buried in Everett Cemetery in Cass Co MO

married Henrietta Hatchett on 13 December 1853 in Barren Co KY; She was the daughter of Archibald and Elizabeth Hatchett, and sister of Mary Hatchett who married John Shirley [see 2(iv) below]. Henrietta was born 19 Mar 1837; She is widowed in the 1880 Cass Co MO census with her step-father-in-law Robert Cox living in the household; She died 2 June 1880, buried in Everett Cemetery in Cass Co MO [source: tombstone].
Henrietta Hatchett Shirley
children:

4(i). Nancy Shirley, born about 1857 IN, age 13 in 1870 census

4(i). Mary Shirley, born about 1861 IN, age 9 in 1870 census; She is likely the Mary Shirley who married S. A. McDaniel on 10 March 1878 in Cass Co MO

4(ii). Robert E. Shirley, born about 1863 IN, age 7 in 1870 census, 16 in 1880

4(iii). Priscilla U. Shirley, born about 1864 IN, age 4 in 1870 census, 14 in 1880; She is a boarder in the Mary Hoover household in 1900 Cass Co MO, age 33, b KY

2(iii). Martin Shirley born Aug 20, 1811 KY; he died Nov 5, 1865

married 1st Eliz. Smith June 1, 1837 Hendricks Co. IN. She was b. ca. 1815 KY d. ca. 1840 Hendricks Co. daughter d/o James Smith s/o Benjamin Smith and Susannah Shirley d/o Richard and Dorcas Shirley.

married 2nd Malinda SHIRLEY Aug 31, 1842 Boone Co IN by Joseph Poyner. Her parents unknown b. ca. 1823 d. after 1846 married

married 3rd Nancy Jane SHIRLEY parents unknown b. ca. 1828 d. 1858 Hendricks Co. IN m. Hendricks CO. IN no date given on marriage certificate- license dated June 21, 1849.

children:

3(i). Dysa (Dicey) Shirley b. March, 1839 HC d. May, 1915 Sullivan Co MO m. Wm Wyant Dec. 17, 1855 Hendricks Co. IN

3(ii). Levi Shirley May 24,1844 Hendricks Co. IN. d. Sept. 8, 1929 Fayette, Perry Twp., Boone Co. IN. Buried Mt. Tabor Cemetery, Fayette, IN.
Levi Shirley

Levi Shirley and his grandson Levi Harold "Pete" Shirley, b. Oct. 1, 1914

Pete was the s/o Benjamin Thomas and Arminta Smith Shirley, and the youngest of their 10 children.
Photo from Margo Elmhorst
married 1st Nancy Ann Smith Mar 16, 1865 Boone Co. IN. She was b. 1842 d. 1866 buried Mt. Tabor Cemetery, daughter of James Smith who was son of Benjamin Smith and Susannah Shirley who was daughter of Richard and Dorcas Shirley. Richard was a brother of Thomas Shirley.

married 2nd Nancy Jane Roberts July 21, 1870 Hendricks Co. IN. She was b. 1854 IN d. Nov 4, 1888 buried Mt Tabor Cemetery,

married 3rd Nancy Irene (Stoker) Smith Sept 13, 1893 Boone Co. IN died Feb 26, 1915 (No children),

married 4th Alice (Elsie) Renolds Ottinger Mar 8, 1916. (No children)

children:

4(i). Benjamin Thomas Shirley born Jan 10, 1866 d. Dec 26, 1954

married Arminta Bell Smith Dec 18, 1886 Boone Co. IN. She was born June 1870 daughter of Jacob Smith and Margaret Ellen Cooper

4(ii). Mary Etta Shirley born 1872 IN m. Alva Marsh Mar 9, 1898

4(iii). Violet Emma Shirley born 1874 Hendricks Co. IN m. 1st Shirley Kinder June 28, 1890, m. 2nd ___Abston

4(iv). Charles E. Shirley born 1875 Hendricks Co. IN m. Serelda Smith

4(v). Lala (Lola) Shirley born 1879 Henrdricks Co. IN m. Charles F. Pennington July 3, 1898

Note: Levi had 3 wives named Nancy, so anyone wanting to look up the graves had better go with dates in hand! Also, anyone reading this who has information about the family of Malinda nee Shirley, wife of Martin, please contact me!!! Margo Shirley Elmhorst felmhor1@tampabay.rr.com

3(iii). Hannah Shirley b. 1846 m. John Dick Sept 24, 1867 Boone Co. IN

3(iv). Elijah Shirley

married Susan Annis Bright Dec 24, 1873 Boone Co. IN

children:

4(i). Zada Shirley born 1889 m. John Plummer Jan 12, 1896 Hendricks Co. IN

4(ii). Ferris Esta Shirley born 1898 m. Emil Morphew Aug 4, 1919 Hendricks Co. IN

4(iii). Son Shirley b. 1882

4(iv). Son Shirley b. 1889

3(v). William Thomas Shirley

married Margaret Beaman Dec 22, 1876 Hendricks Co. IN

children:

4(i). Effie M Shirley m. Joseph Smith Dec 19, 1897

4(ii). Stella Shirley m. Fred Tharp April 16, 1899 Boone Co. IN

4(iii). Dollie M Shirley m. Wm Henry Land Jan 30, 1916 Boone Co. IN

2(iv). John Shirley born Sept 14, 1813 d. March 16, 1884

John Shirley
Submitted by Deborah Clements

married Mary J. Hachett April 18, 1840 Barren Co. Ky. She was born July 31, 1821 and died June 23, 1880.

children: (info from Deborah Clements)

3(i). Thomas Jefferson Shirley born 6/2/1841 d. 4/7/1865 (51st Indiana Vol.)

3(ii). John Green Shirley born 10/6/1843 d.8/19/1844

3(iii). Wm. Tunstall Shirley born 1/10/1846 d. 10/22/1846

3(iv). Mary Elizabeth Shirley born 12/30/1847 d. 4/17/1848

3(v). Jo Hannah Shirley born 8/28/1849 d. 4/14/1940 Clay CO. IN, m. George Washington Brown, 10 children, 7 children living to adulthood)

3(vi). Henriette Shirley born 9/11/1851 - 6/18/1852

3(vii). Archibald Edward Shirley born 4/26/1853 - 3/9/1859 (Shirley Cemetery)

3(viii). Dicey Susan (Harbert) Shirley born 5/15/1855 - 8/20/1881

3(ix). James Levi Shirley born 8/5/1857 - 7/1/1890

3(x). Robert Porter Shirley born 3/2/1860 - 7/19/1940 (oil prospector)

3(xi). Laura Evaline (Wharton) Shirley born 7/22/1863-1/22/1947

3(xii). Adelia Shirley born 10/15/1865 - 5/4/1877

2(v). Dicey Shirley born Apr 15, 1815 d. Nov 5, 1877 m. John Pedigo Dec 1834

2(vi). William Shirley born Jan 22, 1818 d. Sept 1898 Kiawatha, Kansas

William Shirley

married Mary T. Beesly Oct 13, 1842

children:

3(i). Harriett E. Shirley born Aug 4, 1843 m. Lile Berryhill 1867

3(ii). William Morris Shirley born Mar 5, 1848

William Morris Shirley

married Amanda Ellis 1880

3(iii). Charles E. Shirley born Dec 6, 1852 IL They lived Hiawatha KS and later went to Colorado.

Charles Edward Shirley

married Huldah A. Bedker 1893.