Abby Shirley ca. 1802 Norfolk Co. VA died Jan 18, 1858 North Carolina. She married William Swaim April 29, 1830, well known editor of the "Greensborough Patriot" newspaper. A daughter, Mary Jane Virginia Swaim Feb 12, 1833, married Dr. Algernon Sidney Porter of Greensboro. Their son, William Sydney Porter Sept 11, 1862 North Carolina, was known as "O. Henry", the short story writer.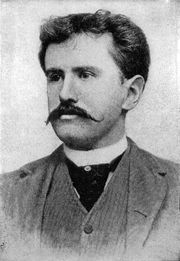 [Wikipedia biography] O. Henry is the pen name of American writer William Sydney Porter (September 11, 1862 – June 5, 1910). O. Henry short stories are known for wit, wordplay, warm characterization and clever twist endings.
Porter was born on September 11, 1862, in Greensboro, North Carolina. His middle name at birth was Sidney; he changed the spelling in 1898. His parents were Dr. Algernon Sidney Porter (1825–1888) and Mary Jane Virginia Swain Porter (1833–1865). They were married April 20, 1858. When William was three, his mother died from tuberculosis, and he and his father moved into the home of his paternal grandmother. As a child, Porter was always reading. He read everything from classics to dime novels. His favorite reading was One Thousand and One Nights.
Porter graduated from his aunt Evelina Maria Porter's elementary school in 1876. He then enrolled at the Lindsey Street High School. His aunt continued to tutor him until he was 15. In 1879, he started working as a bookkeeper in his uncle's drugstore and in 1881, at the age of nineteen, he was licensed as a pharmacist. At the drugstore, he also showed off his natural artistic talents by sketching the townsfolk.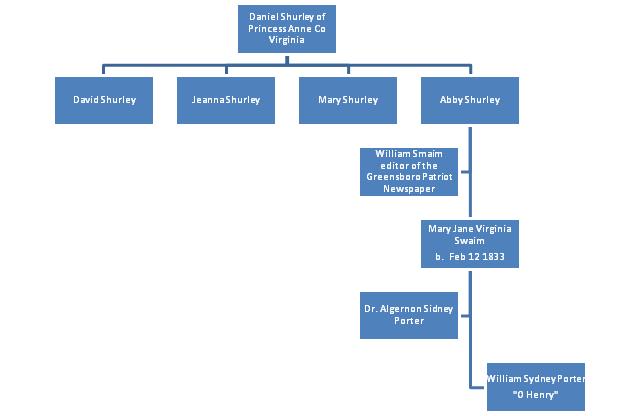 The following letter describes O. Henry's maternal ancestry. The original letter from Belle Swaim to Mrs. Smith, can be located in the "Ancestry -- Correspondence" Folder of the Greensboro Public Library's O. Henry Collection.
March 24, 1914

Greensboro, N.C.

Dear Mrs. Smith

I will write down the facts about O. Henry's maternal ancestry as we know them.

Mrs. Algernon Porter's parents were Wm Swaim and Abiah Swaim (née Shirley)[.]

Mrs. Abiah Swaim's father was Daniel Shirley of Princess Ann Co., Va[.]

Wm. Swaim was editor of the "Greensboro Patriot" from 1829 until his death.

Of his immediate ancestry we know nothing, but there is a reference to his mother in one of the enclosed letters.

My father was only very distantly related to Wm. Swaim.

Their common ancestor, -- also a Wm. Swaim -- lived in North Carolina about a hundred and fifty years ago, having come South from Staten Island.

All of the name in N.C. were, and are, his descendants. I have heard my father say this, and I have also heard it from other sources.

This Wm. Swaim's father was Anthony Swaim, who according to our family records, came over from Holland about the year 1700 and settled at Richmond, Staten Island, where he is buried.

Mary Virginia, the daughter of Wm. and Abiah Swaim was born in 1833. Her father died Dec. 31st 1835. In 1842 Mrs. Abiah Swaim married Lyndon Swaim. She died in Jan. 1858. We do not know the date of Mrs. Mary Porter's marriage, but it was previous to Sept. 1858, since in a letter of that date to my father, the writer says "my respects to the Dr. and Mary".

After the death of Mrs. Abiah Swaim, when her daughter was married to Dr. Porter, my father made a division of the property -- that is his own property and that of his wife, which they had jointly possessed.

By this division Mrs. Porter received one half, my father retaining half. The library, also, was divided. Most of the books were father's personal property, but he gave his step-daughter first choice of them.

This was told me by my mother. Now, if this library, --these books of her own selection, could only be located, it would probably throw some light upon her taste in literature; and some of her poetry, --if she wrote any -- might be found among the pages.

Among Father's old papers, Sister has found some bills for Mary V. Swaim's tuition at Edgeworth and G. F. College. We have included them since they give information concerning her education. There is also an interesting note from Rev. Solomon Lea.

I earnestly hope that what we have found will be of use to Dr. Smith.

I have probably written some things that are quite unnecessary, but I know that to the biographer, everything that has any bearing on his subject is acceptable.

With love from Mary and myself.

Sincerely,

Belle Swaim

March 24, 1914.
[Notes]
From Family Records in two old Bibles-- Wm. Swaim and Abiah Shirley married in May, 1831.
__
Mary Swaim born February 12th 1833.
__
William Swaim died Dec. 31st 1835.
__
Lyndon Swaim was married to Abiah Swaim (late Shirley) on the 3d of November, 1842.
__
Abiah Swaim died Jan. 1858.