Rootsweb July 2012
My grandfather, Edwin S.Shirley, my great uncle Dr. John W. Shirley and possibly one other brother, from atotal of ten children of James Shirley, came to America circa 1914. Edwin finished the Divinity School at Howard University, married Stella Gertrude Young of Jamaica, and was an Episcopal priest in Florida, Maryland and Washington ,D.C. He had 4 sons, Calvin Hylton, a physician who practiced in Broward County Florida, Edwin Samuel, also a physician practicing in Dade County, Florida, Donald Walbridge, a concert pianist of some renown particularly in the '50s and '60s of New York, New York, and Maurice Everett, a sociologist who practiced in Milwaukee County Wisconsin, and a younger daughter,Edwina, also of Broward County. Edwin Samuel Sr. died at age 96 in 1982. There are a host of descendants in my and the succeeding generation.
To my knowledge, neither John Shirley of Philadelphia nor Jacob Shirley had offspring. Would appreciate any additional information. (Editor: I'm wondering if the author of the query is confusing Dr Jacob Liecester Shirley who emigrated to Terrell Georgia. He was son of David Harrison Shirley of Jamaica.)
1. James Shirley of Jamaica. Possibly James Augustus Shirley born 1841 who died in 1933, residence 125 1/2 Princess Street Kingston Jamaica (see text in red below)
married _______

children:

2(i). Father Edwin Samuel Shirley, born 22 August 1885 in St John Jamaica, then a colonial territory of Great Britain (source: 1929 immigration, WWI draft registration. Note St John parish was absorbed into St Catherine in 1866). He came to the USA from Jamaica 27 Apr 1914 to Ellis Island New York. His residence was listed as Spanish Town Jamaica, age 28 occ: schoolmaster; Nearest relative listed as Mrs E C Shirley, 125 1/2 Princess St Kingston Jamaica. [Note: an EC Shirley was a 2nd Lieut in British WI Regiment in WWI, 1919] Graduated from divinity school at Howard University; He was an Episcopal priest in Florida, Maryland and Washington DC. They were living at Selma Dallas Co AL in 1918 (time of his WWI draft registration). He and his son Calvin H Shirley came through the port of Key West in 1929. Edwin was 43 and Calvin 8 born 28 January 1921 in Tallahassee FL. Edwin's place of birth was listed as St John Jamaica. Last permanent residence: Pensacola FL, 5 years. He was living in Pensacola, Escambia Co FL in the 1930 and 1940 census; He died 1982.

Note: A James Augustus Shirley born 1841 died at 125 1/2 Princess Street Kingston Jamaica in 1933. Is he the father?

married Stella Gertrude Young of Jamaica; She was born 23 Dec 1903 in Kingston Jamaica (source: death record); She died 8 May 1936 in Pensacola Escambia Co FL, age 32, occ: teacher; Buried St Josephs Cem; She was the daughter of John W. Young and Sarah Hytton (?Hylton) of Jamaica.
| | |
| --- | --- |
| Fr. Edwin Samuel Shirley | Stella Gertrude Shirley |
children:
(l to r) Calvin H. Shirley, Fr. Edwin S. Shirley,Maurice Shirley,
Donald Shirley, Edwin Shirley II.
3(i). Dr. Calvin Hylton Shirley, born 28 January1921 in Florida; He was a physician who practiced in Broward Co FL; He died in 2012 (see obituary below)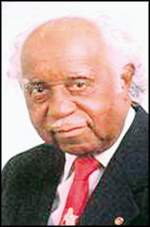 Dr. Calvin Hylton Shirley
married Jeanette E. ______ She was a registered nurse, mentioned in the obituary of her husband (see below)

children:

4(i). Calvin Shirley, Jr.,

4(ii). John Walbridge Shirley

4(iii). Cedric Hyton Shirley

4(iv). Jasmin Shirley

4(v). Dr. Carmen Shirley

3(ii). Dr. Edwin Samuel Shirley Jr, born 13 December 1922 in Florida; He was a physician who practiced in Dade Co FL; He died Sunday, 1 October 2006, age 83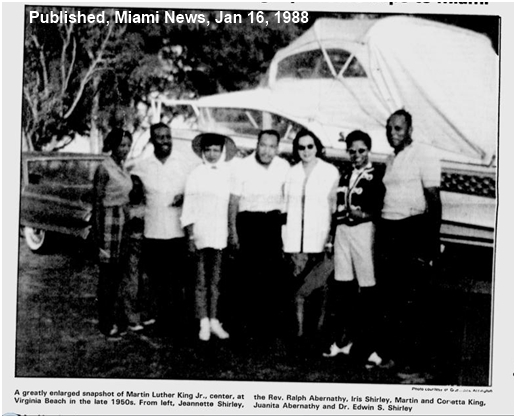 Dr Shirley and wife with Martin Luther and Coretta Scott King and the Abernathy's. The legacy of Dr Edwin Shirley is being honored for Black History Month in Miami February 2014. The Shirley Association was pleased to supply some historical information about Dr Shirley for this celebration. (Reprinted by the Miami News, January 16, 1988)

3(iii). Donald Walbridge Shirley, born January 29, l927, in Florida. He was a concert pianist of some renown particularly in the '50s and '60s in New York City. His first teacher was his mother.

Don Shirley in 1954
2018 Hollywood movie about his life "Green Book"!!
Academy Award Winner: Best Picture 2019
3(iii) Stella Lucille Shirley born 6 December 1924. Died 15 January 1926. Buried Saint John's Cemetery, Pensacola Escambia Co FL "Infant daughter of Rev and Mrs E. S. Shirley"

3(iv). Maurice Everett Shirley, born about 1937 in Florida; He was a sociologist of Milwaukee Co WI

3(v). Edwina Shirley. She was born when her father was 70 years old; She lived in Broward Co FL; She apparently married a Nalchawee (see her email at bottom of this page)

3(vi-vii). Two more daughters (names? or were they infants?)

2(ii). Dr. John Wallbridge Shirley, born about 1886 in St James parish Jamaica (source: immigration); He came to the USA from Jamaica 28 Sept 1914 to Ellis Island New York, where his brother was already living at the time; Closest relative in the home country was listed as J. Shirley 125 1/2 Princess Street Kingston. He earned his MD at Howard University in 1918; He was age 40 in 1930 Philadelphia PA census, single. In 1940, he is listed as married, but no wife or family in his household, age 54 occ: doctor.

2(iii-x). "eight other children" (names? or were they infants?)
---
Pioneering Florida doctor Dr. Calvin Shirley dies at age 91
July 5, 2012 Florida Courier
Dr. Calvin Hylton Shirley, one of South Florida's first Black doctors, died of natural causes on June 23 at Broward Health Medical Center. He was 91.
Dr. Calvin Shirley
Dr. Shirley was one of the first four Black physicians admitted to the staff of then-Broward General Hospital (now Broward Health Broward General Medical Center). The move paved the way for the acceptance of Black physicians.
Funeral services were held June 30 in Fort Lauderdale for Dr. Shirley, who was born Jan. 28, 1921 in Tallahassee to the late Rev. Edwin S. Shirley and Mrs. Stella Gertrude (Young) Shirley of Jamaica, West Indies. He was the oldest of four brothers and three sisters.
After graduating from Booker T. Washington High School at age 16 in Pensacola, Dr. Shirley matriculated at Florida A&M University, where he obtained his pre-medical education majoring in biology and a double minor in chemistry and education.
From Boston to Broward
After college, he was drafted into the Navy during World War II. He then enrolled in the Boston College of Physicians & Surgeons in Boston, graduating summa cum laude.
After finishing his internship and residency in obstetrics and gynecology at Boston City Hospital, he returned to Florida in 1949 to commence his medical practice.
He joined three Black medical doctors – James F. Sistrunk, Von D. Mizell, and R. L. Brown – who were already established in Fort Lauderdale at Provident Hospital, the only major health care facility in Broward County at the time that would treat Blacks.
According to historical records, Provident was a general hospital, owned and operated by Broward County's Black community through a non-profit corporation. It cared for Black patients anywhere in South Florida, was operated by an all-Black administrative staff and offered medical and surgical care under the standards set by the American Hospital Association.
Dr. Shirley became a staff physician there, eventually delivering more than 6,000 babies during his professional career. He later opened medical practices in Fort Lauderdale and Delray Beach.
Many firsts
Dr. Shirley and his late wife, registered nurse Jeanette E. Shirley, implemented the first curriculum and operations for the Broward County Licensed Practical Nurse training program. He later became the county's first medical advisor to the Sickle Cell Foundation.
Dr. Shirley was also instrumental in getting a Broward Health Department building erected in a predominately Black community, thereby affording more accessibility to available county health facilities and public health services. He also was the first Black doctor to serve on the executive board of the Florida State Health Planning Council.
Nationally, Dr. Shirley served 15 years as the grand clinical director and assistant grand medical director of the Improved Benevolent and Protective Order of Elks of the World. This service is rendered during annual Grand Lodge Conventions held in various large cities throughout the United States.
He retired in 2004.
'Amazing man'
"Dr. Calvin Shirley spent decades helping his patients and transforming health care in Broward County. He was an amazing man who not only brought thousands of lives into this world but worked to change the world, into which they were born, said Frank Nask, CEO and president of Broward Health.
"…I've come to understand his character and commitment through his daughter Jasmin Shirley, our vice president of community health services. A dedication to healing and public service are his legacy and those qualities continue in his children."
Dr. Shirley was a member of Kappa Alpha Psi Fraternity, Inc. He was preceded in death by his wife Jeanette, a brother and two sisters.
He is survived by his daughters Jasmin Shirley and Dr. Carmen Shirley Mack; sons Calvin Hylton Shirley Jr., John Walbridge Shirley and Cedric Hylton Shirley; five grandchildren; and a host of other relatives.
---
Don Shirley began playing piano at age of 2-1/2 and made his first public performance at the age of 3. At the age of nine he was invited to study theory with Mittolovski at the Leningrad Conservatory of Music, and he later studied with famous organist Conrad Bernier and studied advanced composition with both Bernier and Dr. Thaddeus Jones at Catholic University of America in Washington D. C.
Visit his website at: www.donshirley.com
I wrote to Don and received this response:
Dear Ms Shirley,
This is Michael Kappeyne, Dr. Shirley's (classical) piano student. see him every two weeks or so at my lesson, and also produced his latest CD "Home With Donald Shirley."Your note somehow fell through and didn't appear again until I was comparing received and sent messages yesterday.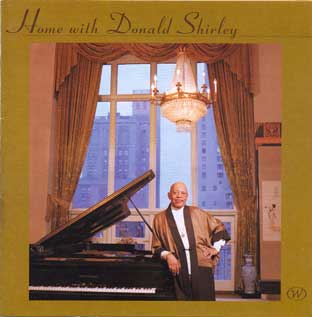 He is indeed from Jamaican descent, but spent his early youth in Florida with his mother and father, a reverend, before he was shipped of to St Petersburg, Russia, for his musical training.
I'll give him your note, and he may want to call you about the Shirleys.Do you have a phone numbers at which he can reach you?
With best regards,
Michael Kappeyne
I DIDN'T HEAR FROM HIM. I also didn't find any info in our new Jamaican Shirley book. We need his grandfather's name to get back far enough to find him in the book. Any help appreciated.
Betty Shirley (posted Sept 3, 2006)
---
Email of May 31, 1999 to Betty Shirley:
Dear Betty,
I found your e mail address while I was visiting my uncle in Ft. Myers. My name is Edwina Shirley-Nalchawee and my father Edwin Shirley was born in Jamaica in 1882. I would like information on the Shirley's in the Jamaica area, and of course in the U.S.
I had information on the Shirley's dating back as far as 1839. However, the information I no longer have. My father gave me a lot of the information, and unfortunately the information is lost. He has since passed away.
My father was 70 years old when I was born. My daughter is 10 years old and is interested in learning about her grandfather.
Any information would be helpful. It would also be nice to communicate with you from time to time.
email, tom-ootg@worldnet.att.net
Thank you for any information you can give me.
Edwina Shirley-Nalchawee