Belle Starr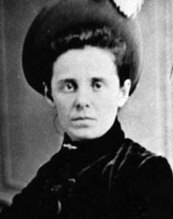 Belle Shirley attended the Carthage Female Academy, where she excelled in reading, spelling, grammar, arithmetic, Latin, Greek, Hebrew, and music. She also learned to play the piano.
As a teenager during the Civil War, Belle reported the positions of Union troops to Confederacy. One of her childhood friends in Missouri was Cole Younger, who served in Quantrill's guerillas with Jesse and Frank James. After the war these men turned to outlawry, primarily that of robbing banks, trains, stagecoaches, and people. In their flights from lawmen they would sometimes hide out at the Shirley farm. Belle became very tight with the James and Younger gangs.
In 1866, Belle married James C. "Jim" Reed, a former guerilla whom she had known since her childhood in Carthage. Their daughter Rosie Lee "Pearl" (who was later rumored to be Cole Younger's child) was born in 1868 and their son James Edwin "Ed" was born in 1871. While Jim initially tried his hand at farming, he grew restless and fell in with bad company, the Starr clan, a Cherokee Indian family notorious for whiskey, cattle, and horse thievery in the Indian Territory (now Oklahoma), as well as his wife's old friends the James and Younger gangs. In 1869, Jim shot a man. He supposedly was the man who accidentally shot his brother in a quarrel. Wanted by the law, he fled to California with Belle and Pearl. Two years later Jim had another run in with the law. He was passing counterfeit money and with Belle, Pearl, and newborn son Ed, fled to Texas.
In November 1873, Jim Reed with two other men robbed Watt Grayson, a wealthy Creek Indian farmer in the Indian Territory, of $30,000 in gold coins. Belle was named as an accomplice. There was very little proof of her involvement. They both went into hiding from the law in Texas: Jim in the town of Paris and Belle and the children with her family in Sycene where she lived off the gold from the Grayson robbery. She wore buckskins and moccasins or tight black jackets, black velvet skirts, high-topped boots, a man's Stetson hat with an ostrich plume, and twin holstered pistols. She spent much her time in saloons, drinking and gambling at dice, cards, and roulette. At times she would ride her horse through the streets shooting off her pistols.
In April 1874, Jim held up the Austin-San Antonio stagecoach and robbed the passengers of about $2,500. A price of $7,000 was placed on his head and he went into hiding. The law caught up with him near Paris, Texas on Aug. 6, 1874, when Jim Reed was shot to death while trying to escape from the custody of a deputy sheriff.
The young widow Belle left Texas, put her children in the care of relatives, and took up with the Starr clan in the Indian Territory west of Fort Smith, Arkansas. Here Belle immersed herself in outlawry: organizing, planning and fencing for the rustlers, horse thieves and bootleggers, as well as harboring them from the law. It was during this period she married Samuel Starr, ...1880.
Judge Isaac C. Parker, a.k.a., "The Hanging Judge," of Fort Smith became obsessed with bringing Belle Starr to justice, but she eluded him at every turn. In 1882, charges of horse theft were brought against Belle and Sam by one of their neighbors in the Indian Territory. The jury returned a guilty verdict for each and in March 1883, Judge Parker sentenced Belle and Sam to a year in the House of Correction in Detroit, Mich. During her prison term Belle proved to be a model prisoner and won the respect of the prison matron. They were both released after nine months and returned to the Indian Territory.
Over the next several years Belle Starr would continue to find herself arrested for charges of robbery, however, Judge Parker would be forced to release her for lack of evidence. A particularly memorable arrest was in 1886, when Belle was charged with robbing a post office while dressed as a man. That same year Sam Starr was killed. Shortly afterward Belle provided the legal counsel for Blue Duck, a Cherokee Indian indicted for murdering a farm hand. To Judge Parker's ire, the death sentence he imposed was commuted to life imprisonment. And in 1888, when her son Ed was arrested for horse theft, her lawyers contacted President Grover Cleveland, who overturned Judge Parker's seven-year prison sentence with a full pardon.
The notoriously unlawful life of Belle Starr came to a violent end on Feb. 3, 1889, two days short of her forty-first birthday. While riding from the general store to her ranch near Eufaula, Okla., Belle was killed by a shotgun blast to the back. Suspects included Edgar Watson, with whom Belle had been feuding over the land he was renting from her, Belle's lover a Cherokee named Jim July with whom she had recently had a quarrel, and her son Ed, with whom she had had a strained relationship. However, the identity of the murderer of Belle Starr was never identified. Belle Starr was buried on her ranch with a marble headstone on which was engraved a bell, her horse, a star and the epitaph written by her daughter Pearl which reads:
"Shed not for her the bitter tear,
Nor give the heart to vain regret;
'Tis but the casket that lies here,
The gem that filled it sparkles yet."