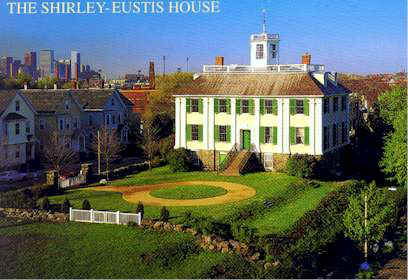 Shirley Place, home of Royal Governor William Shirley of Boston Massachusetts
Shirley Place was built in 1747 by the Royal Governor, William Shirley, as his country seat in then-bucolic Roxbury, Massachusetts, an hours' carriage ride outside of Boston. One of only four remaining colonial governors' residences still standing in this country, it is also one of America's great Georgian mansions. This imposing design is attributed to Peter Harrison, "American's first architect."
Chronology
1746
Shirley Place purchased and built by Governor William Shirley, who captured Louisburg Fortress. Soldiers landscaped terraced grounds with a 250 foot ornamental canal, laid out by his wife, Elizabeth Barker.
1755
Benjamin Franklin discusses the Albany Plan of Union with Governor Shirley at Boston. He esteems Shirley "sensible and sagacious...attentive to good advice from others, capable of forming judicious plans...quick and active..."
1756
George Washington records Shirley's "character and appearance has perfectly charmed me, as I think every word and action discovers the gentleman and great politician" 'though he lost at cards at the Governor's".
1775
After the flight of Shirley's Tory son-in-law, Judge Eliakim Hutchinson with whom the Governor lived until his death in 1771, Shirley Place is confiscated by the Massachusetts Committee on Absentee Estates.

1776
Surgeon's Mate, Dr. James Thacher, writes on Feb 22, - "Our regiment...took quarters in the large and elegant house formerly belonging to Governor Shirley" where they prepared to seize Dorchester Heights.
1782
Major John Read purchased and repaired Shirley Place. Francis S. Drake records, he "dispensed an elegant hospitality".
1791
J.B. Cesar Du Buc, Counsellor to Louis XVI, lived here during the French Revolution with Mme Bertille de Fitz Patris. Du Buc negotiated trade agreements with the Adamses and Franklins at Paris in the 1780's.
1797-1820
Shirley Place was restored as the elegant federal mansion it was at the time William Eustis, the first Democratic-Republican governor of Massachusetts, lived there. It was here that Eustis held his great fete for the returning Marquis de Lafayette in 1824.
In 1913, the abandoned mansion was saved from destruction when it was purchased by the newly founded Shirley-Eustis House Association, one of New England's earliest preservation organizations. It was carefully restored to its Federal period appearance in the 1980's and is now open as an historic house museum.
THE SHIRLEY-EUSTICE HOUSE ASSOCIATION
33 Shirley Street
Roxbury, Massachusetts 02119
telephone (617) 442-2275
Open Thursday through Sunday, 12-4pm
Admission $5
THEY HAVE THEIR OWN WEBSITE NOW...
http://www.shirleyeustishouse.org/