Here's a brief tour of some of Betty's
tireless efforts over 30 years.

(There's so much, you'll need to click here to see a better list)
In 1979, Betty organized the first Shirley Association national convention at Shirley Plantation on the James River Virginia. Take a look at this group of Shirleys eager to share their family stories and lineages. Note: Betty is standing next to the right pillar in the very back row.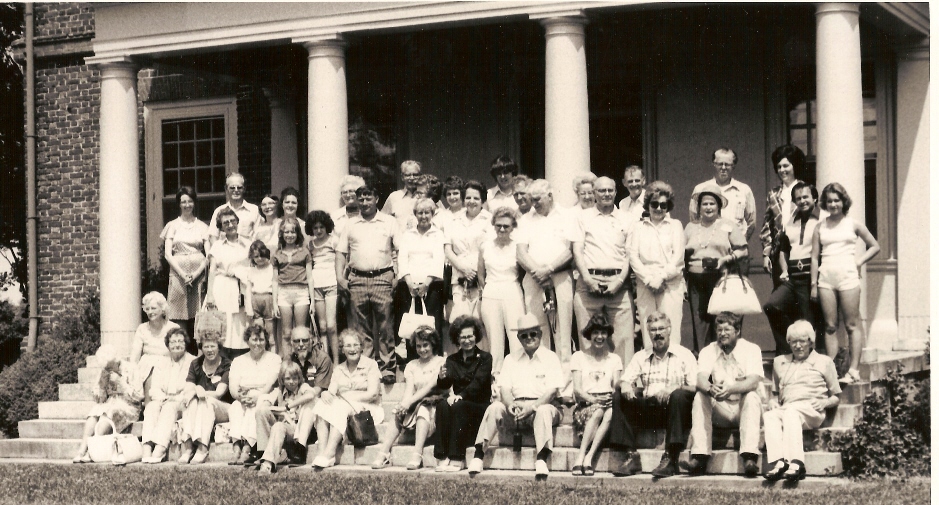 The first national Shirley Association convention in 1979
---
In July 1980 Betty organized the 2nd convention at San Jose, California. This followed conventions in Lexington KY and Anderson SC in the next few years.
You must remember that between convention dates, she was also performing research, sending out mailers to Shirleys all over the world, phoning and corresponding in search of answers!! The consumate organizer!!
Betty's first international research trip was to England in May of 1985. That followed her hosting Shirley group meetings only 1 month later in Indianapolis, Marion Co. Indiana. Anderson South Carolina, Northport Alabama, Meridian Mississippi, Jackson Mississippi, Memphis Tennessee, and Hartsburg Illinois.
And later that same year Fresno California, Brentwood California, Ontario California, Orange California, San Jose California .
In 1986, Betty organized a tour to England for over 100 American Shirley family members for the celebration of the 900th anniversary of the continual ownership of Ettington manor - the only estate in England that has remained in the original family in an uninterrupted line of descent. See more photos here.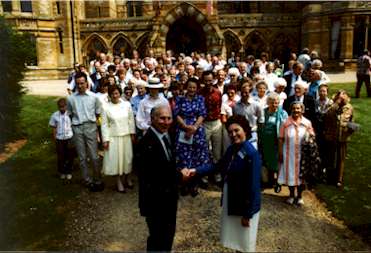 Major John Shirley, Lord of the manor of Ettington, and Betty and
the entire caravan of American Shirleys at Ettington in 1986
---
After that hugely successful event in England, Betty held meetings in Houston, Dallas and Oklahoma City, OK. In 1987 she organized the 6th Shirley Convention at Williamsburg VA. And being the tireless trekker, she immediately followed the convention in Williamsburg with a research tour of New England. She hosted a meeting with 30+ Shirley's in Boston Massachusetts. The group visited NH, NY, PA & made several stops in Virginia. They attended services in the Broad Run Baptist church in Prince William County VA and visited St. Stephens church in Northumberland Co. VA.
The 1980s ended with Betty hosting meetings in Anaheim, California, Honea Path, South Carolina, another meeting in England and a meeting with the Irish Shirleys in Kilkenny Ireland!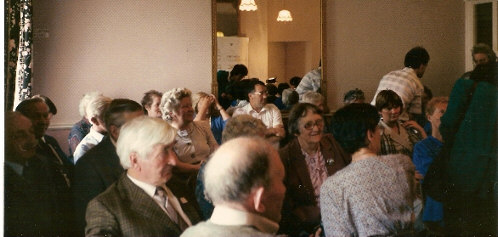 The first Shirley meeting in Ireland - May 1989
---
But actually, Betty wasn't quite finished with her meetings in 1989. A trip to England and Ireland wasn't quite enough. She held a meeting in Tulsa that June and then flew to Australia and New Zealand to host Shirley meetings three months later!!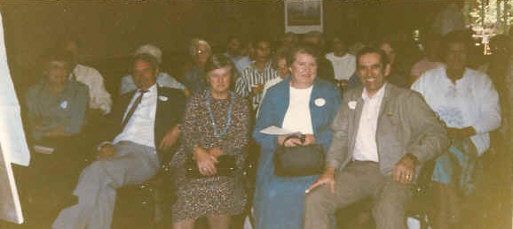 Shirley meeting in Auckland New Zealand in October 1989
---
Betty was just as busy in her second and third decade leading the Shirley Association. She hosted the 8th Shirley convention at Cave City, Kentucky, and then meetings in GA, TN and SC and then Phoenix, Arizona. Quite frankly the list goes on and on - from Seattle to Syracuse - including three more trips to England.
Betty's last official trip as president of the Shirley Association came in June of 2006 with a comprehensive trip to England - not just one meeting but meetings all over the country, from London to Sussex to Dorset, and of course, one more meeting at Ettington!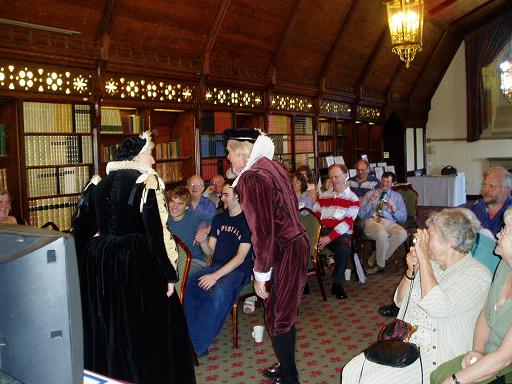 Betty's last Shirley meeting at Ettington Park - June 2006
(including a theatrical performance!)
---
Betty retired from the Shirley Association not long thereafter.
If you are like me and are exhausted from just reading about all of this work, please understand that Betty also published several books including a "Shirleys in the 1790-1900 US Census" volume that I happened to stumble upon in my own hometown library in North Alabama! I own a copy of the 19th century publication of Stemmatta Shirleiana, the definitive book on the Shirleys of Ettington, only because Betty secured the right to republish it!! (as well as another book on the three great Shirley brothers of Wiston Sussex)
But most people including myself came to initially learn about Betty's work by somehow coming across a copy of her Shirley News quarterly newsletter - maybe at a local library, or in my case, seeing a copy at a relative's house. Betty filled the newsletter with loads of research, family stories and lineages obtained from her own primary research trips, from research submitted by Association members, and from professional genealogists who Betty hired. Betty only stopped publishing and mailing the Shirley News when the internet became a more viable method to disseminate her wealth of information to Shirleys across the globe.
And if you couldn't tell by now, Betty spent quite a bit of money over and beyond what membership dues covered - this to provide Shirley family facts and stories to you and me. We thank her deeply for that!
And we will miss her.
God bless you, Betty.