1985 Shirley Convention at Indianapolis, Marion Co., Indiana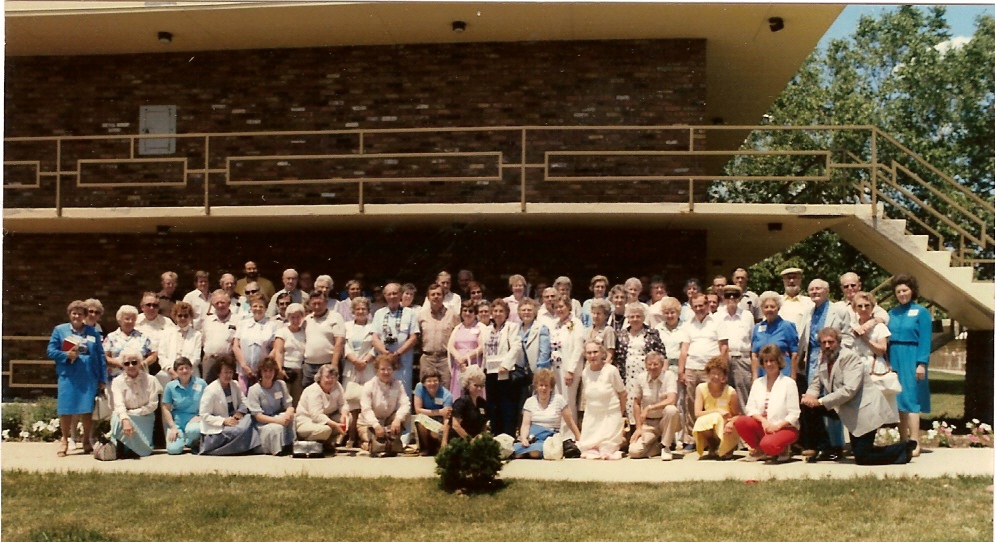 1985 Shirley Convention in Indianapolis, Indiana
The Shirley Association held their 5th Shirley Convention June 29 & 30th at the Holiday Inn. Walter and Marion Shirley were our hosts. More than 80 people attended from all over the United States representing many family branches of the Shirley family who came to America as early as the 1600's. Many of the guests were attending their first convention while others had attended previous ones in Virginia, California, Kentucky and South Carolina. Betty Shirley had just returned from England 2 weeks earlier from England where she was working on the plans for the 1986 Shirley Celebration. She shared stories and pictures of her trip and told of the proposed places and events for this historic trip in 1986.
On Sunday, Betty was presented with a beautiful document prepared by Gerald Finn of Williamsburg, VA. It says:
A Tribute to Betty Shirley whose talents industry and integrity have made the Shirley Association a successful reality. Her organizational ability is of a superior order. Her interesting Shirley News is well written and put together. Tireless research by her into the past has revealed much that we are justly proud of. The skillful manner with which she established the friendly relationship with the distinguished Shirley family of England was worthy of a diplomat.
In recognition of her unique gifts which we have benefited from. We present to her this statement of our high esteem and appreciation.
Indianapolis, Indiana
June 30, 1985
(signed by 3 rows of signatures)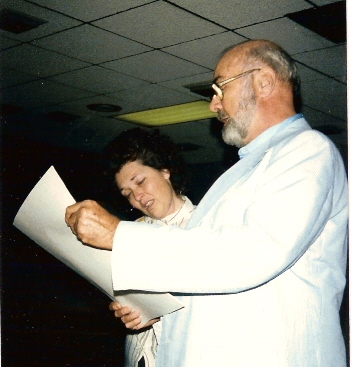 Walter Shirley presenting Tribute to Betty Shirley
(I was a bit emotional and shocked)
Newspaper Article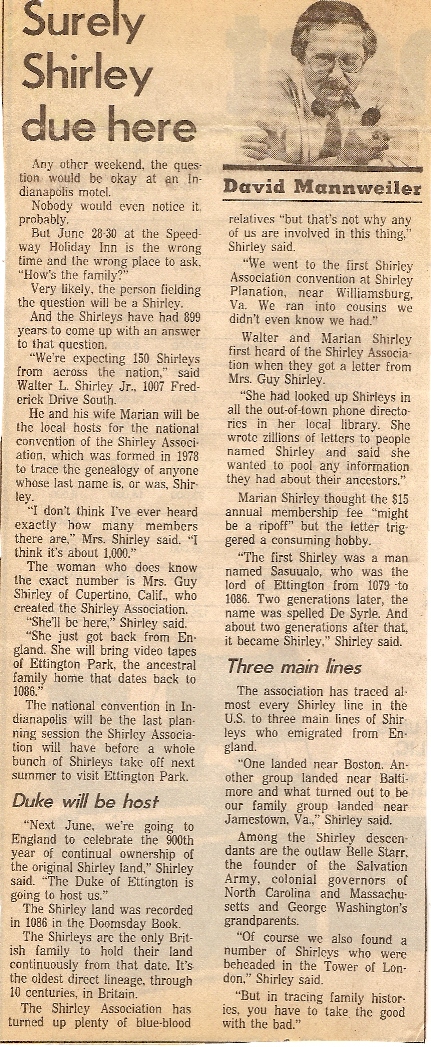 There are a few statements not entirely correct, but thought I would post anyway