Easter Shirley born about 1788 in SC and died about 1870 in Chambers Co AL; was the mother of Hezekiah, a daughter (name unknown), and Mansfield (see below). Her husbands name is not known; She is living with Mansfield Shirley in the 1850 Tallapoosa Co AL census; She is living with Hezekiah Shirley in the 1860 Chambers Co AL census household, age 72 and also likely in the 1840 census, female age 50-60.
Esther appears in the will of Rebecca Shirley, wife of John Shirley who was born in 1738, Culpepper County Virginia. He died in Laurens County South Carolina. John Shirley was the son of Richard and Mary who came from Virginia to South Carolina and received a land grant about 1768.
"A lady named Mildred Jackson Shirley wrote a pretty good book on our Hezekiah Shirley line back in the 1970s. It is about 250 pages or so, with lots of pictures and illustrations. On page 171 of this book, there is the will of Minerva Jane Shirley b 20 Feb 1839 - a daughter of Hezekiah. When Minerva died in Chambers Co 2 Feb 1895 her will left provisions for the care of her sister Martha Roeny Shirley Ware...Minerva also left money to care for the graves of her mother and grandmother. Margaret would, of course, have been Minerva's mother. By strong circumstantial evidence in the wording of this will, the elderly woman who had lived with the Hezekiah Shirley family, (Easter/Esther), would therefore have been her grandmother." - From Larry McCutchen May 2011
children:
1(i). Hezekiah Shirley 1805 SC, son of Easter Shirley; lived in Chambers Co AL in the 1840 census; Living in Chambers Co AL census in 1860; died in 1863.
He married Margaret_______

children:

2(i). Deborah A. Shirley born 1825 Laurens Co. SC m. Henry Robinson Sept 28, 1845 Chambers Co. AL. (family lived Alcorn Co. MS & McNairy Co. TN)

2(ii). Armenthia Lou Shirley born April 19, 1826 Laurens Co. SC d. Nov 8, 1882 m. 1st.Wm. Saxon Sept 28, 1845, m. 2nd. Samuel Tucker Sept 4, 1865

2(iii). Joel Henry Shirley born April 20, 1828 Laurens Co. SC; Living in Chamber Co AL in the 1850 census; Living in Dudleyville Tallapoosa Co in 1860; Confederate soldier; living Shelby County Alabama in 1900; died Feb 21, 1910; buried in the Crumpton Cemetery 23 miles off the Charles Cox Highway near Clanton.

He began preaching in 1871 and was ordained in 1872 and served 4 churches regularly. He moved to Shelby around 1890 and lived in Chambers & Tallapoosa Counties until about 1890. On one Census, he listed is labor as a farmer, but also performed marriages as a minister of the Gospel. On the application for a pension dated 6-9-1899, it indicates that he was shot in the arm on 8-31-1864 and was discharged in April 1865. He was a Sergeant. The application was witnessed by two of his brothers-in-law, J. R. & F. F. Sanders. He enlisted as a Private in the 34th Alabama Infantry Reg. Co. D. in April 1862.

married 1) Martha Copeland Dec 11, 1849 in Chambers Co., Al. The marriage was performed by Wm. M. Mitchell. They had no children. She was born in 1828 and died in 1851.

married 2) Mary Ann Sanders Oct 17, 1852 in Tallapoosa CountyShe was born 4-2-1831 in Monroe County, Ga. She died July 24, 1909. Her nickname was "Mal".

children:

3(i). Sarah J. Shirley 1855 AL m. Willis Davis Dec 21, 1878

3(ii). Elonso Duke William Shirley. 1866 AL m. Harriet Smith Sept 21, 1886

3(iii). Elizabeth Virginia Shirley m. T. J. Jackson Oct 7, 1887

2(iv). Amanda C. Shirley born 1830 Laurens Co. SC d. 1864, m. Samuel Tucker Aug 20, 1852

2(v). James Madison Shirley born Aug 14, 1834 Chambers Co. AL, Living in Chambers Co AL in 1860 census; d. Dec 7, 1929 Cross Plains, Texas

James Madison Shirley

James was married and had three children when he was in the Confederate Army in the Civil War. He and another soldier became very hungry while on patrol duty. They came to a farm house that had a lot of bees and decided they would rob one of the hives. James opened the lid and got some honey. The bees stung him so bad his arm was swollen double in size by the time they got back to camp. They told the officer that he had injured his arm. He was given leave to go home until his arm was better. The story goes that this is when his wife became pregnant with James Madison Shirley, Jr.

He was in the Battle of Vicksburg Mississippi. When the war was over and he was headed for home, there was no food to be had anywhere. He came to a small stream and could see where the deer had been crossing. He climbed into a tree just above the trail and waited until a deer came by. With only a knife as a weapon, he jumped on the deer. He had deer for super but he would laugh and tell how he didn't have a stitch of clothes on when the battle was over.

married Elizabeth Williams on July 4, 1854

children:

3(i). Joel Shirley born June 11, 1855 Chambers Co. AL

married Cora Odom Sept 22, 1894 Coryell Co. TX

children:

4(i). Jenny Peggy Shirley born Oct 1895 m. Melvin Owens

4(ii). Zack 'Jack' Shirley born Oct 1897 m. Lelone unknown surname

4(iii). Zay Shirley born Oct 1897 d. Jan 28, 1977 m. Linnie Annie Hall Mar 15, 1925

4(iv). Harry Shirley - no info

3(ii). Minerva Shirley born 1858

3(iii). Robert Columbus 'Lum' Shirley b. Feb 1860 Chambers Co. Alabama,

Robert Columbus Shirley family

married Mary Frances Fletcher Dec 14, 1880 in Coryell County Texas.

children born in Texas

4(i). William Columbus Shirley born Sept 25, 1881 Texas d. June 1928

married Sallie Ada Davis Aug 14, 1904

children:

5(i). Lovena Irene Shirley born June 8, 1906 Gatesville, Texas

5(ii). Beulah Agnes Shirley born Sept 5, 1907 Gatesville, Texas

5(iii). Leonard Quinton Shirley born Aug 8, 1908 Gatesville, Texas - ancestor of Bill Shirley of Olympia WA

Ancestor of DNA Participant Kit #207195

5(iv). Ethel Isophene Shirley born Feb 14, 1910 Gatesville, Texas

5(v). John Wesley 'Jake' Shirley born Feb 2, 1911 Gatesville, Texas4

5(vi). William Columbus 'Dick' Shirley Jr, born Nov 1, 1911 Ryan, OK

5(vii). Alfred Scott Shirley born Feb 11, 1919 McKinney, Texas

5(viii). Madeline Tommie Shirley born Feb 6, 1921 McKinney, Texas

4(ii). Sara Elizabeth Shirley born Feb 1882 Coryell Co. TX d. Mar 7, 1968 m. William Whitney White Nov 13, 1904

4(iii). Annie Ophelia Shirley born Mar 1884 Coryell Co. TX m. Frank McCutchen Jan 4, 1902 Coryell Co. TX.

4(iv). Martha Shirley born Mar 1885 Coryell Co. TX m. Sam Bailey

4(v). Eugenia 'Jeanie' Shirley born June 1886 Coryell Co. TX m. Will B. Fletcher

4(vi). Alice Shirley born Sept 2, 1887 d. Sept 20, 1888

4(vii). Lou Ellie Shirley born Mar 3, 1889 Coryell Co. TX d. Feb 28, 1975 Hillsboro, Texas m. John Davis Aug 5, 1905

4(viii). Emma Shirley born Sept 1890 Coryell Co. TX m. 1st. James Brown, m. 2nd Charlie Bunch

4(ix). Joel Benjamin Shirley born July 27, 1892 Coryell Co. TX d. Oct 31, 1981; buried Davidson Cem. Gatesville, Coryell Co. TX m. 1st. Alice Lamb, m. 2nd Jackie surname unknown

4(x). Alvin Valentine Shirley born Jan 31, 1894 Coryell Co. TX d. 1963 buried in Westwood, Los Angeles CA. He married Vesta Fay Warren. He fought in France in World War I. Their son is Bill Shirley and he was a pilot for American Airlines. He retired in 1991.

Ancestor of the DNA participant Kit #161850

4(xi). Nora Shirley born June 9, 1895 d. April 5, 1907

4(xii). Dora Shirley born June 9, 1895 m. 1st. Oscar Cotton, m. 2nd ___McCord

4(xiii). Stoney Shirley born Feb 1898 Coryell Co. TX

4(xiv). William Luther Shirley born May 1900 m. ___Riesinger

4(xv). Inez Shirley born m. 1st Sumner Warren, m. 2nd ____Shepherd

3(iv). James Madison 'Jim' Shirley, Jr. born November 1, 1864 died Feb 14, 1936 Buried near Guntersville, AL.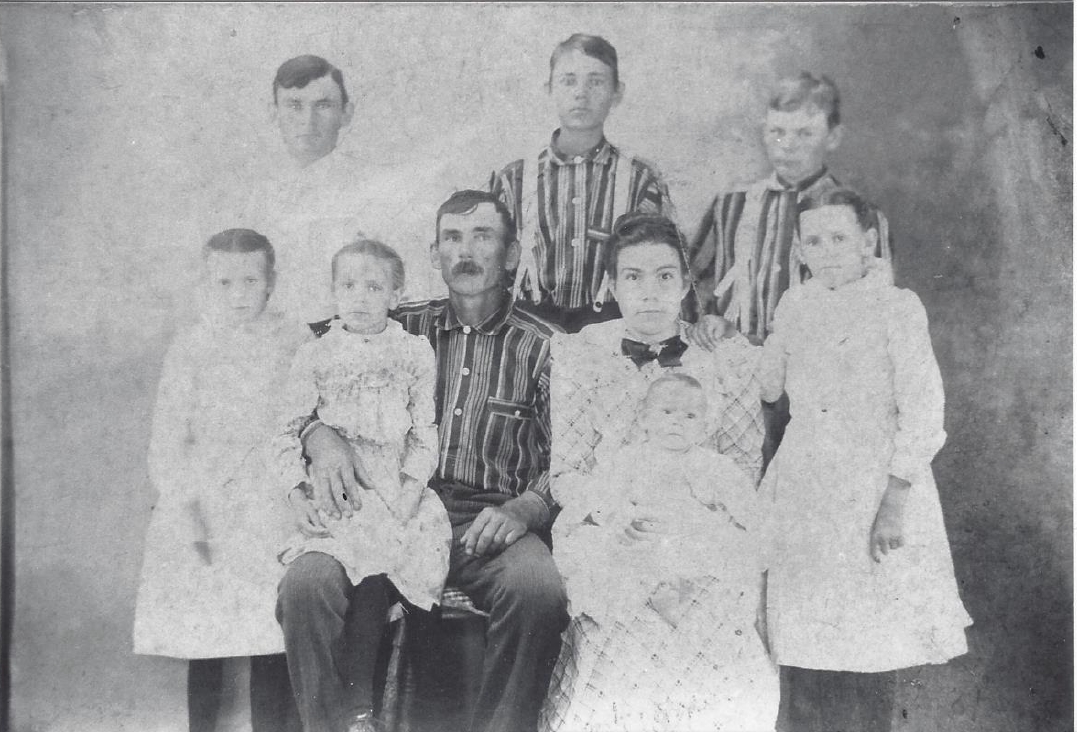 James Madison Shirley Jr and 2nd wife Ida Smith with 7 children

(source: Bonnie Richards)
married 1st Betty Russell in 1865. She died in 1898.

married 2nd Ida Smith in 1899. She d. Apr 3, 1957.

children:

4(i). William Joe Shirley born Dec 15, 1886 Guntersville, AL d. Feb 14, 1936 m. Adeline Scott Mar 14, 1910 Baird, Texas

4(ii). Dee Shirley born Aug 1888 m. Lona Young Oct 30, 1910

4(iii). Homer Shirley born Feb 1890

4(iv). Emma Shirley born Sept 1892 m. ___Ashley

4(v). Alvie Shirley born Feb 1895 m. Robert L. Brawley

4(vi). Minnie Shirley born Feb 1897 She married Horace Cannon Richards (corrected Aug 2016)

4(vii). George Shirley born 1904 TX ...(by 2nd marriage) m. Edna Lawson

4(viii). Ruth Shirley born 1907 TX She married Harvey Breedwell on 11 January 1926 at Marshall Co AL

4(ix). Wheeler Shirley born 1908 TX m. Bertha Stanley

4(x). John 'Boots' Shirley born 1910 m. Estelle Tedder

4(xi). Harvey Shirley born 1912 m. Jewel Leak

4(xii). Viola Shirley born 1915 m. Foyl Burgett

4(xiii). Q.T. Shirley born 1917 m. Victoria Brazelton

4(xiv). Gene Shirley born 1920 m. Ruth Beasley

3(v). Margaret Shirley born 1866 AL

3(vi). Alphonso 'Fawn' Shirley born Aug 22, 1868 AL d. Jan 31, 1937 buried Pioneer, Texas

married Elizabeth Farrer Sept 6, 1895

children:

4(i). Ola Shirley born Aug 29, 1896 d. Aug 14, 1874 m. Ernest Eakin Jan 18, 1920

4(ii). Jennie Shirley born Nov 3, 1898 m. Jessie Graves

4(iii). Luther Pat Shirley born June 30, 1903 d. Sept 16, 1974 Cross Plains, TX m. Nora Meadows Dec 23, 1923

3(vii). William Bunion Shirley born 1871 Lewisburg, TN

married Lee Martin Mar 31, 1897

children:

4(i). William 'Seth' Shirley born Mar 28, 1898 Leon Junction, Coryell Co. TX d. June 13, 1878 m. Minnie Esther Rogers

4(ii). Ophelia Shirley born Oct 15, 1900 d. Aug 14, 1983 m. Greenberry Ingram

4(iii). Otis Shirley born Oct 15, 1900 d. at birth

4(iv). Clarence E. 'Buck' Shirley born May 6, 1901 d. Oct 12, 1948 m. Ruth Barker Sept 4, 1937

4(v). Franklin Homer Shirley born Mar 31, 1902 d. May 2, 1964 m. 1st Willie Maye Kellett Dec 25, 1925, m. 2nd Beulah Fay Lane Mar 7, 1949

4(vi). Oma Evelyn Shirley born April 7, 1905 d. Jan 1984 m. Alex Leisure Higdon Nov 16, 1924

4(vii). Minnie Lee Shirley born Jan 11, 1907 m. Arthur Lawton Cox Dec 19, 1924

4(viii). Eula Eliz. Shirley born Aug 21, 1909

4(ix). Euwell Cleveland Shirley born June 10, 1910 m. 1st Deloris Laverne Dunlap, m. 2nd Juanita McKinley Perrine

4(x). Birdie Mae Shirley born May 24, 1912 d. April 29, 1985 m. Morris Ivy Mar 11, 1935

4(xi). James Boyd Shirley born Jan 9, 1915 m. 1st Myerl Forbes June 6, 1938 and he died Sept 11, 1983, m. 2nd Maizie Mullins July 23, 1985

4(xii). Annie Maude Shirley born Aug 2, 1917 m. Charles Henry Schubart Mar 11, 1952

4(xiii). Kathryn Odessa Shirley

4(xiv). Avanelle Modena Shirley

4(xv). Lemoine Estelle Shirley
Back row: Eula, Dick, , J.B., Oma, Buck, Kathryn, Odessa, Budge, Seth, Avonelle, Modena
Front row: Ophelia, Lamoine, Minnie Lee, Annie, Maude, Minnie, Birdie
3(viii). Sarah Shirley born 1873 Lewisburg TN

3(ix). Susan Shirley born 1875 Guntersville AL

3(x). Augusta Shirley born 1878 Guntersville AL m. J. M. Martin Jan 15, 1900

2(vi). Margaret Frances Shirley born Mar 20, 1837 Chambers Co. AL, d. Mar 23, 1891 Tallapoosa Co AL m. E. N. Henderson Jan 1, 1856

2(vii). Minvera Jane Shirley born Feb 20, 1839 SC d. Feb 2, 1895

married John M. Shirley (said to be cousin) born SC who was killed on the battlefield in the Civil War. (middle initial comes from son John M's death cert.). A John M. Shirley age 15 (b 1835) is the son of David (b 1806) and Lucinda Shirley in the 1850 Chambers Co AL census, although the surname may be Shivly

children:

3(i). John Milton Shirley Jr. born April 6, 1865; farmer; Lived at Camp Hill, Chambers Co AL; d. Dec 15, 1934, age 69; buried at 'Shirley Family Cemetery'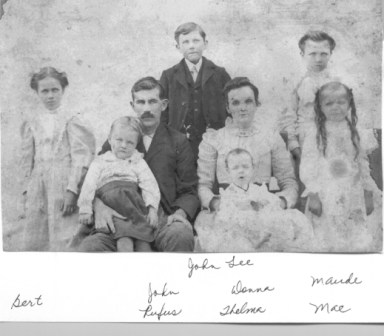 John Milton Shirley, Jr and family

Posted by Walt Blanton to findagrave.com
married Donna Lee Sanders Feb 18, 1886. She d. May 18, 1962 and both are buried in the Shirley Family Cemetery in Chambers Co. AL

children:

4(i). John Lee Shirley born June 13, 1888 d. April 6, 1977 m. Ozella McCoy

4(ii). Maude Katherine Shirley born July 10, 1891 d. Mar 23, 1978 m. Ossie Sanford Blanton Sept 25, 1910

4(iii). Donna Alberta Shirley born Oct 28, 1893 d. Dec 28, 1984 m. Burl Holder

4(iv). Lillie Mae Shirley born Aug 15, 1896 m.1st Junius Pope, m. 2nd Ray Caraway

4(v). Rufus Sanders Shirley born Feb 6, 1899 d. Sept 3, 1982 m. Emma Williams

4(vi). Annie Thelma Shirley born Aug 26, 1901 m. Lewis Cody

4(v). Sallie Shirley born Mar 6, 1903 d. Feb 1904

4(vi). George William Shirley born Oct 3, 1906 d. 1907

4(vii). Sara Jane Shirley born June 10, 1908 m. Alfred Crosby

4(viii). Allen James Shirley born May 15, 1911 d. May 21, 1976 m. Oleta Love Sept 1, 1933

4(ix). Gaines Alonzo Shirley born July 4, 1915 m. Vivan McLarmore

2(viii). Mary Ann Shirley born 1844 Chambers Co. AL m. John J. Hoyle

2(ix). Hezekiah Odam Shirley born 1844 Chambers Co. AL...No info on him

2(x). Martha Roeny Shirley born April 25, 1846 d. 1905 Chambers or Tallapoosa Co. AL m. Allen Green Ware Oct 19, 1876

2(xi). George Shirley born 1848 Chambers Co. AL no info
1(ii). Mansfield Shirley (aka Mansford), b. 1823 Laurens Co. SC, He is living in Tallapoosa Co. AL in the 1850 census. Easter, his mother, is living with Mansfield and his new wife. In 1860 Tallapoosa Co census, he is identified as "A. Shirly", age 36 with wife Elizabeth and son Wm J. (at Dudleyville) Not found in the 1880 census, but in 1900 he is living in Spartanburg Co. South Carolina. He is married to someone else.
married Elizabeth McLure Dec 8, 1849 in Tallapoosa Co AL.

children:

2(i). William J. Shirley born Dec 12 1850 AL (1860 census and 1900 census of family HH); farmer of Inman Spartanburg SC; He died 7 Sep 1931 at Inman Spartanburg SC, age 80, 8 months. Buried at Liberty Cemetery, Inman Spartanburg SC

married Nora _______ (she is named on husband's death cert)

2(ii). Kalista A. Shirley born 1854 Tallapoosa AL (1860 census);

2(iii). Mahala A. Shirley born 1857 Tallapoosa AL (1860 census)
1(iii). Female Shirley (a sister by family tradition, name unknown)