Pictures and info from Gary Shirley
Kelly Shirley born probably Lenoir or Greene County NC; Fought in War of 1812; Lived Stokes Co NC; died 19 Feb 1815 according to his military service record; Estate probated in 1815 in that county. New Finding by Gary!
1815-1823 Estate File of Kelly Shirley of Stokes Co NC (pdf)
married Triphenia _________ ; She was administrator of the 1815 estate of Kelly Shirley; married 2) David Williams on 1 September 1816 in Stokes Co NC; Triphenia Williams died 27 Feb 1855 likely in San Joaquin County CA "Tryphena Williams departed this life on Tuesday February the 27th 1855" (See James Madison Williams bible record)

children:

(Proven by 1815 estate records in Stokes Co NC, Another possible sister is Elizabeth, b. ca 1801, NC, d. July 12 1877, Dent County, MO, m. John Brooks.)

1(i). Mary Hill Shirley a minor child of Kelly Shirley in Sept 1817; She may be Mary Shirley, age 50-60 in 1840 Federal Census for Crawford County, MO.
View 1817 Guardianship papers for Mary Hill Shirley,
minor child of Kelly Shirley of Stokes Co NC (thanks to Gary)
1(ii). Jacob Camplin Shirley [see branch #53] born ca 1810-1811 probably Stokes County NC, a minor child of Kelly Shirley in Sept 1817; First known location of Jacob is Warren County, TN, 1830. Departs TN ca 1838 and relocates to Crawford County, MO. (The area becomes Dent County in 1851). Jacob is listed in the 1850 Shannon Co MO Census mortality schedule, died March, age 40; He applied to purchase federal land in October 1849. but d Saturday 2 March 1850 Shannon Co MO (according to the bible of James Madison Williams of Butte Co Calif),
View 1817 Guardianship papers for Jacob Camplen Shirley,
minor child of Kelly Shirley of Stokes Co NC (thanks to Gary)
View 1822 Guardianship papers for Jacob C. Shirley,
minor child of Kelly Shirley of Stokes Co NC (thanks to Gary)
married 1) Sophia ________, who died 18 Sept 1845 (Williams bible). [see email at bottom of page regarding this date of death]

married 2) Lucinda Brooks ca 1846 MO who was b. ca 1819 NC d. ca 1850s, daughter of John and Nancy Brooks. Nancy b. ca 1784 NC.

1(iii). Thomas Jefferson Shirley (See branch #74) born abt. 1810-11 in Stokes Co NC; a minor child of Kelly Shirley in Sept 1817; died Nov 13, 1859 probably in Tuolumne Co. or possibly San Joaquin Co. California

View 1817 Guardianship papers for Thomas Jefferson Shirley,
minor child of Kelly Shirley of Stokes Co NC (thanks to Gary)

Stockton Daily Argus Friday, 18 Nov 1859. KILLED by an UNKNOWN PERSON -- Mr. T.J. SHIRLEY, a farmer and trader near Jamestown, died on Saturday last from the effects of a blow on the head from a hatchet, given by some unknown person about 2 weeks since. No clue has been obtained to the perpetrator of the murderous attack.

Daily Alta California, Volume 11, Number 319, 17 November 1859. OUR JAMESTOWN CORRESPONDENCE - Jamestown, Nov. 13th, 1859 - Mr. T. J. Shirley, a farmer, near town, was, some two weeks since, attacked by some unknown person, and severely beaten' his head was cut as though by a hatchet; Since then he has lingered between life and death until to-day he died. He leaves a wife and large family; no clue has been obtained of the perpetrator of the attack, and Mr. S. was delirious up to his death."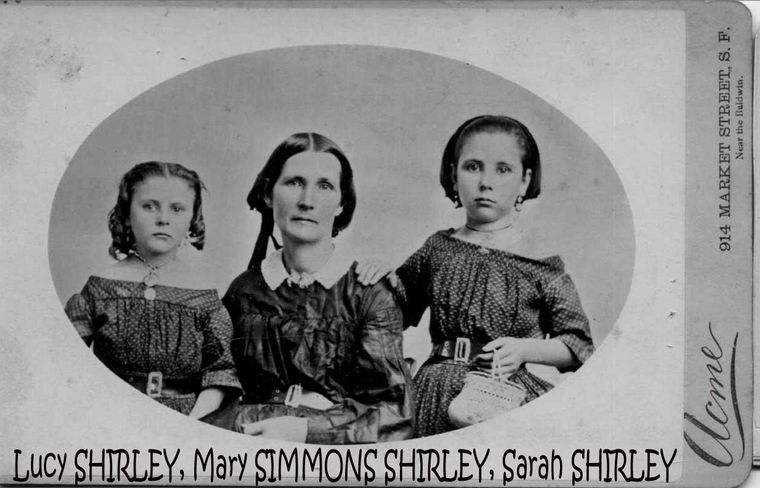 photo posted by Dee Sardoch to ancientfaces.com in 2001
married Mary Simmons on Sept 7, 1831, born Nov 25, 1814 VA; died Aug 4, 1894, San Francisco, buried Hollister. Mary Simmons married a second time to G. M. McConnell on Jul 28, 1875 in Hollister. An 1864 Calif Supreme Court case states that Mary married A. B. Farley after husband Thomas' death. See San Joaquin County in the member's section for details.

children:

2(i). William H. Shirley born Oct 6, 1833 died Nov 29, 1836, age 3

2(ii). James M. Shirley born Oct 18, 1835 TN, not traced

2(iii). Dr. Jacob Henry Shirley born Mar 28, 1838 MO

Dr. J. H. Shirley, cancer specialist, Sacramento, was born in St. Louis, Missouri, March 28, 1838. When fourteen years of age he crossed the plains with his parents to Sacramento, arriving here in August, 1852; but he went to Stockton, where he had an uncle, Robert Simmons. He was married in Jamestown, Tuolumne County, California, to Miss Sarah E., daughter of George W. Fleming, who had come to this State in 1852. In 1868 the Doctor went to Alameda County, engaging in the live-stock business; and it was not until 1884 that he became interested in the specialty for which he has now become so well know. It was during that year that he made the acquaintance of Dr. W. W. McCoy, of Stockton, proprietor of "McCoy's Tonic and Blood Purifier," and cancer specialist. After two years of successful practice with him there, he removed to this city, establishing himself on Fourth street. He now has his office on K street, and is enjoying remarkable success in the treatment of his cases, who come to him from all parts of the country. Both his parents were from the South. His father, Thomas Jefferson Shirley, was a native of Richmond, Virginia, and his mother, Mary nee Simmons, of East Tennessee. He has four children: Lewella, now Mrs. W. J. Tannehill; Paul, Lucy, and Emma Dale. Transcribed by Marla Fitzsimmons. An Illustrated History of Sacramento County, California. By Hon. Win. J. Davis. Lewis Publishing Company 1890. Page 405-406.

married Sarah E. Fleming on May 10, 1858 at Jamestown, CA

children:

3(i). Cyrus Shirley born June 26, 1859 d. Feb 26, 1867

3(ii). Luella S. Shirley born April 14, 1861 m. 1st J.W. Tannehill, m. 2nd Judge M.L. Rawson

3(iii). Paul Shirley

3(iv). Lucy Shirley born May 1882

3(v). Emma Shirley married _______ Dale

2(iv). Vianna J. Shirley born April 24, 1840 MO m. Thomas N. Willis July 4, 1855 Tuolumne Co. CA. He was born Mar 8, 1825 GA

2(v). John Y. Shirley Apr 20, 1843 MO; living in San Joaquin Co California in 1860 census but untraced after that

2(vi). Thomas E. Shirley Oct 20, 1845 MO; listed in the 1860 census of San Joaquin Co Calif. Thomas was listed in the 1870 census in Langworth, Stanislaus Co Calif. and was a witness to sister Lucy's marriage in Stockton Calif in 1872

2(vii). Edward Nicles Shirley Oct 20, 1845 died Oct 16, 1849

2(viii). Sarahann E. Shirley Dec 18, 1851 MO m. 1st Lemuel Fletcher Dec 24, 1868 m. 2nd L. H. Edell Dec 25, 1883 in Hollister, CA (see photo above)

2(ix). Lucy Angeline Shirley July 17, 1854 Stockton, CA died Nov 29, 1921, San Francisco, CA buried Olivet Cem., Colma, CA m. 1st. John W. Pepper Sept 3, 1872 Stockton, CA who was born Aug 1, 1837 Marion Co, MO died Sept 29, 1886 Hollister, CA m. 2nd John Irvine Fox Feb 23, 1892 who was born Aug 2,1862 Rockford, IL d. Dec 13, 1895 Delano, CA they had 1 son (see photo above)
---
From Dee Sardoch:
I have land records for T.J. and sons, J.H. and James M. in and around the Jamestown / Sonora area of Tuolumne Co. for the 1855 to 1861 time period. Robert Simmons, brother of Mary Simmons Shirley, was a rancher in the Big Oak Flat area, as well.
From Dee Sardoch in 2010
T.J. Shirley, wife Mary & the kids are in the 1852 California census. I haven't found Jacob's kids in that census. My thought had always been that Jacob's kids came out later.
There are a couple of references to them all going through Texas, possibly even spending a bit of time there.
I don't really have any info on them coming out for the gold, but it's a pretty good assumption being that they ended up in Jamestown. My thinking is that the older boys had gold-fever & T.J. just wanted to farm. His farm was along the Sonora road, which was extremely dangerous in those days, and he was killed while farming in his fields - at least that's where he was attacked, he didn't die from his wounds until a week or 2 later.
Yes, Charles Calvin Shirley, son of Jacob, ended up in the Thermalito area, spending his last years in the Odd Fellows home there & died there in 1906. I've never found any indication that he married. Since finding out about the Williams's nearby, I've wondered if that is why he chose to end his days in that area. He seemed to bounce from family member to family member.
I'll have to double check my info when I get home, but I remember that some of the Shirley's were in Copperopolis after T.J.'s death. Also Angel's Camp.
From an email thread with Gary Shirley in 2010:
"Jerald, we are very interested in your research, regarding Tryphena Shirley. There appears to be a very strong connection between her and my g g grandfather Jacob Shirley b. ca 1810 most likely NC and Thomas Jefferson Shirley, presumed to be his brother, b. ca 1810 NC. David Williams appears with them in Warren County, TN in the 1830s, in Crawford County, MO in 1840 and both David and Tryphena are in Shannon County, MO. with Lucinda Shirley, Jacob's second wife in 1850."
"We don't know what became of Jacob Shirley after 1849 but his children from his first marriage are with Thomas Jefferson "Sherley" in Crawford County, MO in 1850. Shortly thereafter this combined family leaves MO for CA. Thomas Jefferson Shirley is killed in 1859 probably in Tuolumne County, or maybe San Joaquin County, CA. His widow Mary Simmons Shirley is listed in the 1860 census in Castoria, San Joaquin County, CA. And living next door to her are James and Lucinda Williams along with some of Jacob Shirley's children!"
Ron Womack sent this from the James Madison Williams family bible (Butte Co California) in 2010:
The death Date for Jacob Shirley is March 2, 1850

"Sopha Shirley departed this life on Thursday the 18th of September 1845".

"Tryphena Williams departed this life on Tuesday February the 27th 1855." (nee Shirley)

"Tryphena Williams emmigrated from North Carolina to Tennessee in 1817 from Tennessee to Missouri in 1837."